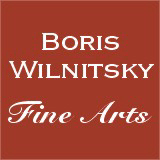 If you have a question about this item,
please contact us at: office@wilnitsky.com
# 23909
Jan Willem Pieneman (1779-1853) "Lord Uxbridge at Waterloo", Important Oil Portrait!!, ca.1820
Price: ON REQUEST
(please note additional 10% tax applies for transactions concluded within the European Union)
Very important equestrian portrait of the famous English General, Commander of the English-Dutch allied cavalry at Waterloo, General-Leutnant Lord Uxbridge.


His full name was Sir Henry William Paget (1768-1854), 1st Marquess of Anglesey (from 1815) and 2nd Earl of Uxbridge (from 1812 onwards). As Lord Paget, he served with great distinction as cavalry commander under Sir John Moore during the retreat to Corunna in 1809 , the "Dunkirk" of the Peninsular war. He was prevented from serving under Wellington in the Peninsula because of the scandal when he ran off with Wellington's brother Henry's wife Lady Charlotte Wellesley. Wellington, though, was happy to accept him as a subordinate for the Waterloo campaign, crushing a colleague who reminded him of Uxbridge's reputation with "I'll take good care he don't run away with me: I don't care about anyone else." On the battle field of Waterloo on June 18th 1815, the Duke of Wellington and his cavalry commander , now, Earl of Uxbridge, the most brilliant cavalryman of his generation, were side by side on horseback surveying the scene. Suddenly one of the last cannon shots of the engagement flew over the neck of Wellington's horse and hit Uxbridge's right knee smashing the joint to bits. " By God, sir" said Uxbridge, " I've lost my leg". The Iron Duke eyed the mangled mess for a moment before saying " By God, sir, so you have!" and turned his Spy-glass back to the retreating French. Or so popular story had it, though in reality Wellington supported Uxbridge in the saddle until help arrived. Uxbridge, who was forty seven years old and had already had several horses killed under him, was taken to the headquarters, where the surgeons decided the leg must come off. He bore the appalling operation with the utmost coolness, saying he had enjoyed a long run as a beau and it was only fair to the young men not to cut them out any longer. According to one of his aides, he never moved or complained, though he did say calmly at one point that he thought the instrument was not very sharp, and when the horror was over, his pulse rate was unaltered. The severed limb was reverently interred in a nearby garden. In recognition of his services at Waterloo, Uxbridge was created Marquess of Anglesey, 4th July 1815. On 27th February 1828, he became Lord Lieutenant of Ireland, a post he held intermittently until 1833. He attained the rank of field Marshall in 1846. Among his contemporaries he was found to be "the best cavalryman of the world" and "the most handsome man in England". He also had a nickname "One Leg" (referring to the leg he has lost). As mentioned above his amputated leg was buried in a neat garden opposite to their inn in Waterloo and a monument was placed over it on which it was written: "Here lies the Marquess of Anglesey's leg/Pray for the rest of his body we beg." When Anglesey died in 1854, the leg was exhumed, taken back to England and buried together with his body. Even his replacement legs received fame, for one of the first types is still preserved at Plas Newyad and the new type of artificial limb invented by "Potts" was named "the Anglesey leg" and remained in use up to the time of the First World War.

Our painting is the first Lord Uxbridge's portrait painted by Jan Pieneman. The artist came specially in 1820 to London and the Lord posed for him. A few years later in 1824 Pieneman finished his main monumental work, the painting "The battle of Waterloo"(Rijksmuseum Amsterdam), where we see our Lord Uxbridge as a one of the generals around the Commander of the Dutch Army Prince Willem of Orange. A study for this figure can be seen in one of our additional images. There are a few other famous Uxbridge's portraits: one oil portrait by Thomas Lawrence (Plas Newydd, Gwynedd), one oil portrait by William Beechey (National Portrait Gallery) and watercolor by Henry Edridge (National Portrait Gallery).
The author of this painting Jan Willem Pieneman (1779 Abcoude - 1853 Amsterdam) was a very important Dutch artist of the 19th century. The artist, who was an autodidact, worked also as an art teacher and professor (Jozef Israels was under his pupils), becoming the Director of the Amsterdam Academy of Fine Arts in 1820. He was specially famous for his battle paintings.
(ca)
Condition: good
Creation Year: ca 1820
Measurements:UNFRAMED:43,0x34,5cm/16,9x13,6in FRAMED: 61,0x53,0cm/24,0x20,9in
Object Type:Framed oil painting
Style: 19th century paintings
Technique: oil on canvas
Inscription:monogrammed: J.W.P.
Creator: Jan Willem Pieneman
Creator Dates: 1779-1853
Nationality:English / British
2-3 days door-to-door shipment, professionally packed by Mail Boxes Etc and shipped with DHL (calculated for US): 240,36 EUR + insurance 1,8% of item price
Shipping cost to other destinations (worldwide) on request
Shipping price may be reduced if you dispense with the frame


Cheaper alternative (may be further reduced if you dispense with the frame): professionally packed by Mail Boxes Etc and shipped with regular Austrian mail - upon request under office@wilnitsky.com (OBS: In this case maximal refunded insurance value is EUR 500 if shipping destination was the US. In Europe sometimes more, depending on destination.)
Click here for images free of watermark!
Click on images or on

to see larger pictures!