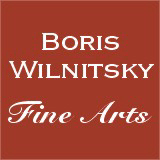 If you have a question about this item,
please contact us at: office@wilnitsky.com
# 26997
Moritz Michael Daffinger (1790-1849) "Countess Zichy-Ferraris", important miniature on ivory!! ca.1830
Price: ON REQUEST
(please note additional 10% tax applies for transactions concluded within the European Union)
THE SELLER WILL COVER INSURED SHIPPING WITH REGULAR MAIL FOR THIS ITEM!

This outstanding portrait miniature is one of the two variations. The first one (signed by Daffinger) formerly belonged to the collection of Gottfried Eissler, Vienna, and was shown at the International Miniature Exhibition in the Viennese Museum "Albertina" in 1924. This miniature is included and illustrated under no. 80 in the Catalogue of the Estate Auction of Gottfried Eissler from 1925. Although our second exemplar is unsigned, it is without any doubt an authentic replica by Daffinger, painted by him (as it was customary in those days) for another member of the sitter's family. The world's famous expert in portrait miniatures, Dr. Bodo Hofstetter (Switzerland), who examined the miniature in our gallery, also confirmed its authenticity, and later provided us with a copy from the aforementioned Estate Auction Catalogue (see our additional image).
Moritz Michael Daffinger (1790 Vienna -1849 ibidem) is considered truly the best Austrian portrait miniature painter of all times. He was born as son of the porcelain painter Johann Daffinger, began at the age of 11 years as apprentice at the Vienna Porcelain Manufactory where he studied under Fueger's pupil Michael Weixelbaum. From 1802 he studied at the Vienna Academy under Huber and Maurer. Simultaneously he was one of the best porcelain painters at the Vienna Porcelain Manufactory. Especially popular were his portraits of the Austrian royal family and courtiers, painted on plates, cups and vases. Around 1809 he began to paint portraits on ivory. During the time of the Vienna Congress, Daffinger was already a requested and very appreciated portraitist. The presence of the English portraitist Thomas Lawrence in Vienna during the Congress influenced his art remarkably. Already in the early 1820's Daffinger was portraitist of the royal family and the main noble families of Austria. Works by him can be found in the most important world museum collections and achieve at the international art market very high prices (up to USD 150,000).


miaug06
Condition: good, in brass standing frame
Creation Year: ca 1830
Measurements:UNFRAMED:7,7x6,3cm/3,0x2,5in FRAMED: 9,0x7,6cm/3,5x3,0in
Object Type:Framed watercolor
Style: Portrait miniatures
Technique: watercolor on ivory
Inscription:-
Creator: Moritz Michael Daffinger
Creator Dates: 1790 Vienna-1849 Vienna
Nationality:Austrian
2-3 days door-to-door shipment, professionally packed by Mail Boxes Etc and shipped with DHL (calculated for US): 61,18 EUR + insurance 1,8% of item price
Shipping cost to other destinations (worldwide) on request
Shipping price may be reduced if you dispense with the frame


Cheaper alternative (may be further reduced if you dispense with the frame): professionally packed by Mail Boxes Etc and shipped with regular Austrian mail - upon request under office@wilnitsky.com (OBS: In this case maximal refunded insurance value is EUR 500 if shipping destination was the US. In Europe sometimes more, depending on destination.)
Click here for images free of watermark!
Click on images or on

to see larger pictures!