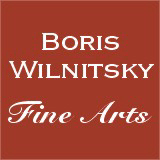 If you have a question about this item,
please contact us at: office@wilnitsky.com
# 29284
Moritz Michael Daffinger (1790-1849) "Prince Felix von Schwarzenberg", important miniature!!, ca.1825
Price: ON REQUEST
(please note additional 10% tax applies for transactions concluded within the European Union)
THE SELLER WILL COVER INSURED SHIPPING WITH REGULAR MAIL FOR THIS ITEM!

Portrait of Prince Felix von Schwarzenberg, a famous Austrian officer and diplomat. This miniature is the author's own replica of another, painted also on ivory miniature portrait of Prince Schwarzenberg, now in "WIEN-MUSEUM" (Vienna City Museum). Author of both variations, Moritz Michael Daffinger, was the best Austrian miniaturist of the 1st half of the 19th century (see our additional image showing the "museum"'s exemplar).

The sitter, Prince Felix von Schwarzenberg, was born in 1800 and died in 1852 in Vienna. He spent his childhood and adolescent years in his family's Bohemian (present-day Czech Republic) Estates receiving private home tutoring. In 1818, he entered (as a cadet) the 8th Cuirrassier Regiment of the Austrian Army, becoming a Captain of Cavalry as early as 1824. In the same year, he substituted army service for diplomacy, while nevertheless remaining in military (our portrait from 1825 shows him in military uniform). Also in 1824, he was sponsored by Chancellor Metternich to relocate to St. Petersburg, where he served as Austrian Embassy attache until 1826. In 1826-27, Prince performed similar functions in Brazil and Portugal; in 1828, at the Austrian Embassy in London; in 1829-31, in Paris; in 1832-35, in Berlin. In 1838, he was appointed the envoy in Turin (Kingdom of Sardinia-Piemont), followed by the same function in Naples in 1844. In June of 1846, on his return journey from Venice to Vienna, Prince suffered a life-threatening collapse. In mid-March of 1847, still not fully recovered, he had gone to Naples, where he stayed for one year.
From 1843, Prince held a rank of Major-General. In 1848, in Vienna, he requested to be sent to frontline and was appointed the Commander of Reserve Corps Brigade at Isonzo. Having participated in recapture of Province of Venice, he arrived with his troops to Verona. There, for the first time, he met the Austrian Kaiser (Emperor) Franz Josef. In July 1848, he was raised in rank of Lieutenant-Field Marshal.
In October 1848, Prince Schwarzenberg was appointed the Austrian Prime Minister, followed by another appointment as the Foreign Minister one month later.

Our miniature appears to be somewhat sketchy and is possibly a preparatory study for the aforementioned miniature from the "WIEN-MUSEUM".
Moritz Michael Daffinger (1790 Vienna -1849 ibidem) is considered truly the best Austrian portrait miniature painter of all times. He was born as son of the porcelain painter Johann Daffinger, began at the age of 11 years as apprentice at the Vienna Porcelain Manufactory where he studied under Fueger's pupil Michael Weixelbaum. From 1802 he studied at the Vienna Academy under Huber and Maurer. Simultaneously he was one of the best porcelain painters at the Vienna Porcelain Manufactory. Especially popular were his portraits of the Austrian royal family and courtiers, painted on plates, cups and vases. Around 1809 he began to paint portraits on ivory. During the time of the Vienna Congress, Daffinger was already a requested and very appreciated portraitist. The presence of the English portraitist Thomas Lawrence in Vienna during the Congress influenced his art remarkably. Already in the early 1820's Daffinger was portraitist of the royal family and the main noble families of Austria. Works by him can be found in the most important world museum collections and achieve at the international art market very high prices (up to USD 150,000).
Provenance: German private collection (erroneously as portrait of a Russian diplomat, Prince Alexander Chernyshev ((1786-1857) by an artist of J.B. Isabey-School).

minovap07
Condition: good; in 19th century easel frame
Creation Year: 1825
Measurements:UNFRAMED:7,0x6,5cm/2,8x2,6in FRAMED: 19,5x14,8cm/7,7x5,8in
Object Type:Framed miniature
Style: Portrait Miniatures
Technique: watercolor on ivory
Inscription:-
Creator: Moritz Michael Daffinger
Creator Dates: 1790 Vienna-1849 Vienna
Nationality:Austrian
2-3 days door-to-door shipment, professionally packed by Mail Boxes Etc and shipped with DHL (calculated for US): 100,44 EUR + insurance 1,8% of item price
Shipping cost to other destinations (worldwide) on request
Shipping price may be reduced if you dispense with the frame


Cheaper alternative (may be further reduced if you dispense with the frame): professionally packed by Mail Boxes Etc and shipped with regular Austrian mail - upon request under office@wilnitsky.com (OBS: In this case maximal refunded insurance value is EUR 500 if shipping destination was the US. In Europe sometimes more, depending on destination.)
Click here for images free of watermark!
Click on images or on

to see larger pictures!