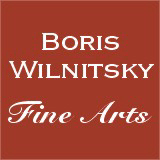 If you have a question about this item,
please contact us at: office@wilnitsky.com
# 29736
Petr Fedorovich Sokolov (1791-1848) "Maximilian Duke of Leuchtenberg" very important portrait!!, 1840s
Price: ON REQUEST
(please note additional 10% tax applies for transactions concluded within the European Union)
Very important and relatively rare for the current art market original watercolor portrait by the best Russian watercolor artist of the 1st half of 19th century, Petr Fedorovich Sokolov.
Not less important is also a person depicted in this portrait: at once, a member of two royal European families (Bavarian and Russian), Tsar Nikolai I's son-in-law (husband of his daughter Maria Nikolaevna) - Maximilian-Eugen-Joseph Duke of Leuchtenberg (in Russia: Herzog Leichtenbergski). Unlike in other known portraits of him, he is depicted not in military uniform, but in civil dress. Judging by his rather mature appearance, he is likely portrayed not earlier than the years 1847/48 (Sokolov died in 1848; Duke of Leuchtenberg - in 1852). Hence, this portrait is, with great possibility, one of the last works of Petr Sokolov.
Petr Fedorovich Sokolov (1791 Moscow - 1848 village Stary Merchik, Kharkov Gouv.) was in 1800 (at the age of 9) enrolled in St. Petersburg Academy, where he joined the class of historical painting under V.K. Shebuev. In 1809, he obtained a gold academic medal. Still, he found his true vocation in another genre: shortly after graduating from the Academy (1810) he began painting portraits, at first, using Italian graphite as medium, later - watercolor.
He lived in St. Petersburg, from 1842 to 1843 - in Paris, and from 1846 - in Moskow. Sokolov portrayed royalties and members of the high aristocracy. Among his sitters were Empress Elisabeth Alexeevna, Grand Duchesses Maria Nikolaevna (sic!) and Olga Nikolaevna, the 3-year-old Grand Duke Alexander Nikolaevich (later, Tsar Alexander II). Sokolov was married to the sister of the famous artist Karl Brullov.
While spending the year 1848 at the estate of Countess Orlova-Denisova near Kharkov (Ukraine), the artist fell a victim to cholera that was then raging all throughout the region.
The sitter's full name was Maximilian Eugen Joseph Auguste Napoleon de Beauharnais, 3rd Duke of Leuchtenberg, 3rd Prince of Venice, Prince des Francais and Heridetary Prince of the Kingdom of Italy (a creation of Napoleon I) and claimant to the Grand Duchy of Frankfurt.
He was born in 1817 in Munich as the second son of Eugene de Beauharnais and Princess Augusta Amalia Ludovika Georgia of Bavaria. His maternal parents were Maximilian I, King of Bavaria and his first wife Marie Wilhelmine Auguste, Landgravine of Hesse-Darmstadt. He was also a brother of Josephine de Leuchtenberg, queen consort of Oskar I of Sweden.
On July 2nd 1839 he married Grand Duchess Maria Nikolaevna of Russia in the chapel of Winter Palace in St. Petersburg. On July 14th 1839, his father-in-law, Nikolai I, granted him with the style "Imperial Highness" - a rank he was entitled to as a descendant of the extended dynasty of Napoleon I (his father, Eugene de Beauharnais, was the latter's adoptive son). Duke of Leuchtenberg and Maria Pavlovna had seven children (the first-born, Princess Alexandra died at the age of 3).
We will not ponder in depth upon biography of this remarkable royalty, as there is a multitude of Russian sources providing a full-dress account of his life.
Maximilian Duke of Leuchtenberg died on October 20th 1852 in his house in St. Petersburg.

Our additional images show three other portraits of the Duke, as well as a number of various watercolor portraits by Petr Sokolov.
For another portrait of this artist in our possession, see our web # 33786.

Provenance:
1.) German noble estate
2.) Auction House "Schopmann" Hamburg, April 10th 2008 (as "Unknown artist "Cukoroby"" - the Cyrillic signature "Sokolov" was interpreted as such!!!).
3.) Bonhams London, June 8th 2009, Lot 6 (see our image nr.22)

mimaiap08
Condition: good; in original (covered with velvet) frame
Creation Year: 1840s
Measurements:UNFRAMED:25,0x21,0cm/9,8x8,3in FRAMED: 36,5x33,0cm/14,4x13,0in
Object Type:Framed miniature
Style: Portrait Miniatures
Technique: watercolor on card, laid on cardboard
Inscription:signed in Cyrillic
Creator: Petr Fedorovich Sokolov
Creator Dates: 1791 Moscow-1848 Stary Merchik
Nationality:Russian
SHIPPING COSTS UPON REQUEST:
office@wilnitsky.com
Click here for images free of watermark!
Click on images or on

to see larger pictures!