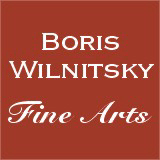 SALE!!! SAVE MONEY !! 1 EUR = 1 USD
# 29767
Joseph Franz Johann Pitschmann (1758-1834) "Count Gaisruck", extremely rare portrait!!, 1800
18000 EUR
FINAL DISCOUNT PRICE= 18000 USD
( for EUR price see date rate )
Please note: Shipping and insurance costs are not included in this promotion, ONLY ITEM PRICES!
(please note additional Austrian VAT tax applies for transactions concluded within the European Union)
We acquired this painting at Christie's Amsterdam (Sale "Property of the Collection of the Princely House of Liechtenstein, April 1st 2008, lot 455) as an "unsigned" (!) work of an anonymous artist of "German School of 18th century" (see our image nr.12). In spite if this attribution, we believed it from the very beginning to be a portrait of not German but Austrian origin, possibly even an original work of either Friedrich Heinrich Fueger (1751-1818; for comparison, see our additional image nr.13 with miniature portrait of Prince Palffy from the end of 18th century) or his colleague, Johann Baptist Lampi the Elder (see images nr.14 and 15 with portrait of Count Czernin and, respectively, two portraits of the young Polish magnate Eustachy Sapieha that provide a perfect comparison). We were certain that only these two Viennese artists could have been in question (neither have we attended the pre-action viewing, nor the auction itself, and acquired the portrait by telephone bidding, having only seen the catalogue illustration).
There remains only one confusing aspect in relation to aforementioned Lampi portraits, namely, that all three of them are described (our images are clips from Lampi Exhibition Catalogue "Un ritrattista nell'Europa delle corti /Giovanni Battista Lampi /1751-1830" Trento 2001) as dated between 1811 and 1816. Had we not had this information, we would've been convinced that all three of them are from the end of 18th century - exactly as our portrait.
Several days later, having received and seen the portrait with our own eyes, we were able to ascertain that the catalogue photo has not let us down: it was doubtlessly an Austrian work of particularly high quality (immediately evident, despite the 200-year-old dirt coating the painting).
We were indeed astounded, when two days later learned from our restorer, that already during the initial cleaning process, the original, concealed by two centuries of dirt signature and a date of 1800 (!!) were uncovered.
And it was not a signature of Fueger or Lampi, but of one of their mutual and best pupils, Viennese academician and, later, a famous Polish portraitist, Joseph Franz Johann Pitschmann (see our image nr.16 with restorer's summary).
Joseph Franz Johann (in Poland: Jozef Francziszek Jan) Pitschmann was born in 1758 in Triest and died in 1834 in Kremenets (Krzemieniec). He studied painting at the Vienna Academy of Arts under professors Fueger, Brandt and Lampi the Elder. In 1787, he obtained Golden Academic Medal followed, shortly after, by his full membership at the Academy.
In 1788 he was invited by Polish Prince J. K. Czartoryski to his estate Korc in Wolyn (in those days - Russian Empire), where he worked as portraitist for several months. In 1789, he traveled to the Polish capital Warsaw and remained there until 1794 (with an exception of a brief trip to Poznan). In this period, he painted a large number of portraits of the members of Polish aristocracy and royalty. King Stanislaus August, whom Pitschmann portrayed four times, went as far as to present the artist with a diamond finger-ring.
In 1794, the artist came to Lvov (present day Ukraine; at that time - Lemberg, capital of region Galicia that belonged from 1772 to the Austro-Hungarian Empire), where he remained until 1806. During his 12-year-long stay in this town he similarly produced a great number of portraits of Polish aristocracy and Austrian officials.
In 1806, the School Inspector of Wolyn, Podolia and Ukraine (back then - parts of the Russian Empire), Tadeusz Czacki, invited Pitschmann to work as a professor of drawing at the newly founded Wolyn secondary school (later a Lyceum) in Krzemieniec. The artist spent the last 28 years of his life working in this small Wolyn town. In 1831, in commemoration of his 25-year professorship at the Lyceum, he was awarded the honorary title of councellor.
From the onset of his artistic career Pitschmann kept a registry of his works (mainly portraits). This surviving list consists of more than 500 paintings. The whereabouts of most of them are unknown today: only several of Pitschmann's works belong to museum collections of Lvov (Lemberg), Warsaw, Krakow, Wroclaw, Poznan. Similarly, we could not locate a single work of his in the records of international art auctions of the past 30 years (an aspect that makes our portrait an extremely rare find at today's art market!).

But who is this elderly gentleman, the sitter of our portrait? The old authentic inscription "Countess Gaisruck" on stretcher (see our image nr.11) provides - as we are 100% certain - his name. In 1800, during Pitschmann's stay in Lemberg, there lived only one gentleman by such name, specifically, Johann Jakob (in Galicia - Jan) Count Gaisruck, the Austrian governor of Galicia (see our image nr.16). Edward Rastawiecki in his dictionary of Polish artists "Slownik Malarzów Polskich", Warsaw 1857, Vol III (see our image nr.18) provides a nearly complete list of Putschmann's portrait works executed during the artist's Lvov (Lemberg) period, i.e. ca. 290 paintings. In this list, one finds two portraits of Count (in Polish "hrabia") Gaisruck: No. 228 and No. 268. One of them, we are sure, is ours!

On August 5th 1772, parts of Little Poland (Malopolska) and Red Rutheni (Rus Czerwona) were annexed by Austro-Hungarian Empire. In September of the same year Austria created the Kingdom of Galicia and Lodomeria, designating town Lemberg (Lvov) as its capital. Until 1918, one of Austrian archdukes was always assigned to be the King of this kingdom. The next to kingly rank was that of a governor. In July 1795, the Kingdom of Galicia and Lodomeria was assigned a new governor, Count Johann Jakob Gaisruck, transferred from his (former) post of the Austrian province Carniola (present day Slovenia). The count served (while living in Lemberg!) in this new function until his death in February 1801, which means that our painting must have been one of Pitschmann's most important commissioned works ever.

Our further additional images (nr.19 through nr.25) show several aforementioned Pitschmann's works housed by museums.

And, finally, an impudent supposition: an odd fact that out of Pitschmann's 500 works only few had survived could likely be explained by arguing that many of his unsigned portraits are attributed to other artists? For instance, to Johann Baptist Lampi the Elder, who, as we know, worked from August 1788 to autumn 1791 in Poland. Could these three abovementioned Lampi's works (images nr.14 and 15) be dated erroneously, and, in reality, be instead works of Pitschmann painted around 1800?

Provenance:
1.) Countess Gaisruck (either Gaisruck's widow, or one of his heiresses). It is possibly the same Josephine Countess Gaisruck (1779-1833), who was a maid of honor of the Austrian Empress Maria Ludovica, as well as the author of several letters to great poet Goethe… Her connection to Princes Liechtenstein (who owned this portrait from 19th century) could probably be explained by her marriage to yet another Austrian aristocrat, Count Joseph O'Donell von Tyrconnel, who was possibly a friend or relative of the Liechtensteins?
2.) Inventory of the Royal Castle Vaduz, Liechtenstein until 2007
3.) Aforementioned Christie's Sale of April 1st 2008, Amsterdam

mimaiap08
Condition: good; unlined; in original (!) neoclassical frame
Creation Year: 1800
Measurements: UNFRAMED:86,5x69,0cm/34,1x27,2in FRAMED: 100,0x81,5cm/39,4x32,1in
Object Type: Framed oil painting
Style: Old Master paintings
Technique: oil on canvas (painted in oval)
Inscription: signed and dated: J. Pitschmann /pinxit 1800
Creator: Joseph Franz Johann Pitschmann
To see other works by this artist click on the name above!
Creator Dates: 1758 Triest-1834 Kremenets
Nationality: Polish
SHIPPING COSTS UPON REQUEST:
office@wilnitsky.net
Click here for images free of watermark!
Click on images or on

to see larger pictures!