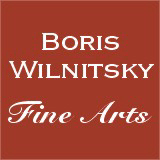 SALE!!! SAVE MONEY !! 1 EUR = 1 USD
# 29889
Frederick Serger (1889-1965) "The hil (In Provence)l", oil on canvas, 1961
5500 EUR
FINAL DISCOUNT PRICE= 5500 USD
( for EUR price see date rate )
Please note: Shipping and insurance costs are not included in this promotion, ONLY ITEM PRICES!
(please note additional 10% tax applies for transactions concluded within the European Union)
Illustrated in the book by George Stiles (see below) as painted in 1961. Another version of the same view (clearly, the artist's favorite spot) was painted by Serger in 1948 (see our image nr.10).
Frederick Serger (real name: Frederik Bedrich Sinaiberger) was born in 1889 to a Jewish family of manufacturers in a small town Ivancice near Brno (Brunn), Moravia, a province of Czechoslovakia. He studied in the art schools of Brno and Vienna and later found teachers in Munich. The First World War interrupted his education, he became an officer of the Austrian army and served in the Balkans. After the war Serger went to Paris, where he continued his art studies and soon joined the Paris movement "Ecole de Paris", School of Paris. In 1927 he married the Polish woman of Jewish origin, Helen Spitzer (later Helen Serger, owner of the "La Boetie Galleries" in Manhattan, New York). He then moved with Helen to Scoczow on the Polish-Czech border and stayed there until 1939 exhibiting regularly at many museums in Warsaw, Cracow, in Paris Salon de Tuilleries and the famous Salon d'Automne. In 1936 Serger had a one-man show at Salon and at "Bernheim-Jeune" in Paris, a gallery historically noted for exhibiting many of the most significant modern painters, such as Picasso and Cezanne. In 1937 the Museum of the City of Paris purchased a work by Serger from the Salon d'Automme. After the beginning of the Second World War the Sergers moved to England and from there to Panama, Guatemala and Mexico. In 1941 he established a studio on the 57th St. in Manhattan and started with his long career of exhibiting in New York galleries, such as Lillenfelt Galleries, John Heller, Schoneman, a one-man show at the De Young Museum in San Francisco and at the Museum of New Mexico in Santa Fe, at the Springfield Art Museum and at the Butler Institute of American Art in Ohio. He also participated in countless group shows in many American cities during the 25 years he lived and worked in New York. He also had a summer residence from 1947 in Woodstock, N.Y. His biography is included in the "WHO is WHO in World Jewry", and articles on his works appeared in many publications. Literature: "Frederick Serger. His Life and Work" by George Stiles, published by Schoneman, New York, 1962.

See also our additional images with other works of this artist that were offered at the international art auction market in the last years.
miaugap08
Condition: good
Creation Year: 1961
Measurements: UNFRAMED:81,3x73,7cm/32,0x29,0in FRAMED: 101,3x93,7cm/39,9x36,9in
Object Type: Framed oil painting
Style: Expressionism
Technique: oil on canvas
Inscription: verso signed: Property of Helen Serger/F. Serger
Creator: Frederick Serger
To see other works by this artist click on the name above!
Creator Dates: 1889-1965
Nationality: Jewish / Czech / American
SHIPPING COSTS UPON REQUEST:
office@wilnitsky.com
Click here for images free of watermark!
Click on images or on

to see larger pictures!