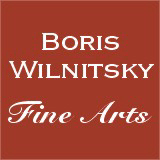 If you have a question about this item,
please contact us at: office@wilnitsky.com
# 30543
Chevalier de Chateaubourg (1758-1837) "Portrait of a young gentleman", miniature, 1795/1800
Price: ON REQUEST
(please note additional 10% tax applies for transactions concluded within the European Union)
THE SELLER WILL COVER INSURED SHIPPING WITH REGULAR MAIL FOR THIS ITEM!

Miniature portrait of a young aristocrat, painted (judging by sitter's hairstyle and attire) around 1795 by the well-known French miniaturist Charles-Joseph de la Celle, Chevalier de Chateaubourg.
Charles-Joseph de la Celle, Chevalier de Chateaubourg (1758 Nantes - 1837 ibidem) was a brother-in-law of the famous French poet Chateaubriand. As a captain of Regiment "Prince de Conde" he emigrated in 1792 for two years to London, from 1794 till 1799 lived in Germany (1796 Ansbach, 1798/99 Berlin). First known miniature of his is dated 1794 (sic!). As a portrait miniaturist he traveled from Court to Court and portrayed the members of the local royal families. In 1800-1805 the artist lived in St. Petersburg where he was one of the most favorite portraitists. From St. Petersburg he made trips to Tver and Moscow. His sitters of this period were (as they were in Germany) exclusively members of high aristocracy and royalties. In 1806 he came back to his native Nantes and settled there. Although Chateaubourg was supposedly a pupil of Isabey, his name is to be found also among the pupils of Augustin (1812, 1813). Yet, his miniatures resemble neither Augustin's nor Isabey's. Schidlof writes: "…in his early works of the 19th century there is a Nordic influence, a certain relationship with the miniatures of Stroehly and Grassi".
The artist began exhibiting in 1798 at the Academy of Berlin and showed his miniatures in 1804, 1808 and 1812 at the Salon of Paris. Many of his works are on view in various Russian museums (Pavlovsk, Hermitage, Russian Museum St. Petersburg), Museums of Den Haag, Krakow, Ashmolean Museum Oxford, Louvre Paris, Stockholm, Windsor Castle, etc.).
mijan26ap09
Condition: good
Creation Year: ca 1795/1800
Measurements:UNFRAMED:6,5x6,5cm/2,6x2,6in FRAMED: 10,5x10,5cm/4,1x4,1in
Object Type:Framed miniature
Style: Portrait Miniatures
Technique: watercolor on ivory
Inscription:signed: Chateaubourg
Creator: Charles-Joseph de la Celle, Chevalier de Chateaubourg
Creator Dates: 1758 Nantes-1837 Nantes
Nationality:French
We will cover shipping with regular registered mail (delivery between 7-14 days), as well as insurance costs for this item.

OBS: Austrian mail refunds cases of loss or damage with maximum EUR 500 to the US (in Europe sometimes more, depending on destination).


Full insured 2-3 days DHL service available upon request and subject to extra charges: office@wilnitsky.com
Click here for images free of watermark!
Click on images or on

to see larger pictures!