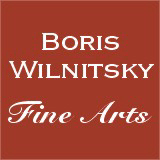 If you have a question about this item,
please contact us at: office@wilnitsky.com
# 30783
Carl Chr. Vogel v. Vogelstein & Joh. H. A. Friedrich-? "Large portrait of a noble girl", oil, 1820s
Price: ON REQUEST
(please note additional 10% tax applies for transactions concluded within the European Union)
As composition model for this wonderful portrait (obviously painted on commission by the girl's parents) the artist has taken undoubtedly from a (widely known through a mezzotint) painting of the English artist George Morland (1763-1804). We included a picture of the mezzotint as our first additional image nr.11. There is also no doubt, that the painting was painted by two different artists. One of them was the author of the girl's figure and of the park landscape in the background. The other was a brilliant animalist painter working in style of the 17th century Dutch artist Melchior d'Hondecoeter. Our additional images nr.12-13 show the works of the Dresdener artist Johann Heinrich August Friedrich (1789 Dresden -1843 ibidem), who could be the author of this wonderful "rooster"-corner.
It is very likely that the author of the girl's portrait was also a native of Dresden. We believe that only one artist of that period (living in Dresden) could be in question, namely very well known portraitist and historical painter, Carl Christian Vogel von Vogelstein. There are known his numerous large portrait works (many of them are children's portraits!; for comparison, see our images nr.14-17).
Carl Christian Vogel von Vogelstein (1788 Wildenfels - 1868 Munich) was a very important figure in the German Romantical art of the 19th century. He was son and pupil of Christian Lebrecht Vogel (1759-1816). Until the age of fourteen Vogel von Vogelstein lived with his parents in Wildenfels.
From 1804 he attended the Dresdener Academy. Parallel to studying, he earned his bread as the drawing teacher for the family of the Lithuanian Baron von Loewenstern, whom he followed to St. Petersburg in 1808, staying there for four years.
In St. Petersburg Vogel von Vogelstein was able to find independence by obtaining modest quarters in the house of Prince Gagarin. He established himself as a portrait artist, and mainly painted portraits of the numerous foreigners living at that time in the Russian capital. He also painted members of the Russian Court (for instance, Count Saltykov).
In 1812 he returned to Dresden. In the same year Vogel von Vogelstein traveled to Italy via Prague and Vienna. In 1813 he also went to Rome via Venice, Bologna and Florence, and lived there until 1820. He studied works of Old Masters from Giotto to Raphael, and was in the circle of the German Romantical artists and writers. In this period, Vogel von Vogelstein painted mainly religious paintings of large format (sic!).
He was able to stay in Italy as long as seven years, for he was a holder of scholarship granted to him by the King of Saxonia.
In 1820 he came back to Dresden, becoming a Professor at the Academy. From 1822 he was made an Honor Member of the Berliner Academy. In 1824 he was appointed to Court Painter and, while in this position, portrayed many members of the Royal Family, high Saxonian aristocracy, and courtiers. In 1831 Vogel von Vogelstein became an Honor Member of St. Petersburg Academy and in the same year was ennobled with the predicate "Von (Vogelstein)" by the King of Saxonia. In 1842 he returned to Italy, where he stayed until June 1844.
In 1853 Vogel von Vogelstein retired as professor and moved to Munich. In 1856-57 he returned for the third time to Italy. He died in Munich in 1868.
Mainly a portraitist, Carl Christian Vogel von Vogelstein, was also an outstanding author of religious paintings, many of which went to England. However, quite a few of them can be seen in Germany, primarily in churches and cloisters. His works belong to collections of the greatest museums around the world.
mimar31ap09
Condition: good; in original empire frame
Creation Year: early 1820s
Measurements:UNFRAMED:146,0x107,0cm/57,5x42,1in FRAMED: 172,5x132,5cm/67,9x52,2in
Object Type:Framed oil painting
Style: 19th century paintings
Technique: oil on canvas
Inscription:-
Creator: Carl Christian Vogel von Vogelstein , attrib.
Creator Dates: 1788 Wildenfels-1868 Munich
Nationality:German
SHIPPING COSTS UPON REQUEST:
office@wilnitsky.com
Click here for images free of watermark!
Click on images or on

to see larger pictures!