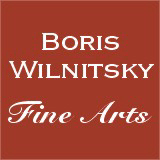 If you have a question about this item,
please contact us at: office@wilnitsky.com
# 30868
Joh. Christian Schwartz (1756-1814) "Marie, Duchess of Brunswyck", pastel portrait, ca. 1805
Price: ON REQUEST
(please note additional 10% tax applies for transactions concluded within the European Union)
As we strongly believe, this pastel portrait of Marie, Duchess of Brunswyck (Braunschweig) is a copy after an original (also in pastel!) portrait by Johann Heinrich Schroeder (1757-1812), made by Schroeder's close friend (and probably assistant), court artist in Brunswyck, Johann Christian August Schwartz. The Schroeder's original was formerly in collection of the Royal House of Hanover (Castle Marienburg by Hildesheim near Hanover). It was sold at Sotheby's on October 8th 2005, lot 1787 (see our images nr.8 & 9).

Johann Christian August Schwartz's authorship is convincingly supported by existence of another (painted by Schwartz - !) version of this portrait (see Lothar Brieger's "Das Pastell. Seine Geschichte und seine Meister", Berlin 1921, illustrated on page 306 as "portrait of an unknown woman" from Residence Castle Brunswyck; see our image nr.10).
Johann Christian August Schwartz (1756 Hildesheim - 1814 Brunswyck) worked in Brunswyck (Braunschweig), Dresden, Hamburg, and exhibited at the Berlin Academy in 1800. He was evidently close to Johann Heinrich Schroeder (1757-1812): the attribution of works between them is complicated by the number of pastels signed by Schwartz which are in fact versions of works by Schroeder; many confusions still persist.
The sitter, Wilhelmine Marie Elisabeth was born in 1782 in Karlsruhe as Princess of Baden and daughter of Hereditary Prince Karl Ludwig of Baden (1755-1801) and his wife, Princess Amalie of Hessen-Darmstadt (1754-1832). She was one of eight children of this royal couple (one of her sisters became Tsarina Alexandra Fedoreovna of Russia (wife of Tsar Nikolai I); together with this portrait, we acquired also the portrait of Marie's younger brother (also in pastel, of the same size, and coming from the same estate) - at that time (1805) Hereditary Prince and later Grand Duke of Baden, Karl Ludwig Friedrich (1786-1818), also painted by J. Chr. A. Schwartz (see our web 30867)).
On November 1st 1802, in Karlsruhe, Marie was married to Duke Friedrich Wilhelm of Brunswyck (Braunschweig)-Lueneburg-Oels (1771-1815), commonly known as "The Black Duke", son of Karl Wilhelm Duke of Brunswyck (for portrait of Marie's father-in-law, see our web 28135). Our image nr.11 offers Marie's extensive biography.

Provenance: noble estate in Baden-Baden, Germany

mimai20ap09
Condition: good
Creation Year: ca 1805
Measurements:UNFRAMED:38,5x31,5cm/15,2x12,4in FRAMED: 50,0x42,3cm/19,7x16,7in
Object Type:Framed pastel
Style: Old Master drawings
Technique: pastel on vellum, painted in oval; mounted on a stretcher
Inscription:verso: inscribed
Creator: Johann Christian August Schwartz
Creator Dates: 1756 Hildesheim-1814 Brunswyck
Nationality:German
SHIPPING COSTS UPON REQUEST:
office@wilnitsky.com
Click here for images free of watermark!
Click on images or on

to see larger pictures!