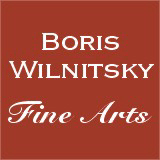 SALE!!! SAVE MONEY !! 1 EUR = 1 USD
# 31127
Iosif Michailovich (Joseph) Levin (1894-1979) "Three figures" oil on canvas, ca. 1950
5000 EUR - 50% DISCOUNT = 2500,00 EUR
FINAL DISCOUNT PRICE= 2500,00 USD
( for EUR price see date rate )
Please note: Shipping and insurance costs are not included in this promotion, ONLY ITEM PRICES!
(please note additional 10% tax applies for transactions concluded within the European Union)
One painting among others in the collection (part of artist's estate) acquired by us in July 2009 in Nice, South France.

Iosif Michailovich (in France and US - Joseph) Levin was born in St. Petersburg, Russia, in 1894 into a Jewish family. His early awakened interest in art led Levin, while he was still a grammar-school boy, to regularly visit the Hermitage in Winter Palace, where he was particularly fond of Old Master paintings. In 1910, he became a student of St. Petersburg Imperial Academy and remained there until 1913. During this time, his teachers were well-known Russian painters Rerberg, Mashkov, Navozov and Khimona. After 1913, he ventured on a study trip to Paris followed by a sojourn in New York that lasted several years. His brother Veniamin Levin - hereafter a well known Russian poet - already lived there from 1905. In New York, Levin attended the National Academy of Design.
After the February Revolution (1917) he returned to St. Petersburg, where he resumed lessons with his old professor Rerberg. In the next few years he lived between Petrograd (St. Petersburg) and Moscow. In 1919, Levin made an acquaintance with his brother's close friend, famous poet Sergei Esenin. In this period, Levin was in the circle of friends of painter Michail Larionov. He was also very influenced by works of the Russian avantgardists such as Malevich, Tatlin, El Lisitsky, etc. At this time, he also joined the Imaginist movement of painters, whose manifest was published by Sergei Esenin.
In 1920, after moving to East Russia, the artist exhibited in Saratov and Orenburg. In 1922, in Penza (Volga region), he was awarded 1st-prize for a wall decoration project intended for local People University. In the same year, he stayed in Chita (Siberia), where he published several children's books with his own verses and illustrations. After that, together with a group of other artists, Levin spent several months in China, exhibiting in Peking and Tientsin, and studying the art of Chinese calligraphy - a skill that had influenced his own style in the years to come.
In 1923, Iosif Levin returned to Moscow. He spent the next several years working as artist of Agitprop decorations and cementing his popularity among fellow Russian avantgardists. He kept contact with Sergei Esenin and was a regular visitor of the famous political-artistic café "Manger of Pegasus" - a place often frequented by Esenin and his wife, famous American danseuse Isadora Duncan.
On December 28th 1925 in St. Petersburg, Esenin committed a suicide. His body was transferred for burial to Moscow, at which Iosif Levin made a drawing of the poet on his death bed (this portrait drawing is presently housed in the Museum of Literature in Moscow; see corresponding image).
Drawn by possibilities of Cubism and L'Ecole de Paris (The School of Paris), Levin came to this city in 1926, during that period of great artistic ferment and development. There, he became an exponent of the Independent Salon, while working out of his own studio (rue Baillou in Montparnasse). He also maintained close contact with numerous Russian artists living in Paris.
In 1935, the artist emigrated to the USA attracted by the thriving art world of New York City like so many other artists-immigrants of that time. He opened his own studio in Greenwich Village and actively joined American art scene by regularly participating in various exhibitions (among them, at the Manhattan Public Library (1940), Brooklyn Museum (1943-44), Weyhe Gallery in New York (1944), De Young Memorial Museum in San Francisco (1945), etc.). Besides that, in 1938, he exhibited in Cuba, in Havana "LYCEUM" (Levin visited Latin American also later, in the 1940s).
During his "American" period, which lasted until 1970, the artist created an art form called "Surconscious art" (Centrifuge), which, as he conceived it, followed not necessarily an intellectual process. Art for him was a means through which the artist comes to acquire a cosmic consciousness. He believed that by dispensing with natural shapes and images, the artist becomes more alert to the universal movement of a centrifugal force. In these dynamically constructed compositions, he expressed the movement of cosmos.
He exhibited these "centrifugal" works between 1950 and 1967 in the USA, but also abroad, in Paris, London, and Amsterdam. Most of his last years in the USA Levin spent in his country studio, 50km away from New York.
In 1969, he was invited to Moscow, where he held a personal exhibition at the Museum of Literature.
In 1970, he again settled in Paris, in order to be close to his daughter Bettina who was living there. He spent winters in Paris and summers in the Provence. In 1977, two years before his death, Levin had his last exhibition at Galleria Il Grifo in Rome (some of the works acquired by us still bear the stamps of Italian customs on their versos).
Iosif Michailovich Levin died in 1979, during his summer stay in the Provence.

Our additional images offer additional biographical material about the artist and show several of his works offered at art auctions in the last years.

Provenance:
1) artist's estate, South France
2) Gallery "La Gare", Nice
misept15ap09
Condition: good
Creation Year: ca 1950
Measurements: UNFRAMED:66,0x51,2cm/26,0x20,2in FRAMED: 80,0x65,0cm/31,5x25,6in
Object Type: Framed oil painting
Style: Modern Art
Technique: oil on canvas
Inscription: signed; verso: artist's estate stamp (covered by a newer stretcher)
Creator: Iosif Michailovich Levin
To see other works by this artist click on the name above!
Creator Dates: 1894 St. Petersburg-1979 Aix, South France
Nationality: Russian / Jewish / French / American
SHIPPING COSTS UPON REQUEST:
office@wilnitsky.com
Click here for images free of watermark!
Click on images or on

to see larger pictures!