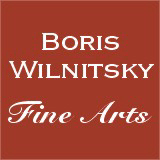 SALE!!! SAVE MONEY !! 1 EUR = 1 USD
# 32111
B. Bachmann-Hohmann "Russo-Turkish skirmish by Karakulas (Crimean War)", oil on canvas, 1855
32000 EUR
FINAL DISCOUNT PRICE= 32000 USD
( for EUR price see date rate )
Please note: Shipping and insurance costs are not included in this promotion, ONLY ITEM PRICES!
(please note additional 13% tax applies for transactions concluded within the European Union)
The author of this highly qualitative battle painting, Austro-German artist B. Bachmann-Hohmann, executed it in 1855, i.e. one year after the depicted skirmish between Turkish and Russian cavalry took place. This event occurred on the 16th of May (in Old Russian Style; according to the modern or New Style of calculation - on the 28th of May) of 1854, during the Crimean War (known in Russia as "Vostochnaya Voina" ("Oriental War")). This skirmish on a plain near the small town Karakulas (called "Karakul" in Russian sources) on Romanian-Bulgarian border was one of the Crimean War's most significant ones, instantly becoming a subject of numerous publications (with detailed description!) in Russian and international press.
Hence, we can well imagine that the author "constructed" this composition basing it on the read correspondence. In any case, he was not an actual eyewitness. Although he created this scene using documental details (local scenery, uniform of Russians), he made one mistake: the horses manned by Russian hussars were in reality black and not brown (every cavalry regiment in Russia was assigned its own color of horses; in this regiment (see below) horses were black!).

Yet, before venturing to describe this combat, we would like to turn to the city of St. Petersburg of the late 1820s - early 1830s. One of the most frequented high society salons in that city was that in the house of famous Russian historiographer, Nikolai Michailovich Karamzin. The latter had passed away already in 1826, but his widow and, especially, his grown-up children always kept the doors of their house "open" for guests.
One of the frequent visitors to this house was Alexander Sergeevich Pushkin, the best Russian poet of all times. One of Karamzins and the main protagonist of our story, Andrei Nikolaevich Karamzin (b. 1814), was at that time a young officer of Leib-Guards Mounted Artillery. In the early 1830s, Andrei Nikolaevich was inseparable with the genius poet (Pushkin had died after a duel in 1836), visited the latter's house, and was also acquainted with the poet's future duel opponent (and murderer) Georges-Charles D'Anthes (he met again the latter in Baden-Baden in 1837).
In 1838, another Russian genius appeared at Karamzin's house. It was the poet Michail Yurievich Lermontov, who went on to visit Karamzins regularly until his last departure to the Caucasus (where he too had fallen in a duel) in April 1841.
On the 13th of April (his last evening in St. Petersburg), he dined in the company of our Andrei Nikolaevich Karamzin and Countess E.P. Rostopchina (writer and mistress of Andrei Nikolaevich).
In 1846, Andrei Nikolaevich married a woman eight-year his senior, who was nonetheless one of Russia's most beautiful ladies. She was the widow of industrial magnate Pavel Demidov - Aurora Demidova - who, upon her husband's death, became one of the country's wealthiest brides (see our image nr.24). This marriage placed Andrei Nikolaevich among the most influential persons of the Russian society. After the wedding he retired from military service (always serving in Leib-Guards, he was for a long time aide-de-camp of high-ranking military commanders; in brief, he was not a battle officer and had virtually never gotten "the smell of powder") and went on to manage his wife's affairs, overseeing her Ural plants (considerably enhancing employees' working conditions) and partaking in the capital's social life.
In 1853 the Crimean (Oriental) War broke out. It lasted three years, covering several fronts of military operations: Crimea, Little Valachia (Danube region at Romanian-Bulgarian border), Caucasus (Armenian-Turkish border), Baltic Sea, White Sea and Far East (Petropavlovsk-on-Kamchatka).
The hesitancy of the Russian commandment in Little Valachia sparked an outcry of resentment in some of the members of patriotically charged St. Petersburg high society, including our Andrei Nikolaevich Karamzin. In the beginning of 1854 he petitioned the Tsar, asking for his permission to rejoin the military service, in order to be sent to Little Valachia. Nikolai I favored this petition and promoted Karamzin to the colonel rank. He was subsequently sent to Alexandriyski Hussar Regiment, which fought against the Turks in the abovementioned region.
Karamzin joined the regiment (at that time it bore the provisional name "Prince Warshawski Hussar Regiment" - in honor of the chief-commander in Little Valachia, Ivan Fedorovich Paskevich, Count of Erivan and Prince Warshawski) in the middle of April 1854.
On the 16th (28th) of May 1854 - the day that turned out tragic for him (our painting shows this event at the onset of evening) - colonel Karamzin was ordered to conduct reconnaissance with detachment of 700 men (consisting of three (P.F. Wistenhof in his memoirs says there were six!) squadrons (divisions) of Prince Warshawski (Alexandriyski) Hussar Regiment, four canons of the 10th Mounted Battery and sotnya (hundred men) of 38th Donski Cossack Regiment). He also received strict instructions and requisitions to avoid engagements with the enemy at all costs.
Karamzin's detachment set off at 6 o'clock in the morning and began moving in the direction of the small town Karakulas (present day Bulgaria), where, according to scouts, a Turkish detachment of unidentified (sic!) strength was positioned.
Having crossed the River Oltec, Karamzin's detachment made a stopover for a bivouac. After a four-hour break it moved further and soon approached a narrow wooden bridge over the brook Tizluc (Tezlui). A further advancement became dangerous, for, in case of retreat, the narrow bridge could become obstruction for both artillery and cavalry. Despite concerns voiced by his experienced officers, Karamzin ordered his detachment to cross the bridge.
Several kilometers further appeared another narrow bridge stretching over a swamp. Karamzin - determined and self-assured - ordered to cross this bridge as well.
Having crossed this second bridge, Russians found themselves on a plain, entirely exposed to the enemy observation. The latter was stationed in four columns of regular cavalry before Karakulas and - according to visual estimate - counted 700 to 800 men maximum. Subordinate officers of Karamzin, assuming (reasonably) that these four columns are only a small particle of the troops stationed in Karakulas, advised him to withdraw without delay and to order detachment to retreat over the two narrow bridges. However, Karamzin, overcome by ambitions of military glory and recognition, ordered artillery fire and attack on enemy. His faithful canonry began firing; the hussars and cossacks rushed to the charge. Yet, abruptly, Russian artillery quieted (it turned out later that only very few cannon-shots were available), and the Turkish troops - initially in disarray - quickly regained their spirit. All of a sudden, the (previously unnoticed) "bashi-bazouks" (Turkish irregular cavalry; we see them in our painting as randomly dressed horsemen) swarmed from both wings of the columns and immediately overlapped both Russian left and then right flanks.
Two Prince Warshawski (Alexandriyski) squadrons (divisions) that were situated at the Russian left flank, namely, the 5th ad 6th divisions (see inscription "6D" - 6th Division - on the bag of the retired Russian hussar in lower right area of the painting; images nr.14-15), have suffered the most casualties. The Turks, counting 2000-3000 men, have caused confused retreat of the Russian detachment. During this retreat the Russians lost 150 men, including the Colonel Karamzin himself.
Eyewitnesses have been reporting that, as Karamzin's horse was shot and has fallen dead, he was surrounded and disarmed by the Turks, who, before delivering him to Karakulas, proceeded to expropriate his valuables: gold watch, money, etc. When one of the Turks tore at the golden chain with medallion housing a miniature portrait of his wife Aurora, desperate Karamzin snatched the sword from the Turk's sheath and hit a crushing blow on the latter's head. As a result, he was instantly slashed by numerous Turkish swords; his body later counted 18 deep slashes.

At first laid to rest in Little Valachia, Karamzin's body was later exhumed, transferred to St. Petersburg and re-buried there by his wife. Aside from that, grateful workers of Demidov Steel Works from the city of Tagil (Ural) have raised money among themselves to assemble a monument to Karamzin (see our image nr.26).

Today, some Russian sources describe this event as a heroic victory of the Russian cavalry that (counting only 700 men) defeated a 2000-men Turkish detachment (after this event the Russian press reported 700 fallen Turks, whereas the English informed of 250 Turkish casualties).
In reality, the Russian army shared a common belief that, by being killed, Karamzin escaped trial by tribunal. In St. Petersburg, Karamzin's battle attitude became a topic of continuing and heated discussions. The echo of these discussions can be traced to one of Lev Tolstoy's preliminary drafts for the "Decembrists". Tolstoy, without directly referring to Karamzin, recalls "one, so driven by desire to hold victory service as soon as possible, who fell on the battlefield of Valachia, leaving on that battlefield two squadrons of hussars (5th and "our" 6th squadrons - B.W.)".
Tsar Nikolai I, having learned of this incident, was appalled at Karamzin's recklessness and regretted administering him a colonel's rank.
According to report of the Turkish chief-commander in Little Valachia Omer-Pasha to his war minister, Karamzin stumbled upon the reconnaissance-detachment of Turkish General Staff consisting of - among others - cavalry under command of colonel Haci-Mehmet-Bey (we see him on a white stallion in center of the composition!).
B.Bachmann-Hohmann worked in the mid 19th century in Vienna and Leipzig painting genre and military subjects. He took part in several exhibitions at the "Oesterreichischer Kunstverein" in Vienna.
Our images nr.32-35 show few other works of this artist.

*Literature:
1.) Petr Fedorovich Wistenhof "Andrei Nikolaevich Karamzin"; Moscow, 2007
2.) A.M. Zayonchkowski "Oriental War 1853-1856", vol. 2; St. Petersburg, 2002
3.) M.I. Bogdanovich "Oriental War 1853-1856"; St. Petersburg, 1877
4.) E. Kovalevski "War against Turkey"; St. Petersburg, 1868

Provenance:
1.) private German collection
2.) private French collection
3.) auction house "Bertrand Miallon", Perigueux, France, December 20th 2009, lot 104
3.) auction house "Dorotheum", Vienna, 22 October 2015, Lot 1225 (see our image nr.36)

mifeb17ap10
Condition: very good; unlined
Creation Year: 1855
Measurements: UNFRAMED:73,0x98,0cm/28,7x38,6in FRAMED: 98,0x123,5cm/38,6x48,6in
Object Type: Framed oil painting
Style: Battle paintings
Technique: oil on canvas
Inscription: signed and dated: B.B. Hohmann 1855; verso: exhibition number (see image)
Creator: B. Bachmann-Hohmann
To see other works by this artist click on the name above!
Creator Dates: active in Vienna and-Leipzig in mid-19th c.
Nationality: Austrian / German
SHIPPING COSTS UPON REQUEST:
office@wilnitsky.net
Click here for images free of watermark!
Click on images or on

to see larger pictures!