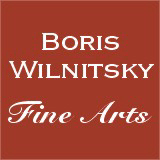 If you have a question about this item,
please contact us at: office@wilnitsky.com
# 32168
Carolina de Ottenberg "Count Petr B. Sheremetev", very important Russian miniature!!, ca.1745
Price: ON REQUEST
(please note additional 10% tax applies for transactions concluded within the European Union)
THE SELLER WILL COVER INSURED SHIPPING WITH REGULAR MAIL FOR THIS ITEM!

Miniature portrait of high-ranking Russian official wearing a mantle of St. Alexander Nevski-Order (with breast star and neck cross of this high imperial award). His hairstyle provides a date of making - 1740s.
Comparison (see images nr.9-11) with portraits of Count Petr Borisovich Sheremetev (all three of these portraits were made at a much later date, when the count wore different wigs) allows us to maintain that our sitter is the very same person portrayed at a much younger age. He is depicted in 1744/45, shortly after he was awarded (July 1744; see our images nr.12-13 with P.B. Sheremetev's extensive biography from A.A. Polovtsov's dictionary) Order of St. Alexander Nevski.

Count Petr Borisovich Sheremetev (also Sheremet'ev) was a Russian nobleman and courtier, as well as the wealthiest man in Russian besides the Tsar. He was born in 1713 as a son of Count Boris Petrovich Sheremetev and his second wife Anna Petrovna Saltykova. When his father died in 1719, Tsar Peter the Great swore to be "like a father" to Sheremetev's children. Hence, young Petr Borisovich was brought up at court as companion of the heir to throne - future Tsar Peter II. After a teenage career in the Guards, Sheremetev became a chamberlain of the Empress Anna Ioanovna and then to the Empress Elisabeth. Under Catherine the Great, he became a senator and was the first Marshal of Nobility ever elected. Unlike other court favorites, who rose and fell with the change of sovereign, Sheremetev remained in office for six consecutive reigns… He was one of Russia's first noblemen to be independent in the European sense.
He was a lover of art and theater, using his vast wealth to remodel the Sheremetev Palace (known as the "Fountain House") on the Fontanka Embankment and the family estate in Kuskovo, where he compiled a gallery of portraits and created a famous serf orchestra.
He married Varvara Alekseevna Cherkasskaya, daughter of an important court official, who brought him an extensive dowry. He died in 1787.
In 1742 Petr Borisovich Sheremetev was awarded Order of St. Anna; in 1744, as mentioned above, Order of St. Alexander Nevski; in 1758 - Polish Order of White Eagle and, in 1761, highest Russian award, Order of St. Andrei the First-called.

As for the author of this portrait, certain Carolina de (von?) Ottenberg, unfortunately we could find no concrete information about her. This miniature appears to be the only known work of this lady, who in the 1740s lived in Russia, and who was either a member of a foreign family living in St. Petersburg or (what seems to be more plausible) a member of the staff (children's governess?) in Count Sheremetev's house.
Provenance: auction house "Stahl", Hamburg, 13 February 2010, lot 616 (as "Church dignitary"!?).

mimar1610
Condition: good
Creation Year: ca 1745
Measurements:UNFRAMED:5,0x4,0cm/2,0x1,6in FRAMED: 14,0x12,5cm/5,5x4,9in
Object Type:Framed miniature
Style: Portrait Miniatures
Technique: watercolor on ivory
Inscription:signed
Creator: Carolina de Ottenberg
Creator Dates: -
Nationality:Russian
We will cover shipping with regular registered mail (delivery between 7-14 days), as well as insurance costs for this item.

OBS: Austrian mail refunds cases of loss or damage with maximum EUR 500 to the US (in Europe sometimes more, depending on destination).


Full insured 2-3 days DHL service available upon request and subject to extra charges: office@wilnitsky.com
Click here for images free of watermark!
Click on images or on

to see larger pictures!