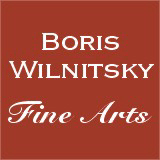 If you have a question about this item,
please contact us at: office@wilnitsky.com
# 32529
Mlle Eulalie Singry "Portrait of Pierre-Luc-Charles Ciceri" important large miniature, early 1830s
Price: ON REQUEST
(please note additional 10% tax applies for transactions concluded within the European Union)
This very large (17 x 12,8 cm!) miniature portrays a gentleman - surely an artist - holding a sketch block and posing in a romantic evening landscape. On verso of this miniature, we find an old authentic inscription with his name thought by us long time to be readed as "Biceri".

Although the frame bears an old tag with the name of well known Parisian miniaturist Jean-Baptiste Singry (1782 Nancy - 1824 Paris), this (outstanding!) miniature is, in fact, a very rare work of Singry's daughter and pupil Mlle Barbe-Eulalie Singry (born in 1807). After marrying on 15 November 1836 musician Jean-Francois-Isidore Mermet, Mlle Singry became Mme Mermet (not Dorus as Schidlof says; she had a sister, Emilie who married this Dorus!)). Mlle Eulalie Singry exhibited under her maiden name in all the Salons between 1833 and 1836, and it seems that long time after marriage she was not more active as an artist (Nathalie Lemoine-Bouchard mentions miniaturist Eulalie Mermet who was active between 1855-1856). Like her father, she painted mainly portraits of artists (sic!) and, chiefly, of actors and actresses.
Schidlof says further that she was a miniaturist of talent (a fact clearly demonstrated by the quality of our miniature! - B.W.), and that she often painted miniatures of large (sic!) dimensions.
In the course of two years, this piece was in our possession as a work of Jean-Baptiste Singry, until it was recognized by the world best portrait miniature expert, Dr. Bodo Hofstetter (Switzerland), upon his visit to our gallery (12 June 2007), as a work not by father Singry, but by his daughter Eulalie.
Having immediately re-examined the signature in portrait's lower right corner, we have unexpectedly discovered a big letter "E" before the name Singry (well seen from our image #10; clearly: "Eul. Singry").

Works of Eulalie Singry are extremely rare and are hard to come across today: we could find only one published miniature of this female artist, which belonged formerly to the famous David-Weill collection (see our image nr.20).

Our sitter is dressed according to the fashion of early 1830s, which allows us to believe that the miniature was painted sometime in this period, but not later as 1836 (once again, Eulalie Singry married in late 1836 and nothing is known about see as an artist in next two decades).

Three years later, on April 28th 2010, Dr. Hofstetter informed us that the name of the sitter should be read not as "Biceri" (as we originally thought) but "Ciceri". He also advised us to research this person among the members of artist familiy Ciceri. Since the miniature was painted not earlier than late 1820s (this time margin is provided by the birth date of the miniature's author (1807) and sitter's dress and hairstyle), only one artist by the name Ciceri and in the same apparent age can be in question, namely, Pierre-Luc-Charles Ciceri, French decorative painter, watercolor artist, and lithographer, son-in-law of great Isabey (our image nr.18 shows a portrait of him as an elderly man - what amazing similarity!; our image nr.19 shows his caricature drawn by Isabey).

Pierre-Luc-Charles Ciceri (1782 Saint-Cloud, Hauts-de-Seine / France - 1868 Saint-Chéron, Esonne) was a father of artists Eugene and Ernest Ciceri and a well-known artist himself. In 1810, he married Alexandrine Isabey, daughter of the miniaturist Jean-Baptiste Isabey. From 1799 he studied singing and violin at the conservatory, working as an orchestra director of the Parisian Theater Seraphin at the same time. However, after an accident that resulted in his handicap, Ciceri was forced to give up his music career. He then studied drawing with Francois Joseph Belanger; from 1804 worked as "Peintre externe" for the Paris Opera House and collaborated with porcelain manufactory Sevres. In 1806, as pupil of Ignace Eugene Marie Degotti, he joined the "Atelier de peinture de l'Academie impériale de musique" and, in 1812, succeeded there his father-in-law J.-B. Isabey as its director (he remained in this position until 1848).
From 1820 he was active as stage designer for several other Parisian theaters - "Comedie Francais", "Porte St-Martin", "Odeon", "Théatre Italien" (from 1826 - "Peintre en chef"), "Panorama dramatique"; in province (theaters of Alencon, Lille, Dijon, and Bordeaux) and abroad (Barcelona).
He also held his own studio in Paris. After 1822, he already had more than 400 various projects for stage behind him (often executed after plein-air studies - sic!) and costumes. And so, with that, he established himself in the 1st half of the 19th century as the most known stage designer of the whole France. During the Restoration he also made decorations for festivals of the Royal House (for example, for the Coronation of King Charles X in 1826) and for July Monarchy. At the same time, he regularly showed his landscape watercolors and drawings (sic!) at the exhibitions of Salon de Paris.
His other official functions included: in 1812 - "Peintre de l'Empereur"; 1814 - "Peintre du Roi et de la Cour"; 1853 - Inspector (director) of Imperial Theatres. Apart from all these ranks, he became in 1825 a chevalier of the Legion d'Honneur (on our portrait he bears already a red bow of this award!).
Works of Pierre-Luc-Charles Ciceri belong to collections of many museums in France and abroad.
Provenance: Antiquariat "Julius Boehler", Munich (early 20th century; see image with label on the frame's verso).

We are very grateful to Dr. Bodo Hofstetter for his generous help.

miapr29ap10
Condition: good for its age
Creation Year: early 1830s
Measurements:UNFRAMED:17,0x12,8cm/6,7x5,0in FRAMED: 27,8x23,3cm/10,9x9,2in
Object Type:Framed watercolor
Style: Portrait miniatures
Technique: watercolor on ivory, laid later on cardboard
Inscription:signed: Eul. Singry; verso: inscribed (see image)
Creator: Mlle Barbe-Eulalie Singry, married Mermet
Creator Dates: 1807-after 1856
Nationality:French
SHIPPING COSTS UPON REQUEST:
office@wilnitsky.com
Click here for images free of watermark!
Click on images or on

to see larger pictures!