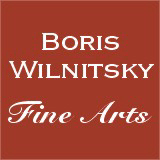 SALE!!! SAVE MONEY !! 1 EUR = 1 USD
# 32617
Rudolf Raimund Ballabene (1890-1968), five drawings, ca. 1950
150 EUR - 25% DISCOUNT = 112,50 EUR
FINAL DISCOUNT PRICE= 112,50 USD
( for EUR price see date rate )
Please note: Shipping and insurance costs are not included in this promotion, ONLY ITEM PRICES!
(please note additional 10% tax applies for transactions concluded within the European Union)
THE SELLER WILL COVER INSURED SHIPPING WITH REGULAR MAIL FOR THIS ITEM!

*Sizes range from 28,7x38,5cm/11,3x15,2in to 42,2x30,0cm/16,6x11,8in.
Rudolf Raimund Ballabene (1890 Zurndorf - 1968 Vienna) was born into a noble family in Zurndorf, Austria, as the youngest of ten children. As he was forbidden by his father to study art, he got his degree in journalism at the University of Prague. Ballabene began a career in theater (from 1909-1914), which was interrupted by World War I. After end of the War he worked as a journalist. In 1928 he got married and henceforth dedicated himself completely to painting. In a very short time he gained a reputation as a landscape artist, painter of Prague scenes and horses and especially as a painter of floral still-lifes. In 1939, having refused to join the Nazi party in Berlin he was jailed by the Gestapo, who seized all of his paintings. Although banned by the Gestapo from painting, Ballabene continued, and in 1941, shortly before an exhibition he had been preparing for, the remainder of his paintings were seized. He and his wife were much pursued during the war. In 1945, their house and studio were destroyed in a bombardment, and they lost the rest of their possessions and many of his works, which are relatively rare in the art market for this reason. They left Prague holding only a suitcase. Ballabene later returned to Vienna, had a prolific career as a painter, and died in 1968.
mimai1210
Condition: good
Creation Year: ca 1950
Measurements: UNFRAMED:0,0x0,0cm/0,0x0,0in
Object Type: Unframed drawings
Style: Modern Art
Technique: all: pencil on paper
Inscription: four are monogrammed
Creator: Rudolf Raimund Ballabene
To see other works by this artist click on the name above!
Creator Dates: 1890 Zurndorf-1968 Vienna
Nationality: Austrian
We will cover shipping with regular registered mail (delivery between 7-14 days), as well as insurance costs for this item.

OBS: Austrian mail refunds cases of loss or damage with maximum EUR 500 to the US (in Europe sometimes more, depending on destination).


Full insured 2-3 days DHL service available upon request and subject to extra charges: office@wilnitsky.com
Click here for images free of watermark!
Click on images or on

to see larger pictures!