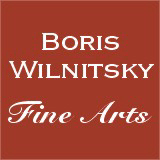 If you have a question about this item,
please contact us at: office@wilnitsky.com
# 33270
"Portrait of Nikolai Andreevich Sumarokov", rare Russian miniature!!, 1805/10
Price: 1900 EUR
(please note additional 10% tax applies for transactions concluded within the European Union)
THE SELLER WILL COVER INSURED SHIPPING WITH REGULAR MAIL FOR THIS ITEM!

This portrait was obviously painted in the last years of sitter's life. The latter was retired brigadier (lowest general's rank in 18th-century Russian Army) Nikolai Andreevich Sumarokov. According to S. V. Volkov (see our image nr.7 with clips from his dictionary of generals of the Russian Empire), Nikolai Andreevich Sumarokov was born in 1746 as a son of captain Andrei Vasilevich Sumarokov. He began his military service in 1769; in 1786 was promoted to brigadier. From that time on he was active in the state civil service. In 1796 he retired and died fourteen years later, in 1810. According to Volkov, he had four sons. This data is contradicting the information available from Russian genealogical sources (see image nr.8), which imply that, first of all, he was born in 1754 and, second of all, that he had one daughter only, Praskovia Nikolaevna Sumarokova (married Tolstaya, then Krasilnikova; died 1852) from his marriage to Princess Alexandra Sergeevna Dolgorukova (1767-1797).
However, it is possible that both of the aforementioned sources refer to two different men, who, however, both died in the same year 1810…
Volkov adds also that brigadier Sumarokov had a brother, poruchik (second lieutenant) of Guards, Alexei Sumarokov.
Provenance: French private estate

miaug1610
Condition: fairly good, abrasion over the sitter's right (for us - left!) shoulder; has not been inspected outside of the frame
Creation Year: 1805/10
Measurements:UNFRAMED:6,3x5,1cm/2,5x2,0in FRAMED: 10,2x8,0cm/4,0x3,1in
Object Type:Framed miniature
Style: Portrait Miniatures
Technique: watercolor on ivory (octagonal)
Inscription:verso: old legend
Creator: Russian School
Creator Dates: -
Nationality:Russian
We will cover shipping with regular registered mail (delivery between 7-14 days), as well as insurance costs for this item.

OBS: Austrian mail refunds cases of loss or damage with maximum EUR 500 to the US (in Europe sometimes more, depending on destination).


Full insured 2-3 days DHL service available upon request and subject to extra charges: office@wilnitsky.com
Click here for images free of watermark!
Click on images or on

to see larger pictures!