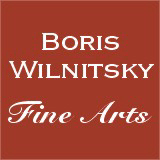 If you have a question about this item,
please contact us at: office@wilnitsky.com
# 34164
Carl von Sales "Pauline, Queen-consort of Wuerttemberg", very important miniature!!! late 1810s
Price: ON REQUEST
(please note additional 10% tax applies for transactions concluded within the European Union)
THE SELLER WILL COVER INSURED SHIPPING WITH REGULAR MAIL FOR THIS ITEM!

Extremely rare (one of only two known signed works of this artist) and very important (likely, it is sitter's earliest known portrait) miniature on ivory with portrait of young Duchess Pauline Therese Luise von Wuerttemberg (1800-1873), future queen-consort of Wuerttemberg.

Pauline is depicted here at the age of 18-20, shortly before her marriage to (her cousin) King Wilhelm I of Wuerttemberg (1781-1864). For her 19 years her senior husband it was the third marriage - Pauline's predecessors were Charlotte Auguste of Bavaria (divorce in 1816) and Grandduchess Katharina Pavlovna of Russia (the latter died in 1819; our image nr.9 shows both of these ladies).
Pauline was a daughter of Louis, Duke of Wuerttemberg and Princess Henriette of Nassau-Weilburg (sic! This connection to House of Orange-Nassau will be discussed further). She married Wilhelm I of Wuerttemberg on April 15th 1820 in Stuttgart. Their marriage was an unhappy one, particularly because of deep attachment Wilhelm showed for his mistress, actress Amalia Stubenrauch.
Nonetheless, they had three children, one of which, Karl (Charles; 1823-1891) succeeded his father as King of Wuerttemberg.
Pauline was also the step-mother to Marie and Sophie, the future Queen of the Netherlands (sic! again connection to the House Orange-Nassau!); they were Wilhelm's daughters from his second marriage.
Pauline had been very popular, not only for the kindness she showed to her subjects, but also for the devotion she showed to the poor. Upon her death (March 10th 1873), Wuerttemberg inhabitants gave her name to many roads and sites in Stuttgart, Esslingen and Friolzheim.

As we mentioned above, this (signed by the author) portrait is an extremely rare piece - we were able to locate only one other von Sales' signed miniature in the collection of Royal House Orange-Nassau; it shows little princess Sophia, daughter of Wilhelm I of Wuerttemberg and Katharina Pavlovna of Russia. Besides this miniature, Orange-Nassau collection possesses two (unsigned!) more executed by Carl von Sales: both are also portraits of Wuerttemberg children (see our image nr.10 showing all three miniatures).
This connection between the author, Carl von Sales, and the Royal House of Wuerttemberg can be explained as following: von Sales, after producing a portrait of Wilhelm I in oils, became the latter's favorite artist and, thus, received commissions for further works, particularly for miniatures on ivory. Otherwise, von Sales mostly remained known as (predominantly) an easel-painter working in oils (our additional images nr.15-18 show few other such portraits).
Carl von Sales (1791 Koblenz, Germany - 1870 Fuerstenfeld, Austria) became in 1815 a student of the Vienna Academy of Fine Arts. From 1816 to 1830 he regularly participated in academic exhibitions. In 1829 the artist took a trip to Italy where he portrayed Pope Pius VIII. It appears that after 1830 von Sales was no longer active as an artist. Among his known works were portraits of various Austrian royalties and members of high aristocracy. Some of them can be viewed today in diverse Austrian and German museums.
mijan13ap11
Condition: good; in original frame (very likely the miniature was formerly inserted into the lid of a snuff-box)
Creation Year: late 1810s
Measurements:UNFRAMED:7,0x6,1cm/2,8x2,4in FRAMED: 7,6x6,7cm/3,0x2,6in
Object Type:Framed miniature
Style: Portrait Miniatures
Technique: watercolor on ivory
Inscription:signed: c.Sales /pinx.
Creator: Carl von Sales
Creator Dates: 1791 Koblenz-1870 Fuerstenfeld
Nationality:German / Austrian
We will cover shipping with regular registered mail (delivery between 7-14 days), as well as insurance costs for this item.

OBS: Austrian mail refunds cases of loss or damage with maximum EUR 500 to the US (in Europe sometimes more, depending on destination).


Full insured 2-3 days DHL service available upon request and subject to extra charges: office@wilnitsky.com
Click here for images free of watermark!
Click on images or on

to see larger pictures!