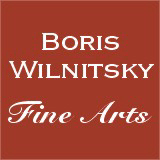 If you have a question about this item,
please contact us at: office@wilnitsky.com
# 34170
Friedrich Ludwig von Vieth (1768-1848) "Archduchess Henriette", important miniature on ivory!, 1815/20
Price: ON REQUEST
(please note additional 10% tax applies for transactions concluded within the European Union)
THE SELLER WILL COVER INSURED SHIPPING WITH REGULAR MAIL FOR THIS ITEM!

Superior quality miniature on ivory with portrait of the young wife of Archduke Carl of Austria, Henriette, Princess of Nassau-Weilburg. Her dress and hairstyle provide the dating - 1815-1820.
It is one of the author's own three replicas of the same portrait. The second one was sold at Christie's London in 2002 for GBP 5.640,00 (see our image nr.8); the third (fully identifying the sitter in its inscription on verso) was personally seen many years ago by our friend and world's best specialist in portrait miniatures Dr. Bodo Hofstetter (Montreaux, Switzerland; see also our image nr.9). As the matter of fact, Dr. Hofstetter was the one to advise us on identity of our sitter. Namely, he implies that our miniature is the same work that was sold at Christie's in 2002 and that only its frame had been exchanged. This, however, is hard to imagine: it is very difficult to transfer very fragile hairwork (Henriette's hair on verso), as well as her monogram (ligated "HF" - for Henriette Friederike) intact, and we, therefore, believe in the version suggesting three replicas of the same portrait.

The author of all three versions, Viennese miniaturist Friedrich Ludwig von Vieth was (as we will see below) the favorite portraitist of Archduke Carl and Henriette.

Henriette Alexandrine Friederike Wilhelmine, Princess of Nassau-Weilburg, was born on the 30th of October 1797 in the Castle Eremitage by Bayreuth, Germany, as a daughter of Price Friedrich Wilhelm of Nassau-Weilburg and Princess Luise of Sayn-Hachenburg. On the 17th of September 1815, in Weilburg (German province Hessen), she married the "Winner of Aspern", 26 years her senior Archduke Karl of Austria. They shared a very happy marriage and had seven children. Her husband ordered Castle Weilburg to be built for her in Baden bei Wien (see our web # 31455).
Henriette died in 1829 at the age of only 32 after catching scarlet fever infection from her sick children and thus developing pneumonia.
*For another portraits of Henriette in our possession, see our web # 33500 and # 34536.
See also our image nr.9.
Friedrich Ludwig von Vieth von Golssenau (1768 Dresden - 1848 Meissen), while an officer in the Saxony Army, took part in the exhibition at the Academy of Dresden with several small portraits in silverpoint. According to Thieme-Becker, he was supposed to have been studying miniature painting from Giovanni Casanova. After giving up his military career in 1800, he had specialized in miniatures and soon settled in Vienna, according to Schidlof. Thieme-Becker implies that it was in 1812, that he applied for leisure time to go to Vienna and has received an approval of the Saxonian King to do so, as well as full board for his whole stay there. Moreover, an extension for his stay until 1815 was later also approved. An inheritance that he received in 1819 allowed him to stay in Vienna permanently, and it was supposedly only shortly before his death, that he returned to his native Saxony.
In Vienna, Vieth von Golssenau was especially influenced by H.F. Fueger. Some of his works are reminiscent of those by Richard Cosway. He became a favorite portraitist of Archduke Carl and his wife Henriette - a status that allowed him a good access into the best Viennese Society. It was then that he became like Daffinger, one of the most favorite portrait miniaturists of Vienna.
Provenance: Judy and Brian Harden Ltd., Bourdon-on-the-Water, Cheltenham, Gloucestershire, England

*We are very grateful to Dr. Bodo Hofstetter for his generous help.

mijan18ap11
Condition: good; in original old frame with sitter's hairs and illegible monogram (sitter's initials)
Creation Year: 1815/20
Measurements:UNFRAMED:5,9x4,9cm/2,3x1,9in FRAMED: 6,2x5,0cm/2,4x2,0in
Object Type:Framed miniature
Style: Portrait Miniatures
Technique: watercolor on ivory
Inscription:signed: Vieth
Creator: Friedrich Ludwig von Vieth von Golssenau
Creator Dates: 1768 Dresden-1848 Meissen
Nationality:German / Austrian
We will cover shipping with regular registered mail (delivery between 7-14 days), as well as insurance costs for this item.

OBS: Austrian mail refunds cases of loss or damage with maximum EUR 500 to the US (in Europe sometimes more, depending on destination).


Full insured 2-3 days DHL service available upon request and subject to extra charges: office@wilnitsky.com
Click here for images free of watermark!
Click on images or on

to see larger pictures!