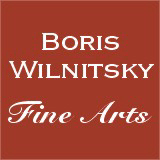 If you have a question about this item,
please contact us at: office@wilnitsky.com
# 34242
Carle Vernet (1758-1836) "Chasses du Duc de Berry á Meudon, 29th March 1819", important drawing!
Price: ON REQUEST
(please note additional 10% tax applies for transactions concluded within the European Union)
This drawing is being sold only with other 3 drawings of the below-mentioned group!

Click to see the whole group mentioned in the description below.

By chance, in November 2010, we acquired in the USA (without seeing in nature, on base of photograps showing them framed) a group of four large chalk (with whitening) drawings on brown paper. In the family of their previous owner these drawings were traditionally ascribed to the great French horse and battle painter from the time of the 1st Empire and Bourbon Restoration, Antoine Charles Horace Vernet, called Carle Vernet.

Soon, a thorough research led us to successful results: we discovered engravings after paintings by Carle Vernet that, were either fully repeating the composition of the drawing (as in our case - see image nr.14), or each containing in their compositions figural groups depicted on one or another of the three drawings (see our web # 34243, our web # 34244 and our web #34245). Each one of these engravings bore a corresponding title. In our case, it was "Hunting in the woods of Meudon, on the 29th of March 1819". The other three, respectively, were titled:
- "Hunting deer in the forest at Compiégne, on the 27th of April 1818",
- "Hunting deer at Verrieres, on the 29th of April 1819" and
- "Deer-hunting of Duke de Berry in forest at Compiégne" (without accompanying date).
Yet, our greatest find was the discovery of our four drawings (incidentally, they are all of the size typical for large Carle Vernet's drawings, i.e. 39.4 x 52.1cm) in the "Vente Destailleur" of 1893 (see our image nr.15).
In 1893, after the death of the great French architect and art and book collector Hippolyte Destailleur (see image nr.16), his collection, comprised of thousands of various items, was auctioned off. A (separate) part of this collection contained 891 drawings of Carle Vernet. And so, under numbers 498-502, we find the following titles:
- 498-499. Chasses du duc de Berry á Compiégne
- 500. Chasses du duc de Berry á Meudon
- 501. Chasses du duc de Berry á Verrieres
- 502. Chasses du duc de Berry á Sevres.
As we can see, except for the last number (502), we find all four of our drawings in this list!!!

It is absolutely evident that these drawings (alike the corresponding engravings; see above) relate directly to certain oil paintings (their whereabouts today unknown). We allow ourselves, thus, to make the following assumption:
In the first years of 2nd Restoration (1815-1830), Bourbons, as a counteract to Louvre collection formed by Napoleon I, began amassing their own collection of paintings and works of art that were then placed in Palais des Tuileries (in close proximity to the Louvre at that time). Among above treasures were obviously also these, commissioned to Vernet by Duke de Berry (son of the France's future King, Charles X) four scenes of his deer hunts in royal forests of Parisian environs. Bourbons proceeded to grant public access to their new collection. This occurrence enabled the engraver to reproduce these hunting scenes.
In 1830 and 1848, during the revolutions, Palais des Tuileries was attacked and occupied by uprising mob. Some objects of art housed in the Palais were in this situation destroyed or disappeared. In 1871, during the supression of Paris Commune, the palais was burn down together with all contents.
Consequently, the only surviving reminiscences of the four aforementioned (monumental?) paintings are our preparatory drawings and mentioned engravings.
It is interesting to add that all four scenes are virtually compilations from Carle Vernet's famous painting "Napoleon on the hunt in the forest of Compiégne (1811)". The latter is on view at the Hermitage Museum (St. Petersburg; see our image nr.18). In our drawings, without applying extra effort, Carle Vernet altered the uniforms of participants (instead of the 1st Empire uniforms he used "newer" uniforms of Restoration) and their position in final compositions.
Antoine Charles Horace (called Carle) Vernet was born in 1758 in Bordeaux as a son of the marine painter Claude Joseph Vernet (1714-1789). Raised in his father's workshop, already as a child, he was eagerly drawing horses. At the age of 11 years Vernet entered the studio of N.B.Lepicie. In 1779 and 1782 he was awarded Rome prizes for historical painting and spent three years in Rome. In 1789 the artist became an agréé of Academia Royale, but never acquired a full membership at the academy. In 1806 he was appointed a painter of War Depot and in 1810 became a member of Institute. The artist died in Paris in 1836. As a first-class horse drawing master Vernet belonged to the beginners of lithography in France (first attempts undertaken in 1816). Especially popular are his scenes of Napoleonic battles.
Our further additional images show other similar works by Carle Vernet that were offered at international art auction market in the last years.

P.S. This entire text had been written before we actually received the drawings in Vienna (our decision to purchase them was based purely on mentioned above photographs). Having removed the drawings from their frames and mattings, we were (most happily) surprised to discover that exactly this (discussed here) drawing bears at lower edge the author's authentic signature "Carle Vernet", which was simply concealed by the matting!!



mijan31ap11
Condition: good, water stain in upper left area
Creation Year: 1819
Measurements:UNFRAMED:39,4x52,1cm/15,5x20,5in FRAMED: 48,9x61,9cm/19,3x24,4in
Object Type:Framed drawing
Style: Horse paintings
Technique: charcoal and white heightening on brown paper
Inscription:signed: Carle Vernet
Creator: Antoine Charles Horace Vernet
Creator Dates: 1758 Bordeaux-1836 Paris
Nationality:French
SHIPPING COSTS UPON REQUEST:
office@wilnitsky.com
Click here for images free of watermark!
Click on images or on

to see larger pictures!