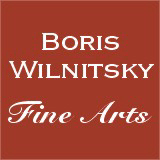 SALE!!! SAVE MONEY !! 1 EUR = 1 USD
# 34265
Jean Marius Fouque (1822-1880) "Osip Osipovich Kinsona", important portrait of Russian interest!! 1853
25000 EUR - 25% DISCOUNT = 18750,00 EUR
FINAL DISCOUNT PRICE= 18750,00 USD
( for EUR price see date rate )
Please note: Shipping and insurance costs are not included in this promotion, ONLY ITEM PRICES!
(please note additional 10% tax applies for transactions concluded within the European Union)
Extremely rare and probably the only (!!) known portrait of well-known Russian soldier and (originally) French aristocrat who made his name in Russia during the reigns of three monarchs - Catherina the Great, Paul I and Alexander I.
The portrait is clearly signed and dated "Fouque /1853" and bears sitter's coat-of- arms and accompanying inscription: "Joseph Octavien Marie /C-te de Quinsonas nee /1766 Lieutenant general /Pair de France".
Besides that on verso we found an envelope with his name (see image nr.13).

His original full name was Joseph Octavien Marie Pourroy de l'Aubériviére, Comte de Quinsonas. His predecessors lived in Saragossa, Spain; in 1592 escaping from inquisition they fled to France.
He was born in 1766 in Grenoble as a son of prominent local politician Joseph Gabriel Pourroy de l'Aubériviére de Quinsonas and his wife Catherine de Chaponay. Shortly before the Revolution, in 1789, he entered (as officer) Guards-Regiment of Royal Army. Yet, in a couple of years, alike many other aristocrats, he had to emigrate. He and his young brother Emmanuel (also a military officer) joined the Maltese service. However, already in two years, both of them have transferred into the Russian army. In Russia, our Octavien took the name Osip Osipovich Kinsona (sometimes in documents he was also referred to as "Kinson" or "Dekenson"); similarly, his younger brother took the Russian name "Victor Osipovich Kinsona".
In 1794, Catherina the Great promoted our Octavien (Osip Osipovich) to rank of colonel of cavalry. Her son (and next Tsar) Paul I raised him in 1798 to major-general. Next year (1799) he was appointed "chief of regiment" (such person's name is assigned to the regiment, his ranking is one step higher than that of the regiment's commander) of a newly-formed cavalry regiment (formerly Ingermanlandski Carabineer Regiment, it now received the name "Count Kinson's Dragoon Regiment"; see our image nr.14). One year later, on July 26th 1800, a new commander was assigned to this regiment, namely Octavien's brother, colonel Victor Osipovich (Emmanuel) Kinson, who went on to fill this position for almost three years.
In 1801 the regiment's name was once again amended - although called now "Ingermanlandski Dragoon Regiment", it retained its chief and commander.
Nonetheless, these three years under command of the brothers Kinson have not passed without a trace. A heavy atmosphere reigned throughout the regiment; in the first year of Osip Osipovich' "reign" 63 (out 870) soldiers defected from the regiment; in two years the number of defected officers numbered 15 - the "French" style of command was not well accepted by the Russians.…
The new Tsar (and son of Paul I) Alexander I, having learned of the regiment's situation, suspended Octavien's brother from his duty of commander (he was replaced by lieutenant-colonel Heinrich (Genrikh Ivanovich) von Wicken). Victor Osipovich (Emmanuel) served later until getting a rank of major-general (1807), but already in 1810 he left the Russian service and returned to Napoleonic France.
Our Octavien (Osip Osipovich) became in 1800 lieutenant-general and, in spite of his intricacies with Ingermanlandski Regiment, successfully continued his military service in Russia. We find the next reference to him (while in this country) in the memoirs of famous Russian physician, Dr. F. I. Gaas (see our image nr.18). In 1809 Dr. Gaas, while on journey through Caucasus, wrote down his kind memories concerning "His Prevoskhoditelstvo (Superiority) Lieutenant-General Count de Kinson, who oversaw the erection of irrigation communications in the Caucasian Province" (today's Chechnya, Dagestan, etc.).
Octavien de Quinsonas (Osip Osipovich) was conferred high Russian military awards. In 1795, while still a colonel, he was awarded the Order of St. George of the 4th Class (see image nr.19; on portrait we see the Cross of this order on his chest!). During the reign of Paul I he received the highest award of that time - St. John (Maltese) Order (he received the 3rd Class; we also see the Holder's Cross of Maltese Order on his breast). His French biographer (see images nr.20-21 with clips from "Biographie des Hommes du Jour" published in 1838) also mentions two other Russian orders, namely St. Vladimir (we see the neck cross of St. Vladimir Order of the 2nd class!) and St. Anne (see the red sash of this order across his breast!).
In 1820 (and not in 1814, as Russian sources imply; he did indeed quit the Russian military service in 1814 yet remained in Russia for another 6 years) our Octavien de Quinsonas (Osip Osipovich Kinsona) permanently left Russia and returned to his home country. He lived in retirement until the 26th of August 1827, when King Charles X during a personal audience conferred him with the title of "lieutenant general honoraire" (honorary title) and, on November 5th of the same year raised him to Pair of France. It must have been then that Octavien received from King his Saint-Louis Order, the cross of which he bears as last (or first from the right) on his chest; in 1827 this cross was the highest of all French awards, however by 1853 (date of this portrait) it "shifted" to the last position).
After the July Revolution of 1830 Octavien lost his title of a Pair of France and retired to his Chateau de Gregy in department Seine-et-Marne, where he was immediately elected mayor of Gregy-sur-Yerres - community that hosted his chateau (see our image nr.22).
Our portrait dated 1853 shows Octavien at the age of 87; the exact date of his death is unfortunately unknown to us.
The author of this portrait, French artist Jean Marius Fouque, was born in 1819 (and not in 1822 as stated in Benezit) in Arles, department Bouches-du-Rhöne and died in 1880 in Lorient, department Morbihan. From 1846 he studied at the Ecole des Beaux-Arts under Joseph Leon de Lestang-Parade and Léon Cogniet; took also lessons in studio of Francois Marius Granet. He made repeatedly trips to the Far East and was even appointed the Royal Artist of the Siamese King, whose portrait he painted in 1867. Regularly from 1846 to 1879/80 at the Salon de Paris he exhibited portraits of esteemed persons of his time (among others, a whole series of portraits of Emperor Napoleon III and 1st wife of Napoleon I, Empress Josephine) and historical paintings.
Our images nr.23-32 offer extensive biographical information about this artist and show some of his other works.

Provenance: auction house "Boscher", Cherbourg / France, November 29th 2010, lot 786

mifeb08ap11
Condition: good; unlined; in original frame
Creation Year: 1853
Measurements: UNFRAMED:74,0x60,0cm/29,1x23,6in FRAMED: 95,0x80,5cm/37,4x31,7in
Object Type: Framed oil painting
Style: 19th century Russian paintings
Technique: oil on canvas
Inscription: inscribed, signed and dated: Fouque 1853
Creator: Jean Marius Fouque
To see other works by this artist click on the name above!
Creator Dates: 1819 Arles-1880 Lorient
Nationality: French
SHIPPING COSTS UPON REQUEST:
office@wilnitsky.com
Click here for images free of watermark!
Click on images or on

to see larger pictures!