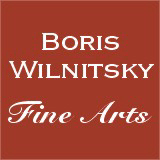 If you have a question about this item,
please contact us at: office@wilnitsky.com
# 34300
Karl Seliger? Karl Schweikart? "Russian General Chaplits and his wife", 2 important miniatures! 1809
Price: ON REQUEST
(please note additional 10% tax applies for transactions concluded within the European Union)
THE SELLER WILL COVER INSURED SHIPPING WITH REGULAR MAIL FOR THIS ITEM!

These two portraits truly belong to the most interesting discoveries (in the field of portrait miniatures) that we made in the last couple of years.

At the sale of Parisian auction house "Delorme et Collin du Bocage" on November 26th 2010 we acquired a pair of portrait miniatures on ivory, both (although of different sizes) framed in identical gilded brass frames in neoclassical style (produced in the 2nd half of the 19th century; they were surely ordered at the same time for the purpose of reframing these (probably hitherto unframed or set in damaged frames) miniatures; the identicalness of frames was meant to stress the fact that both portraits are counterparts of one another).
The miniatures show an elaborately decorated Russian hussar general and his young wife, very likely newlyweds (typical centuries-long tradition of originating of such portrait pairs).
The old inscriptions on verso (husband's portrait: "Baron /de Serdobin /1790-1845"; wife's portrait: "B-nesse Serdobin /nee /Marie-Louise /comtesse Loison /1795-1870") let the auction house experts to believe that they are dealing with portraits of certain Baron and Baroness Serdobin. Consequently, in the entry of auction house catalogue these portraits were recorded as "Le Baron et Baronne de Serdobine. Deux miniatures ovales… (no mention of existing (as established later) artist's monograms! - B.W.).

But who were they, these Russian Baron Serdobin and his French wife, nee Comtess Loison?

The answer to this question was found relatively fast: Marie-Louise Comtess Loison was a daughter of Napoleonic division general Louis Henri Loison, who in 1813 acquired Chateau de Chokier situated on the bank of river Meuse in environs of Belgian town Liege (it was rebuilt from a medieval castle in the 18th century; see our image nr.20). In 1815, upon the Bourbons return to France, General Loison retired to this chateau, and one year later (1816) passed away there. Chateau de Chokier was inherited by his daughter who was by then (or shortly after?) married to Russian Baron Alexandre-Nicolas (Alexander Nikolaevich) Serdobin, illegitimate son of Prince Alexander Borisovich Kurakin. Where the newlywed couple lived after their wedding - in turn between St. Petersburg and Belgium, or only in Belgium in the wife's Chateau de Chokier, remains so far unknown due to scarce information available about Alexander Nikolaevich Serdobin.
In 1867, the couple's children (Alexander Nikolaevich had passed away 22 years prior to that) declared their mother (who must have lost her mind) "incapable" and sold the chateu to its future owners.

We should add that at a much earlier time this chateau had already previous ties to Russia. On June 27 1717, on his tour through Europe, Tsar Peter the Great paid a visit to Chateau de Chokier!

But who was this Alexander Nikolaevich Serdobin?

The family history of Barons Serdobin originated in 1790, when one of Russia's wealthiest men (and famous statesman) Prince Alexander Borisovich Kurakin (1752-1818; see our image nr.21) invented the surname Serdobin (basing it on the name of river Serdoba on the territory of his estate "Nadezhdino" in Penza Province), in order to bestow it upon his newly born (in the same year) natural (illegitimate) son Alexander (i.e. our Alexander Nikolaevich). One should add that although he never got married, Prince Kurakin was an avid philanderer and managed to produce nearly 70 (!) children with either serf-maids from his various estates or St. Petersburg ladies. In spite of this, Alexander became the most favorite child of Prince Kurakin who took personal care in his upbringing and kept him around for most of his childhood.
Later on the surname Serdobin was given to five more of Prince Kurakin's illegitimate children: two boys (Alexander the Younger and Alexei) and three girls (Catherine, Lukeria and Sophie), all five of whom were born in the period between 1790 and 1802.
To provide for future of these six children, Prince Kurakin strove to solicit ennoblement for them: on July 5th 1802 each of them received the title of Baron (respectively Baroness) of the Holy Roman Empire from Franz II (Austrian Kaiser and Emperor of the Holy Roman Empire). Ten days later Tsar Alexander I authorized these titles (see our image nr.23) in Russia. In the rescript of Franz II "our" Alexander Nikolaevich was referred to as "of Foreign Office "kollezhski assessor (English: "collegiate assessor" - lowest rank of a civil servant) Alexander". The latter title can be explained by the fact that Alexander's father (Prince Kurakin) nominally secured a post at important governmental office for his 12-year-old son (obviously, it was there that Alexander Nikolaevich later had made a diplomatic career that frequently took him abroad where he got acquainted with his future wife).
At this point our findings about Baron Serdobin's life (with an exception of information that in 1804 Alexander Nikolaevich was conferred with Maltese Cross (not Russian, for it was by then no longer awarded, but Prussian!) essentially exhaust themselves. A wonderful portrait of Alexander Nikolaevich Serdobin at the age of 14-15 painted by famous Vladimir Lukich Borovikovsky (see our image nr.24) belongs to Moscow collection of Sergei and Tatiana Podstanitski. Besides that, there exists an engraved portrait of ca. 20-year-old Alexander Nikolaevich (also with Maltese Cross! see our image nr.25). Who, upon seeing these two portraits, will insist that this is the person depicted on our miniature??!

Theoretically, Baron Alexander Nikolaevich Serdobin who was born in 1790 could have entered his marriage at the age of 19 (as we will prove below, our portraits were with great likelihood painted in 1809). Yet, at nineteen, he could by no means be a hussar general and, moreover, be conferred with such impressive array of awards!
The truth of the matter is that the sitter's uniform, as well as the dress and hairstyle of his wife, definitely speak for the period of 1808-1810. Hence, Baron Alexander Nikolaevich Serdobin could in no way be the depicted general. Similarly, the young lady could not be the Comtess Loison who was born in 1795 and who in the period between 1808-1810 was merely 13-15 years of age (the depicted lady appears to be at least 5 to 10 years senior).

And so in 1867, as mentioned above, Chateau de Chokier was turned over to its new owners. And, as common in those times, most of the estate inventory became their property. It is easy to imagine that this pair of miniatures depicting a Russian (!) general and a young lady was later found in one of the drawers of numerous cupboards or cabinets of the chateau. Knowing that the previous chateau owner was a widow of an esteemed Russian gentleman, new owner decided that these miniatures are none other than portraits of this couple. It was then (after 1867) that the miniatures were reset in their actual frames and simultaneously provided with aforementioned (erroneous) identification legends.

But who are in fact this brave general and his charming wife?

As it happened frequently over the last few years, we received invaluable help from our friend, well-known uniformologist and author of numerous publications on Napoleonica, Dr. Dimitri Gorchkoff (Moscow).
Initially, he identified the sitter's uniform as that of a high-ranking officer of Pavlogradski Leib-Guards Hussar Regiment (see our image nr.26). Moreover, grounding his opinion on its details (namely its collar!), he arrived at the conclusion that this uniform corresponds to the regulations of "not earlier than 1808". Therefore, Dr. Gorchkoff established the lowest time range of both portraits' execution - 1808. His next step was to discover the name of the officer of Pavlogradski Regiment who received Napoleonic (!) Cross of Order of Legion d'Honneur of the 3rd model (1806-1808; already with a crown atop, yet still without balls on the tips of its rays; it is this particular award that can be viewed last in the row of three crosses on sitter's chest).
Very soon indeed he discovered that the only (!) officer of Pavlogradski Regiment in possession of this award was… the chief of the regiment himself (regiment's chief is a rank ensuing that of the regiment's commander (usually a colonel); as a rule, the "chief of the regiment" was in rank of a general). Namely, he was conferred with this award by Napoleon personally in 1807 in Tilzit.
He was major-general and chief of Pavlogradski Regiment, Yefim Ignatievich Chaplits.
As it is known, in July 1807, in Prussian town Tilzit - a site where historic meeting between Napoleon I and Alexander I (it resulted in signing of the "Tilzit Peace Treaty") took place - French Emperor conferred ca. 60 men (members of the Russian delegation, officers and soldiers of the Russian Guards accompanying the Tsar) with crosses of the Legion d'Honneur. It had been recorded that among these 60 men there was only one officer of the Pavlogradski Regiment, namely Major-General Chaplits!
This Russian officer drew French attention long before Tilzit. As we will learn from his biography (see our images nr.27-30), during the (preceding Tilzit) so-called Prussian Campaign, General Chaplits for two weeks filled a role of military commandant of Koenigsberg and frequently lent a hand in saving lives of injured French officers and soldiers that were in Russian captivity. Apart from that Napoleon made a personal note of this man's name, for he was one of the several Russian officers that put up a successful resistance to the French troops in the Battle of Golomyn (Prussia, November 26th 1806).
In any case, when the list counting several hundred Legion d'Honneur candidates was laid in front of Napoleon's eyes, the Emperor also included Chaplits as one of the nominees in the (revised) final draft of 60 men.

"Outfitted" with this information, Dr. Gorchkoff began browsing through known portraits of Chaplits and fairly soon came across a portrait by an unknown artist housed in the reserves of the Novgorod State Museum. This portrait (executed sometime in the 1810s, i.e. somewhat later than ours! the truth is that on "our" portrait miniature Chaplits is still depicted with the Cross of the Legion d'Honneur, while it is commonly known that by 1810 all Russians that were previously awarded this cross, presaging approaching war with Napoleonic France, stopped wearing the Cross out of patriotic reasons!) shows the same (!!) hussar general wearing an identical (!!) uniform of the Pavlogradski Regiment (yet already without the Cross of the Legion d'Honneur; see our image nr.31).
An important detail immediately draws one's attention, namely the Cross of Russian Military St. Georg Order of the 3rd Class around his neck (the same cross can be see on the known portrait of Chaplits painted much later by George Dawe - see our image nr.32). One could ask, why Chaplits who (as Russian dictionary of St. George Order awardees states; see again our image nr.32) supposedly received this cross in 1806, is not wearing it after 1808 on our miniature?!
However, since all recent biographical articles (for example, see our images nr.33-35) imply that Chaplits was awarded this order only in 1813 (for the Battle of Koeniggratz), we are certain that the information concerning his conferral in 1806 is false.

Allow us now to examine in detail the military awards depicted on this portrait miniature.
First of all, we see cross of the Russian St. Anna Order of the 2nd Class around the sitter's neck (we are not yet aware of the date of this conferral; it is known that Chaplits received his next (1st) class of this order in 1817). On his chest, we see three other crosses. The first from the left is the Cross of the Russian St. Vladimir Order of the 4th Class (for Izmail in 1790). The next is the Holder's Cross (cavalier's cross) of the Russian St. John (Maltese) Order: it dangles from a narrow black ribbon), as well as its companion - the small white service cross of the same order embroidered onto the hussar jacket (lower right edge of the portrait). And last but not least, the third cross is the aforementioned officer's Cross of the Legion d'Honneur.
But what a surprise! What was previously concealed in the auction catalogue photograph (we purchased both portraits without seeing them "live" and, in expectation of their postal delivery, together with Dr. Gorchkoff, already spent a number of hours on their attribution) has resurfaced - upon portrait's arrival and after our thorough examination with magnifying glass - as the highest Russian Imperial award (never mentioned by any sources on General Yefim Ignatievich Chaplits available to us thus far), i.e. badge of the Imperial Order of St. Apostle Andrew the First-Called!!

As the matter of fact, so far we have not discovered any mention of Chaplits' conferral with St. John (Maltese) Order either!

As we will learn from his biography, in February 1798 (i.e. almost a year before Emperor Pavel I, then newly-appointed Grand Magister of Maltese Order, began awarding it to his subjects), due to an unidentified reason (court intrigues?), Chaplits fell into Tsar's disgrace and was expelled from the court and overall from the military service. In other words, it is impossible to imagine that in remaining three years of his life Paul I could award Chaplits this cross.
Immediately after assassination of Pavel I (March 12th 1801), namely on the fourth (!) day after his succession to the throne, Paul's son Alexander Pavlovich, now Tsar Alexander I summoned Chaplits to return to the court and what's more integrated the latter into the narrow circle of his most loyal people (we view this act as indication of the (preexisting) close friendship between Chaplits and Alexander I (in latter's adolescent age), i.e. before Chaplits was ostracized by his father). A few weeks after the death of Pavel I, one of his contemporaries visiting St. Petersburg court provided an account of his encounter with Count Pallen (head of the conspiracy against Paul I), whom he found at card-play with Valerian Zubov (another one of conspirers), certain Valetski and … "our" Chaplits.
Alexander I continued to bestow favors upon Chaplits: besides his reinstatement at the court, he was immediately promoted from colonel to Major-General (and two years later - in 1803 - was assigned into the Emperor's retinue). We are certain that it was during these first few months after the assassination of Pavel I that his son Alexander I (who incidentally inherited his father's title of Grand Magister of the Maltese Order) conferred Chaplits with the Holder's Cross.

Whereas the Maltese cross issue has been essentially clarified, the St. Andres Order remains the source of our unrest. On his later portraits (after 1812) Chaplits is depicted without this order (!!??).

Dr. Gorchkoff offers the following explanation:

Just before his marriage, Chaplits received (what may have appeared to him as reliable) information that Tsar is about to confer him with this order. And, fully certain that his receipt of this award is just a matter of days, he hastened to order the artist to depict him already with this most important Russian award. Whether the information concerning his impending conferral was false, or the (factual) court intrigues (once again, as in the case with Paul I, fell into disgrace?) sabotaged his conferral altogether, fact remains fact: Chaplits was not (!!) awarded this order, and we are dealing here with a rare curiosity, namely a portrait of one of the most important Russian generals wearing high award that did not belong to him!!
The above (possible) events could have taken place shortly after his wedding in 1809. We find circumstantial evidence of this hypothesis in the fact that after October 1809 Chaplits was permanently in the army (as a commander of 7th Division stationed at Ukrainian-Polish border), what could mean that he was once again ostracized by the court.

Yeftim Ignatievich (in reality his parents gave him a Polish first name Eutemiusz) Chaplits (in Polish: Chaplic) was born into an old Polish noble family Czaplic (Kierdeja Coat of Arms) and began military service in the Polish army, but entered the Russian service with a rank of second major (in Russian: "sekund-major") on October 26, 1783. During the Russo-Turkish War of 1787-1792, he served in the staff of Prince Potemkin and took part in the battles of Ochakov, Bendery and Akkerman. He received the Order of St. Vladimir of 4th degree with the bow for the capture of Izmail, where he commanded the chasseurs.
In 1792, he became Lieutenant-Colonel and was transferred to the Smolensk Dragoon Regiment of General Mikhail Kakhovsky. During the Kosciuszko's Uprising of 1794 Chaplits was sent by Baron Igelström to carry the peace negotiations with Poles, but was wounded and captured at Warsaw. He was soon released and participated in the Persian Campaign of 1796, where he commanded Grebensk and Semeiny Cossack regiments. His regiments captured Derbent and Baku, for which Chaplits was promoted to the rank of Colonel on June 13, 1796. Upon his ascension to the throne, Emperor Paul I recalled the army back to Russia and had Chaplits dismissed from the military on February 27, 1798. However, on March 27, 1801, on the fourth day after his assumption of the throne Emperor Alexander I returned Chaplits to service with a rank of Major-General and on November 11, 1803 appointed him to the Imperial Retinue.
During the 1805 Campaign, he commanded the vanguard of Prince Pyotr Bagration Corps and participated in actions at Lambach, Amstetten and Schöngrabern. After the Battle of Austerlitz he protected the retreat of the Russian Army. He became chief of the Pavlograd Hussar Regiment on 23 July 1806, and commander of the cavalry brigade on 23 October 1806. Chaplits participated in the Prussian campaign and distinguished himself at Golymin, Allenstein, and two weeks served as commandant of Königsberg.
From October 1809 to July 1810, Chaplits commanded the 7th Division stationed at the Ukrainian-Polish border, and in November 1810, took command of the Reserve Cavalry Corps. He led from February to March 1811 the 4th and in May 1811 the 8th Cavalry Divisions, and was appointed commander of the 3rd Reserve Cavalry Corps of the 2nd Reserve Army of Observation on 7 April 1812. He defeated Saxon troops at Kobryn and Slonim and took into captivity 1 General, 66 officers and 2300 soldiers with 4 standard and 8 cannons. For that and other engagements, in September 1812 he was appointed commander of the infantry corps of the 3rd Army and acted against Lithuanian Guards of general Konopka.
On 12 November 1812 he was promoted to Lieutenant-General and led the advance-guard of Admiral Pavel Chichagov's army to the Berezina River, fought the French at Borisov on 26 November 1812, where he was lightly wounded in the head. He captured Vilna on 28 November 1812.
In 1813, Chaplits served at Thorn, was given command of cavalry of the army of Poland, and fought at Leipzig. In 1814, he participated in the siege of Hamburg and assumed command of the 3rd Corps of the Army of Poland on 18 April 1814. In 1817, Chaplits rose to command the 3rd Hussar Division. He was relieved of command on 27 February 1823. During his career, he also received the Prussian Order of the Red Eagle, the French Order of Légion d'honneur, the Russian Order of Alexander Nevsky, the Order of St. Anna of 1st degree with diamonds, the Order of St. Vladimir of 2nd degree and a golden sword with diamonds.
According to his biographers, he died in the late 1825.

Fazit: we are in possession of portraits of General Chaplits and his wife, and we know when they were painted - between 1808-1810.
Throughout our research we also learned that Chaplits' wedding took place in 1809, for one of the Russian sources mentions that in this year (1809) Chaplits had "finally steadied down" (in informal Russian language it is synonymous with "getting married" or "becoming family-oriented").

And finally, after all said above, we allow ourselves to make a presumption that would create a logical connection between the names of Serdobin and Chaplits, and explain the origin of these two miniatures - Chateau de Chokier (Belgium). As we mentioned above in the biography of A. N. Serdobin, the latter had three sisters, each of whom was born after 1790 and before 1802. And we suppose that "our" general Chaplits married exactly one of these three sisters (i.e. Baroness (!) Serdobin) in 1809. And, if one of the sisters was born between 1790-1793, she could have been mature enough to get married in 1809!
"Equipped" with this idea, we attempted to search (through available to us sources) details of these three sisters Serdobin' lives. And here is what we were able to find out:
1.) Catherine Serdobin(a) died in 1805 and, therefore, does not come in question
2.) Concerning Sophie Serdobin(a), it is known that she was born in 1790 (sic!). Similarly, it is known that with time she had married certain Shenig and took his name after the marriage - Sophie Nikolaevna Shenig, nee Serdobin(a). Since we do not know, when this marriage took place, we cannot exclude the possibility that it was her second marriage, and that in her first marriage she was the wife (and from 1825 widow) of General Chaplits.
3.) We could not find any information about the third sister - Lukeria Serdobin(a). Could she have been "our" Mme Chaplits?


And now a few words about the author of these two miniature portraits. Why do we refer to the "author" in singular form? Because both portraits, besides displaying obvious stylistic likeness, are also signed with identical monogram - two Latin letters "K. S.".

We can take into consideration only two artists (both working in that period in Eastern Europe) whose names could have been ciphered by monogram "K.S."

1. Among the listed Russian miniaturists of this time we find only one artist whose first and second names begin (respectively) with "K" and "S". His name was Karl (Karl-Wilhelm) Seliger - he was a German-born St. Petersburg engraver and portrait miniaturist.
Karl-Wilhelm Seliger (also Seliger; Schidlof erroneously calls him "Seelinger"; see our image nr.40) was born in 1766 in Berlin and died in 1821 in St. Petersburg. He came to Russia and at first began working at Riga, then in the first years of the 19th century settled in St. Petersburg where in 1806 received from the Imperial Academy the rank of "naznachennyi (appointed) artist". Besides his activity as portrait miniaturist, Seliger also worked as an engraver, producing engravings with allegorical compositions and portrait engravings (among them were that of St. Petersburg Mitropolit Amvrosi, bishop Evgeni Bolgarski, Count N. P. Sheremetiev, etc.).
2. In 1809, in West Ukraine (territory inhabited mainly by Ukrainians and Poles; don't forget: here to that time was stationed Chaplits' 7th Division!!) lived portrait artist (and miniaturist - see our image nr.40) Karl Gottlieb Schweikart, who previously made his name in Russia (two years before, in 1806/7, he stayed in Moscow, portraying local nobility).
It is very likely that after the wedding (1809), the newlywed couple came to the headquarters of the 7th Division at Ukrain-Polish border, and it even visited general's Polish relatives (living in the same region; the goal of this probable visit was obvious and ordinary: Chaplits intended to introduce young wife to his family).
It is easy to imagine that, having learned of their stay in this region, Schweikart, who (due to working in Lemberg (Lvov, West Ukraine) in 1802/06) spoke Polish and likely Russian (due to his 1-year stay in Russia) hastened to offer his services of a portraitist.
"K.S." - for Karl (Karl Gottlieb) Schweikart!

Karl Gottlieb Schweikart was born in 1772 in Ludwigsburg (Wuerttemberg) and died in 1855 in Lviv (Lemberg). He studied at the Stuttgart Karl's School in 1787-1792, then moved to Switzerland, in 1795 went to Vienna and afterwards to Prague. From 1802 the artist lived in Lemberg (now Lvov, a big town in West Ukraine on the Ukrainian-Polish border). Schweikart frequently travelled from Lemberg to Moscow, where he lived for one year in 1806/07, and to Hungary. K.G. Schweikart was a very well-known portrait painter.

See also our images nr.41-44 for other portrait works of Schweikart. See also our web # 2587.

Sizes:
husband's portrait: 5,0x4,5cm/2,0x1,8in FRAMED: 7,7x5,2cm/3,0x2,0in
wife's portrait: 4,7x3,5cm/1,9x1,4in FRAMED: 7,2x4,6cm/2,8x1,8in

P.S.: We are very grateful to Dr. Dimitri Gorchkoff for his generous help.

mifeb24ap11
Condition: good; in original frames
Creation Year: 1809
Measurements:UNFRAMED:0,0x0,0cm/0,0x0,0in
Object Type:Framed miniatures
Style: Portrait Miniatures
Technique: both: watercolor on ivory
Inscription:both are monogrammed: K. S.
Creator: Karl-Wilhelm Seliger
Creator Dates: 1766 Berlin-1821 St. Petersburg
Nationality:German / Russian
We will cover shipping with regular registered mail (delivery between 7-14 days), as well as insurance costs for this item.

OBS: Austrian mail refunds cases of loss or damage with maximum EUR 500 to the US (in Europe sometimes more, depending on destination).


Full insured 2-3 days DHL service available upon request and subject to extra charges: office@wilnitsky.com
Click here for images free of watermark!
Click on images or on

to see larger pictures!