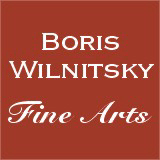 SALE!!! SAVE MONEY !! 1 EUR = 1 USD
# 34495
Izrael Rouchomovsky / Sensational twist in the story of "Tiara of Saitaphares", two drawings, 1903
18000 EUR
FINAL DISCOUNT PRICE= 18000 USD
( for EUR price see date rate )
Please note: Shipping and insurance costs are not included in this promotion, ONLY ITEM PRICES!
(please note additional 13% tax applies for transactions concluded within the European Union)
This fascinating story could well serve as a plot idea for a Hollywood comedy!

We would like to begin with a brief introduction:

On the 1st of April (sic!) of 1896, Parisian museum Louvre acquired two artifacts of extreme importance from two South-Russian antique dealers.
The key piece of this pair of objects was a golden tiara (helmet) with antique scenes and a Greek inscription saying it was presented by council and citizens of Olbia to King Saitaphares (according to historical records, this Scythian king besieged the Greek colony Olbia (near today's Odessa on Black Sea, Ukraine) and was convinced to leave the city in peace only through the offering of expensive gifts).
Russian traders were insisting that tiara and the accompanying it second object - a necklace (see our image nr.27) - have been recently found at excavations in the area of Olbia.
The Louvre went on to acquire both objects for (then) exceptional sum of 200,000 golden francs (some sources implied that the sum equaled as much as 400,000!).
The news about this astonishing purchase spread through all major and minor print media worldwide.
However, seven years later, in 1903, it was established that both tiara and necklace were nothing but modern forgeries produced by certain Jewish goldsmith from Odessa. This sensational discovery once again triggered strong media reaction around the world (see also our image nr.9).

AND NOW OUR STORY:

108 years later, on March 13th 2011, we acquired from online Ebay auction (click here to see other items from the same acquisition), sold by a lady from German town Freiberg (Saxony) two identically sized (9 x 14cm) ink drawings made on blanco post-cards. Both of these drawings are signed, dated 1903 and dedicated to certain Mme Erato A. Mavrogordato - "Madame Erato A. Mavrogordato Souvenier de I. Rouchomovsky Paris 1903" (see our images nr.1-8).

And who was this J. Rouchomovsky?

It turns out to be the name of the same goldsmith from Odessa, who in 1903 (sic!) gained worldwide notoriety as author of "antique" tiara of Scythian King.

And who was Madame Mavrogordato?

Here, the "curtain is slowly raised" only to gradually reveal the following comedy on the screen.

CAST OF CHARACTERS

1. Son of Greek parents, Odessa merchant, collector (as well as dealer) of archaeological objects, member of Odessa Society of Antiquity Lovers, amateur-archeologist who spent a lot of time at excavation sites (among others, in the area of Olbia - sic!), Piotr Amvrosievich Mavrogordato (Mavrogordatos).
Born in 1870, he graduated Odessa University and, already at the beginning of the 20th century, arrived to Berlin together with his wife. There he obtained a job at the Royal Berlin Museum (among others, in this new function, Mavrogordato took part in excavation work at Pompeii for seven years).
In Germany (renamed into Pierre Mavrogordato), he presented himself as having been the director of Odessa Archaeological Museum - a totally unverifiable (in any Russian sources!) information. Nonetheless, all of his modern Western biographers refer to it as if it were an acknowledged fact ("Director" or "controlleur" of Odessa Archaeological Museum).
In 1910, in Thuringian town Römhild (see our images nr.46), he acquired a very large property, on which he built several houses. He called this settlement "PIERATO" (derived from his name Pierre and his wife's name Erato). While he and his wife lived in Berlin, they spent summer months and holidays in Römhild. In 1936 they permanently settled there. The spouses passed away in the same year 1948 (see our image nr.36 for their grave stone that reads "Peter Mavrogordato /Honorary Citizen of Town Römhild /1870-1948 /Erato Mavrogordato /1871-1948").
Piotr (Pierre, Peter) Mavrogordato made a skyrocketing career in Germany. In Berlin he founded his own private archaeological museum and became a privy councilor (particularly high rank in official hierarchy). Additionally, he was advisor of several German tycoons, assisting them with their collections of antiquities (for one of them, Frankfurt industrialist Fritz Gans, he amassed one of the greatest private collections in Germany; the latter bequeathed it to Altes Museum in Berlin).
Apart from that, in the years between 1907 and 1922, Mavrogordato sold 145 (!) archaeological objects (donating 16 additional ones) to London British Museum (image nr.44).
It is very interesting to add one following detail: while still in Russia (in the late 1890s), he acquired the khutor (farm-stead) Panteleevka by Odessa and, shortly thereafter excavated two priceless Greek amphorae on its territory. Twenty years later, on the territory of his Römhild property, he and his wife excavated several antique objects (among others, two Celtic coins).

What an permanent unbelievable luck!

2. Mme Erato A. Mavrogordato, wife of our protagonist, Pierre (Piotr Amvrosievich Mavrogordato), also a collector of archaeological artifacts and besides that a well-known German applied arts artist and puppet-maker. Mme Erato produced puppets in her workshop based in aforementioned Römhild's settlement "PIERATO".
Born in 1871 she was similarly of Greek origin (and also from Odessa). Alike her husband, her name is listed in the registry of acquisitions of London British Museum as one of a seller of antiquities - in 1907 she sold 79 (!) objects to this institution (image nr.44; we suppose that in reality her husband stood behind all these transactions; he must have chosen to use her name for tax reasons).

3. - 4. Brothers Hochman: Shepsel Hochman and his younger brother. In the 1890s these two Jewish men lived in town Ochakov, Nikolaev province (now Ukraine), close to the aforementioned ancient Greek colony Olbia. Officially antique shop owners, they were largely engaged in "backstreet" (i.e. illegal) excavations in the area of Olbia.
According to many historians (Rouchomovsky never identified his "Tiara" orderers; later their trace was found by Russian journalists), they commissioned Odessa goldsmith Izrael Rouchomovsky to make a golden tiara in line with their instructions. In 1896, having collected the finished article, they first attempted to sell it (surely as an authentic piece of antiquity) in the Austrian town Lemberg (now West-Ukrainian town Lvov at Ukrainian-Polish border). After that they went to Vienna, where their friend, certain antique shop owner by the name Anton Vogel lived at that time. The latter mediated their acquaintance with director of the Vienna Royal Art History Museum, who in his turn invited three best Austrian experts to confirm the genuineness of King Saitaphares' tiara. The experts unanimously agreed on its authenticity.
Yet, the price that brothers Hochman were asking for the tiara was too high for the Vienna Museum, and the deal was not realized. The brothers entrusted Anton Vogel with custody over the tiara (and the accompanying it necklace), and the latter promised to sell it in the near future.

5. Anton Vogel.
In the 1890s Anton Vogel was one of Viennese antique dealers. He was born in a (presumably) Jewish family living in South Russia. He began his career as antiquities dealer in town Nikolaev (ca. 70km from Odessa; town Ochakov and the antique Greek colony Olbia are similarly in the vicinity of Odessa), where he then opened a shop of his own. Later on he relocated to Vienna (as a German-speaker he had no troubles settling in this city). Obviously he brought with him a massive collection of archaeological artifacts, for soon after his arrival to Vienna, he opened a store there.
Shortly after brothers Hochman left Vienna, Vogel and his Viennese partner, certain Shimanski (also of Russian-Jewish descent?) brought both items (tiara and necklace) to Paris and sold them to the Louvre Museum for incredible amount of 200,000 (400,000?) of golden francs.

6. Izrael Rouchomovsky, Odessa goldsmith and maker of tiara.
We choose to place him as the (rather remote) 6th person in our list of cast characters for a reason: while being a highly skillful master, Rouchomovsky was nonetheless not the real mastermind behind this idea (of Scythian tiara); in fact, himself he would have never considered making it.
He was born in 1860 in predominantly Jewish-populated town Mozyr in Belorussia, receiving the name Izrael Dov-Ber at birth. He lived in Mozyr in grinding poverty and later described his childhood and surroundings with sympathy and humor in his, published in Yiddish language memoirs (Paris, 1928).
He began as a silversmith, being largely self-taught, and he set up his workshop in Odessa. He had gifted hands and in a few years was known well enough to the antique dealers (and Hochman brothers!) who ordered him not only to produce the tiara, but (as we suppose) different other works before that.
In 1903 the scandal (by then long escalating in milieu of world-known historians and archaeologists) concerning the authenticity of tiara (many sources voiced their uncertainties) reached its apogee. As a result, all print media around the world (alike in 1896) resumed publishing polemics between world-known historians/archaeologists and experts of the Louvre, and once again ill-fated tiara made headlines across the world.
One of Parisian newspapers published an interview with local Montmartre artist who claimed that he was the author of the tiara.
Soon after, however, Parisian "Le Matin" secured a letter from a certain Odessa goldsmith K. Lifshits (similarly of Jewish descent), in which the latter declared that his "good friend Rouchomovsky" had made the tiara.
Almost simultaneously editorial office of "Le Matin" received another letter (also from Odessa) from certain Mme Nageborg-Malkina (sic! typical Jewish name), who insisted that she witnessed Rouchomovsky at work on tiara with her own eyes, and that he is an "esteemed person, a father of six, and that he would be happy to get a job in Paris".
Journalists (Russian and foreign) rushed to Odessa and began storming Rouchomovsky (who was allegedly unaware of the scandal in Paris) with questions about the tiara. Having learned of the sum that was paid for it by the Louvre, he was outraged at his client's obvious impudence: while the latter paid him mere 2000 rubles (600 of which he used for materials), he sold the item as authentic for the sum hundreds times exceeding Rouchomovsky's fee. In short, he told journalists the whole truth about the deal.
After these information reached the newspapers, Louvre's direction invited Rouchomovsky to Paris, in order to present convincing proof of his authorship. The goldsmith argued that he had no resources for such journey. He was administered these means by the French Consulate in Odessa, and on the 5th of April 1903 Izrael Rouchomovsky arrived to French capital. He brought with him his working drafts and models of tiara and presented them to Louvre's experts.
French Ministry of Education (all state museums operated under its auspices) founded a special committee led by Professor Charles Clermont-Hanneau. This committee placed Rouchomovsky under a certain degree of scrutiny. In fact, Odessa goldsmith was to make a part of tiara anew: partially from memory and partially from his drafts. Additionally, he named the exact recipe of gold bullion that he used for making the tiara.
When asked about his client, he produced a rather cloudy story about one gentleman ("seemingly from Kerch") who commissioned him with tiara that was presumably intended as an anniversary present to an esteemed scientist-archaeologist ("seemingly from Kharkov"). The unidentified gentleman supplied Rouchomovsky with all necessary reference literature: richly illustrated edition of N. Kondakov's "Russian Antiquities" (1889) and atlas of the cultural history published in 1882. These widely popular sources (allegedly) offered Rouchomovsky ideas and subjects for his masterpiece, making which he spent nine months.
And once again newspaper headlines across the world were splashing with news of a new sensation. The name of Odessa master was revealed, and soon he was introduced to the wealthiest Jewish man and art collector of Paris, Baron Edmond Rothschild, who immediately ordered a number of objects from him.
Parallel to that, Rouchomovsky showed some other pieces (that he brought with him) at the important art exhibition (among others, he presented his - as he frequently emphasized - most important work; he worked on this piece for ten years" - golden human skeleton in silver gilt sarcophagus (in 1998 this 11 cm-length-sarcophagus was sold at Christie's Amsterdam for more than 300.000 dollars - see our images nr.28 and nr.32).
On the 26th of May 1903 Rouchomovsky was awarded medal of the Section of Decorative Arts. He was immediately showered with orders from best French jewellers. Soon he could afford to send for his family from Odessa. He lived in Paris until his death in 1934.
In the same year (1903) the tiara was transferred from the Louvre to Paris Museum of Decorative Art, where it is on view until today (bearing further the engraved name "I. Rouchomovsky").

7. Odessa goldsmith Lifshits, "friend of Rouchomovsky". His appearance in our "comedy" is brief: it consists of only one action, namely a letter written by him to Parisian "Le Matin". In it, he - "in the name of historical justice" - informs "Le Matin" of the "factual" identity (in spite of "impudent" claims of Montmartre artist) of the tiara's author.

8. Mme Nageborg-Malkina, citizen of Odessa in the early 20th century. Alike nr.7 (K. Lifshits) in our "cast of characters", her appearance manifests itself in writing a letter to Parisian "Le Matin", in which she not only attests to Rouchomovsky's authorship, but also solicits for assistance with his upcoming arrangements in Paris.

AND NOW THE PLOT DEVELOPMENT ACCORDING TO OUR ASSUMPTION:

In the beginning of the 19th century territories of steppe region and the (bordering) coast of Black Sea in South Russia (Ukraine), including Crimea, Odessa region, Nikolaev and Ochakov, draw attention of the Russian archaeologists. Numerous excavations performed by expeditions of most esteemed museums and scientific institutions produce stunning results comparable with those of findings in Pompeii or Greece.
Thousands daily-use articles of the Scythian tribes, which were inhabiting these regions few centuries before the birth of Christ, fill display cases of the Hermitage Museum (St. Petersburg), museums of Moscow, Kiev, Odessa, etc. Hundreds of golden articles are found among the multitude of discovered objects.
The mid-19th-century also marks the increase in "unauthorized" (illegal) excavations performed in the vicinity of (already discovered by museum expeditions) burial sites.
The number of collectors compiling grand arrays from artifacts purchased from illegal diggers grows as well, thus developing the basic market model of demand and supply.
The particularly successful diggers open their own shops of antiquities in Odessa, Nikolaev, Ochakov, Kherson, etc.
By the end of the 19th century the stream of findings gradually thins out, yet the collectors' demand (in proportion to their growth in numbers!) only increases. This increased demand (shown not only by Russian but also by foreign buyers) pushes the sellers to sell modern forgeries along with authentic pieces. In order to fulfill this goal, they set up underground workshops or manufactories operated by the best masters well aware of how to "antiquate" modern replicas.
One of such notorious manufactories was the underground workshop set up by abovementioned (nr.3 and 4 in our list of cast characters) brothers Hochman based in Ochakov.
Yet, due to Hochmans' and their colleagues' (including Anton Vogel, i.e. nr.5 in our list of cast characters) limited knowledge, the replicas they produced often resulted in grave stylistic discrepancies, which could easily be identified by true archaeology specialists (in 1896, work of Professor Berthier-Delegard "Fakes-making of Greek antiquities in South Russia" was published twice in Odessa; see image nr.35). It became clear that, in order to manufacture a perfect forgery, they needed a person who would be just as knowledgeable (and possibly shrewder than one such hypothetical expert).
A person with such qualities was finally found. He turned out to be the young (in 1894, when commissioned to make the tiara, he was 24), recent graduate of history faculty of Odessa University, heir of one of the wealthiest Greek families of South Russia, citizen of Odessa, Piotr Amvrosievich Mavrogordato. The latter, while still a youth, was also a digger of antiquities in Olbia by Ochakov and later became a collector and amateur-dealer. He was surely well acquainted with brothers Hochman, as well as with dealer Anton Vogel from Nikolaev. Without doubt he was personally involved in production of forgeries: Mavrogordato's amazing and recurring luck in discovering antique artifacts on the territory of his properties is a circumstantial evidence (as we strongly believe) that these "findings" were, in fact, fakes that he first commissioned and then "extracted" from underneath the earth.
Mavrogordato certainly knew masters working for brothers Hochman, including highly skilled Odessa goldsmith Izrael Rouchomovsky.
Whether he commissioned Rouchomovsky himself, or whether brothers Hochman acted on his behalf at the early stage, is of no major importance. What is important is that the idea behind King Saitaphares' tiara and, consequently, its meticulous design (able to deceive best museum experts of Europe) belonged to him - a highly educated archaeologist.

In early 1903 the worlwide discussion about authenticity of tiara reached its apogee. Interview with Montmartre artist claiming his authorship appeared in Parisian newspaper, and this news infuriated Rouchomovsky. In turn (as we believe), he asked for his partners' consent to conduct a "self-disclosure" - his only (and last!) chance of attaining world recognition.
By then the friends have all split their shares of the giant sum they received from the Louvre Museum, and have agreed to put an end to Rouchomovsky's "vow of silence" in exchange for his promise to never reveal their identities (which he later kept; we refer to his mysterious client who was "seemingly from Kerch").
As one of this "gang's" members, Rouchomovsky was certainly (from the begin!) aware of the strategy behind this object's forthcoming sale and the large sum it realized. In truth, he enjoyed the same partner privileges as his friends and regular clients.
Two more Rouchomovsky's "friends" - nr.7 and 8 in our list of cast characters, Odessa goldsmith Lifshits (certainly another one of this "gang's" members) and his town fellow, Mme Nageborg-Malkina - also made their "stage appearances" by sending their letters to Parisian newspaper.

Yet, the "god-father" of tiara manufacture was none other than our nr.1 himself - young Piotr Amvrosievich Mavrogordato!

Although in possession of great means, Mavrogordato was nevertheless cautious and kept in mind that police could any day show interest in his persona (let us not forget that in 1896 in Louvre, Vogel and Shimanski introduced themselves as Odessa (!) traders of archaeological objects). Mavrogordato and his wife (probably in the same 1903) moved to the West, where he soon received a job at Berlin Royal Museum.
In the late 1903, several months after Izrael Rouchomovsky's arrival to Paris, when the turmoil around his "self-disclosure" gradually receded, Mavrogordato and his wife visited the goldsmith in the French capital. Upon their visit, Mme Mavrogordato passed Rouchomovsky two (brought from Russia) blanco post-cards and asked him - as token of memory - to draw her (for her album?) scenes from tiara (our image nr.1), idea of which belonged to her husband.
This secret shared between spouses Mavrogordato and Izrael Rouchomovsky (which, it seems, should have forever been buried underneath the grave stone in German town Römhild; see our image nr.36) resurfaced today thanks to two pieces of card that we found on Ebay.

And now the sensational final scene as the synopsis of this comedy film: the camera is slowly guiding us through the halls of British Museum, showing us one by one objects previously purchased from Berlin collectors Pierre and Erato Mavrogordato. An off-screen voice questions: How many of these artifacts are authentic and how many of them are fakes?

Exclusive copyright of this text belongs to Boris Wilnitsky Fine Arts.
Its unauthorized publication will be promptly subjected to legal claim.

mimar30ap11
Condition: good
Creation Year: 1903
Measurements: UNFRAMED:14,0x9,0cm/5,5x3,5in
Object Type: Unframed drawings
Style: Judaica
Technique: first: brown ink on card; second: gray wash and whitening on card
Inscription: both: dedicated, signed and dated 1903
Creator: Izrael Rouchomovsky
To see other works by this artist click on the name above!
Creator Dates: 1860 Mozyr, Belorussia-1936 Paris
Nationality: Jewish / Russian / Ukrainian
We will cover shipping with regular registered mail (delivery between 7-14 days) for this item.

OBS: Austrian mail refunds cases of loss or damage with maximum EUR 500.


Fully insured 2-3 days DHL service available upon request and subject to extra charges: office@wilnitsky.net
Click here for images free of watermark!
Click on images or on

to see larger pictures!