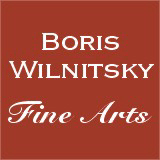 If you have a question about this item,
please contact us at: office@wilnitsky.com
# 34536
Johann Nepomuk Ender (1793-1854) "Archduchess Henriette of Austria", outstanding portrait!!!, 1829
Price: ON REQUEST
(please note additional 10% tax applies for transactions concluded within the European Union)
This exceptionally qualitative watercolor, signed and dated "Joh.Ender 1829", is with great likelihood the latest portrait of the wife of Archduke Carl of Austria, Archduchess Henriette, who died in the end of the same (1829) year.
Formerly in the property of Royal family (possibly housed in Archduke Carl's Viennese palace in Annagasse/Seilestaette, 1st Vienna district - see label inscribed with "Palais" on verso; see also our image nr.12), this small masterpiece resurfaced in March 2011 at the Vienna auction house "Dorotheum", where we acquired it as a result of a "lengthy battle" with another bidder, for the price eight times higher than the starting one.

Henriette Alexandrine Friederike Wilhelmine, Princess of Nassau-Weilburg, was born on the 30th of October 1797 in the Castle Eremitage by Bayreuth, Germany, as a daughter of Price Friedrich Wilhelm of Nassau-Weilburg and Princess Luise of Sayn-Hachenburg. On the 17th of September 1815, in Weilburg (German province Hessen), she married the "Winner of Aspern", 26 years her senior Archduke Karl of Austria. They shared a very happy marriage and had seven children. Her husband ordered Castle Weilburg to be built for her in Baden bei Wien (see our web # 31455).
Henriette died in 1829 at the age of only 32 after catching scarlet fever infection from her sick children and thus developing pneumonia.
Johann Nepomuk Ender (1793 Vienna - 1854 ibidem), twin-brother of another well-known Austrian artist, Thomas Ender, was a very popular portrait painter and miniaturist. From 1806 he studied at the Vienna Academy under Maurer, Lampi, Fueger and Caucig and repeatedly received Academy awards. First portraits by him are known from 1814. In 1815-1817 he was already a well-known Viennese portraitist. In 1818-1819 Ender accompanied Hungarian Count Istvan Szechenyi on his trip through Italy, Greece and the Middle East. In 1820 he obtained an academical scholarship for Italy. In 1820-21 he stayed in Florence; from autumn 1821 lived (together with his brother Thomas) in Rome. While he studied there, he also copied works of Raphael, and painted not only portraits, but also historical and religious compositions. In 1825 he became a member of Rome Accademia di S. Luca.
In 1826-27 marked his return to Vienna (via Florence, Genua, Milan, Geneva, Paris and Munich). In 1829-1850 he was a professor of historical painting at the Vienna Academy and, at the same time, the favorite portraitist of the Court and members of the Austrian and Hungarian high society. His specialties were portraits of elegant women from the Royal Family and aristocracy, alone or with their children, fashionably dressed, and occasionally in extravagant richly decorated hats. These portraits were often reproduced in lithographs or engravings by Ender's well-known town-fellows (Josef Kriehuber, Franz Eybl, etc.).
Our additional images nr.13-16 offer extensive biographical information concerning this royalty, as well as one of her portraits, where she is shown with her son Albrecht (see also our web # 33500 and # 34170 ).
Condition: good; in original frame
Creation Year: 1829
Measurements:UNFRAMED:25,0x30,0cm/9,8x11,8in FRAMED: 36,2x30,7cm/14,3x12,1in
Object Type:Framed watercolor
Style: Portrait Miniatures
Technique: watercolor on card
Inscription:signed and dated: Joh.Ender 1829
Creator: Johann Nepomuk Ender
Creator Dates: 1793 Vienna-1854 Vienna
Nationality:Austrian
SHIPPING COSTS UPON REQUEST:
office@wilnitsky.com
Click here for images free of watermark!
Click on images or on

to see larger pictures!