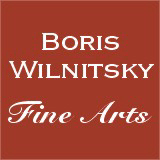 If you have a question about this item,
please contact us at: office@wilnitsky.com
# 35466
Johann Nepomuk Ender (1793-1854) "Archduchess Sophie of Austria", outstanding watercolor portrait!!
Price: ON REQUEST
(please note additional 10% tax applies for transactions concluded within the European Union)
A watercolor portrait of a young lady seated on a terrace with alpine view in background, offered in Christie's Paris catalogue of September 21 2011 (inventory sale of Palais Abbatial de Royaumont) at once caught our attention.
In our possession we have a large group of works by well-known Viennese court portraitist of the 1st half of 19th century Johann Nepomuk Ender - for example, see the following items: # 34536 and # 34087 , as well as our # 33753 , # 33500 , # 30049 , # 29715 , # 29340, # 27085 , # 26907

Based on the thorough knowledge of Johann Nepomuk Ender's works, we have immediately recognized in this watercolor portrait (albeit unsigned) an absolutely typical and authentic work of this artist (for further comparison, examine his other works available through the Web!).
Moreover, the depicted lady appeared familiar to us. A brief research in our library produced an unexpected result: as it turned out, we have seen a mirror-inverted image of this portrait before, namely as a lithograph by famous Viennese portraitist and (above all) lithographer Josef Kriehuber (1800-1876). In fact, this very portrait was used for the cover page of Selma Krasa's book (published in Vienna in 1987) titled "Josef Kriehuber 1800-1876 /Der Porträtist einer Epoche" (see our image nr.11). In her book on pages 66-67 (see image nr.12) the author offers a detailed account of the history behind this lithograph, which till today was likely the most known graphic portrait of the mother of Emperor Franz Joseph II - Princess of Bavaria and Archduchess Sophie of Austria (1805-1872; see our images nr.13-14 with extensive biography of her).
Selma Krasa writes the following in connection to this lithograph: "1834 beschäftigte sie (Archduchess Sophie - B.W.) das erste Mal auch Kriehuber. Er lithographiert ein Aquarell von Johann Ender auf dem sie zusammen mit ihren Söhnen Franz Joseph und Ferdinand Max dargestellt ist…" (English: "In 1834 Kriehuber for the first time was taken by her (Archduchess Sophie - B.W.) persona. He produced a lithograph after a watercolor by Johann Ender (sic!), in which she is portrayed together with her sons Franz Joseph and Ferdinand Max"). Further on Selma Krasa while reviewing the aforementioned lithographic portrait, also mentions its date - 1836 (this date is also clearly seen on lithograph in author's signature - "Kriehuber /1836").
Curiously enough, until today no one took into account the apparent likeness of this type of representation with works of Johann Nepomuk Ender, although it would seem very reasonable to make associative connection between the mention of Ender's authorship in the first lithographic portrait of Archduchess Sophie (with both sons) to Ender's name also in this case - lithographic portrait of Archduchess Sophie of 1836.
Concerning the date of 1836: we would like to add that Kriehuber frequently lithographed watercolor portraits (his own as well as those of other artists) years later after their execution. As an example, we would like to draw your attention to a watercolor by Kriehuber with portrait of Archduchess Marie-Louise, formerly the second wife of Napoleon I and Empress-Consort of France. Painted originally by Kriehuber in 1834, it was lithographed by him only in 1843!
Hence, we believe that the original watercolor portrait of Archduchess Sophie, painted - as we 100% certain - by Johann Nepomuk Ender and lithographed in 1836 by Josef Kriehuber was made not in 1836 but several years earlier, i.e. sometime between 1830 and 1834!!
It appears that our find at Christie's Paris sale enhances the iconography of Joseph II' mother as its most remarkable graphic exemplar!!
Johann Nepomuk Ender (1793 Vienna - 1854 ibidem), twin-brother of another well-known Austrian artist, Thomas Ender, was a very popular portrait painter and miniaturist. From 1806 he studied at the Vienna Academy under Maurer, Lampi, Fueger and Caucig and repeatedly received Academy awards. First portraits by him are known from 1814. In 1815-1817 he was already a well-known Viennese portraitist. In 1818-1819 Ender accompanied Hungarian Count Istvan Szechenyi on his trip through Italy, Greece and the Middle East. In 1820 he obtained an academical scholarship for Italy. In 1820-21 he stayed in Florence; from autumn 1821 lived (together with his brother Thomas) in Rome. While he studied there, he also copied works of Raphael, and painted not only portraits, but also historical and religious compositions. In 1825 he became a member of Rome Accademia di S. Luca.
In 1826-27 marked his return to Vienna (via Florence, Genua, Milan, Geneva, Paris and Munich). In 1829-1850 he was a professor of historical painting at the Vienna Academy and, at the same time, the favorite portraitist of the Court and members of the Austrian and Hungarian high society. His specialties were portraits of elegant women from the Royal Family and aristocracy, alone or with their children, fashionably dressed, and occasionally in extravagant richly decorated hats. These portraits were often reproduced in lithographs or engravings by Ender's well-known town-fellows (Josef Kriehuber, Franz Eybl, etc.).
Provenance: Collection Fould-Springer, Abbatial Palais of Royaumont Abbey, situated 30km north of Paris.
The only daughter and heiress of very wealthy Austrian (sic!) industrialist Baron Gustav von Springer, Marie Caecilie Baroness von Springer (1886 Paris - 1979 Paris) married in 1905 in Vienna French banker (member of European banking house "Fould Oppenheim" and grandson of Napoleon III' Finance Minister Achille Fould) Eugene Fould. The latter thus through marriage obtained the title of baron and was from that point on called Baron de Fould-Springer.
In 1926 the couple acquired Abbatial Palais of Royaumont, where they proceeded to house and display their numerous paintings and objects of art (some of them were brought by them from Vienna!).
In 1929 Baron Eugene de Fould-Springer died. Four years later his widow married Frank Wooster. They lived by turns in Royaumont and Vienna. In 1938, after the annexation of Austria by the Nazi Germany they left Vienna indefinitely and travelled via France to Canada, where they then spent all the following war years. After the WWII was over, Marie Caecilie (by then widowed for the second time) spent the remaining part of her life in Florence. The Abbatial Palais was occupied by the family of her daughter Liliane.

The whole inventory of the Abbatial Palais of Royaumont was auctioned off at Sotheby's Paris on 19-21 September 2011. This watercolor is a part of it.

miokt19ap11
Condition: very good; in magnificent original gilded biedermeier frame
Creation Year: early 1830s
Measurements:UNFRAMED:38,3x27,3cm/15,1x10,7in FRAMED: 49,3x38,9cm/19,4x15,3in
Object Type:Framed watercolor
Style: Portrait Miniatures
Technique: watercolor on card
Inscription:verso: old authentic legend
Creator: Johann Nepomuk Ender
Creator Dates: 1793 Vienna-1854 Vienna
Nationality:Austrian
SHIPPING COSTS UPON REQUEST:
office@wilnitsky.com
Click here for images free of watermark!
Click on images or on

to see larger pictures!