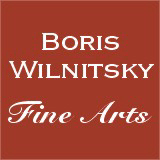 If you have a question about this item,
please contact us at: office@wilnitsky.com
# 35784
Pierre-Edouard Dagoty-Attrib. "Cl.-P.-J. Laborgne de Boigne and his wife", two important miniatures!!
Price: ON REQUEST
(please note additional 10% tax applies for transactions concluded within the European Union)
THE SELLER WILL COVER INSURED SHIPPING WITH REGULAR MAIL FOR THIS ITEM!

Important discovery!

On the 5th of February 2011, at the auction house "Vassy-Jalenques", Clermont-Ferrand, region Auvergne/France, we acquired (in what turned out to be a "rough battle" via telephone bidding) a couple of extremely interesting portrait miniatures representing a French high-ranking military officer from the period of Consulate and his young wife.
The officer is depicted in an evening landscape with marching troops behind him (especially interesting are the dressed in iniforms of colonial soldiers (sic!) black drummers marching at the head of the column; in the early days of Republic, one could witness the emergence of a number of dark-skinned military musicians in army regiments: drummers and buglers (especially on colonized by France territories in Caribbean - see below). The officer is holding a sheet of paper rolled into a tube (a dispatch? an appeal?), in the exposed upper corner of which we can read the ending of a word or possibly even a phrase of some sort - "les".
The whole composition and the manner of painting strongly resemble those of another miniature in our collection (# 27745) - portrait of General Pichegru by Pierre-Edouard Dagoty.

The second miniature shows general's young wife, whose dress and hairstyle speak for ca.1805 (see for comparison our image nr.20). This miniature is somewhat smaller in size and probably painted by another (also 1st-class) artist. Yet, both portraits - husband's and wife's - are framed in similar brass frames in neoclassical style, which is a clear indication that both of them were framed by the same person (their previous owner in 19th century) and were meant to accompany one another.

Our friend and permanent advisor, well-known uniformologist and author of numerous publications on Napoleonica, Dr. Dimitri Gorchkoff (Moscow) recognized in this officer (on a base of his uniform of "commissaire ordonnateur des guerres" (see our image nr.15), dark-skinned drummers and rocky landscape in the background) Claude-Pierre-Joseph Leborgne de Boigne (1764-1832), brother of General de Boigne (for latter's portrait see image nr.17 - great physiognomic resemblance!!). From 1791 he was one of officials in a suite of French envoy in Saint-Domingue, capital of Caribbean island Hispaniola (later called Haiti). In 1796 he was appointed "commissaire-ordonnateur du corps" of a stationed on Hispaniola French troops under command of Admiral de Truguet. In this function he actively contacted with the leader of Haitian Revolution Toussaint Louverture (and even in 1802 personally delivered the latter into prison Fort-de-Joux in the Doubs, France). Our image nr.16 with clips from published in 1842 in Paris "Biographie Universelle..." provides his extensive biography.

As mentioned above, in its composition this portrait of Laborgne de Boigne strongly resembles another miniature in our possession (our web # 27745) - portrait of General Pichegru by well-known French miniaturist Pierre-Edouard Dagoty (Gautier-Dagoty). We think that this artist is the most logical "candidate" when it comes to the authorship of husband's portrait. Typical for Dagoty stylistic criteria (and high quality!) convincingly support this attribution. Besides that this artist, as known, being (from 1802) leading portrait miniaturist in Bordeaux had among his clientele many Creole tradesmen shuttling between Bordeaux and Marinique, Gouadeloupe and other occupied by republican France islands in Caribbean. It is very possible, that after his homecoming to France (in 1802, accompanying captured Toussaint Louverture!) our Laborgne de Boigne visited Bordeaux and came to Dagoty with recommendation letter from one of these tradesmen...

The second portrait - of the wife - was painted (surely) shortly before or after the wedding, which took place in 1806 (the question, who and where painted this miniature remains open). The name of the young lady was Alexandrine Foacier (see our image nr.18). She was a daughter of King Louis XVI's equyer (English: equerry), royal councillor Cesar-Pierre Foacier who later became administrator of department Yonne in Burgundy and then "payeur general" (senior treasurer) of Yonne's capital Auxerre. Her mother, Marie-Jeanne Soufflot, was niece of celebrated architect Jacques-Germain Soufflot. In the same 1806 Alexandrine gave birth to their only child, Baron (sic!) Pierre-Charles-Benoit Le Borigne de Boigne (1806-1896), who became later a very well-known adventurer. She died in the same year (1832) as your husband. They all - father, mother and son - are buried side by side at Paris cemetery Pere-Lachaise (see our image nr.19).


Pierre-Edouard Dagoty (Gautier-Dagoty) was born in 1775 in Florence and died in 1871 in Bordeaux. Already as an eighteen year old, he obtained his first prize from the Academy of Fine Arts in Florence. After graduating from the Academy he made a long journey through Italy before coming to Paris, then of the Consulate Period. After a brief while in this city, the artist moved to Tolouse and, then, to Bordeaux, where he settled in 1802. There he soon became a very popular miniaturist, acquiring a nickname "Isabey bordelais" ("Isabey of Bordeaux"). In fact, he occupied the position in Bordeaux, which Daffinger had in Vienna, or Chabanne in Lyon. His clients were of the upper middle class. Numerous works of Gautier-Dagoty belong to Bordeaux families and collections. Similarly, various French museums have them in their collections.
Provenance: auction house "Vassy-Jalenques", Clermont-Ferrand, February 5th 2011, lot 10

We are very grateful to Dr. Gorchkoff for his generous help!

midec28ap11
Condition: portrait of husband: very good condition
portrait of wife: good to fairly good; retouiching at right edge
Creation Year: 1802/1806
Measurements:UNFRAMED:7,7x7,0cm/3,0x2,8in FRAMED: 11,4x9,2cm/4,5x3,6in
Object Type:Framed miniatures
Style: Portrait Miniatures
Technique: both: watercolor and gouache on ivory
Inscription:-
Creator: Pierre-Edouard Dagoty
Creator Dates: 1775 Florence-1871 Bordeaux
Nationality:French
We will cover shipping with regular registered mail (delivery between 7-14 days), as well as insurance costs for this item.

OBS: Austrian mail refunds cases of loss or damage with maximum EUR 500 to the US (in Europe sometimes more, depending on destination).


Full insured 2-3 days DHL service available upon request and subject to extra charges: office@wilnitsky.com
Click here for images free of watermark!
Click on images or on

to see larger pictures!