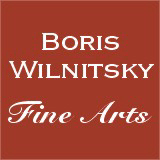 If you have a question about this item,
please contact us at: office@wilnitsky.com
# 35788
Jules Boilly "Laure-Adelaide Junot, Duchess d'Abrantes", rediscovered important portrait!!, ca.1835
Price: ON REQUEST
(please note additional 10% tax applies for transactions concluded within the European Union)
Sensational find!!

We acquired this, a very important portrait drawing by well-known Parisian artist and son of great Louis-Leopold Boilly, Julien Leopold (called Jules) Boilly at the inventory sale of Abbatial Palais of Royaumont (collection of palais owners - Baron and Baroness Fould-Springer) that was held on 19-21 September 2011 by Sotheby's Paris.
The drawing is laid on old mount, originally framed, signed: "…d'apres Nature /Jul Boilly" and titled "Mme d'Abrantes".
It is for over 100 years thought to have been lost and until recently only known through a lithograph of Thierry Fréres (see our images nr.11-13) portrait of famous French woman, widow of Napoleon's Marshal Junot and mistress of Balzac, 50-year-old Laure-Adelaide Junot, Duchess d'Abrantes, nee Martin de Permond (1784-1838; our images nr.16-21 show several of her other portraits).

Laure-Adelaide Junot, Duchess of Abrantes (d'Abrantes) was born on the 6th of November 1784 in Montpellier as a daughter of Corsican nobleman Charles Martin de Permond and his wife Panoria (to whom during her widowhood the young Napoleon Bonaparte made an offer of marriage (such at least is the version presented by the daughter in her celebrated "Memoirs"). Her mother, Panoria, was descended from the Comnene family, the last Greek dynasty from the Empire of Trebizond. The Martin de Permond family, after various vicissitudes, settled at Paris, and Bonaparte certainly frequented their house a good deal after the downfall of the Jacobin party in Thermidor 1794 (some sources insist that Laure made acquaintance with him at the age of 10).
Mlle de Permond was married to general Jean-Andoche Junot (for his biography, see our image nr.22) in 1800, early in the Consulate; she was then 16 and he - 29 years old.
She at once entered eagerly into all the gaieties of Paris, and became noted for her beauty, her caustic wit, and her extravagance. The First Consul nicknamed her petite peste, but treated her and Junot with the utmost generosity, a fact which did not restrain her sarcasms and slanders in her portrayal of him in her "Memoirs". During Junot's diplomatic mission to Lisbon, his wife so displayed her prodigality, that on his return to Paris in 1806 he was burdened with debts, which his own intrigues did not lessen. She joined him again at Lisbon after he had entered that city as conqueror at the close of 1807; but even the presents and spoils won at Lisbon did not satisfy her demands; she accompanied Junot through part of the Peninsular War.
On her return to France she displeased the emperor by her vivacious remarks and by receiving guests whom he disliked. The mental malady of Junot thereafter (he committed suicide) threatened her with ruin; this perhaps explains why she took some part in the intrigues for bringing back the Bourbons in 1814. She did not side with Napoleon during the Hundred Days. After 1815 she spent most of her time at Rome amidst artistic society, which she enlivened with her sprightly converse; a monarchist on her return to Paris during the Restoration, she compiled her spirited but somewhat spiteful "Memoirs" with the encouragement and supervision of Balzac, her lover since 1828. The memoirs were published at Paris in 1831-1834 in 18 (!) volumes. Many editions have since appeared.
Of her other books the most noteworthy are "Histoires contemporaines" (2 vols., 1835); "Scènes de la vie espagnole" (2 vols., 1836); "Histoire des salons de Paris" (6 vols., 1837-1838); "Souvenirs d'une ambassade et d'un séjour en Espagne et en Portugal, de 1808 & 1811" (2 vols., 1837).
Ridiculed by Gautier as the "Duchess of Abracadantès" and fallen into poverty, she died in a nursing home in 1838. (*this material was borrowed from Wikipedia).

This portrait was made between 1830 (the sitter's dress corresponds to the fashion of the early 1830s) and 1835 (the aforementioned lithograph after it was produced already in 1836).
Julien Leopold (called Jules) Boilly was born in 1796 in Paris and died in the same city in 1874. He was a pupil of his father, Louis Leopold Boilly and Baron Antoine-Jean Gros. In 1826 he went on a long journey to Italy. He made illustrations for "Les Hermites en Prison" by Etienne de Jouy and Antoine Jay (1823), "Monde dramatique" (1835), "Plutarque francais" by Ed. Mennechet (1835-1841), "Voyage de Dumont d'Urville" by Alexandre Dumas (1840), etc. Yet Boilly's main specialty were portraits in chalks (sic!) and pastel, miniatures, genre and landscapes.
Works of Julien Leopold Boilly can be seen in museums of Versailles, Bourges, Nancy, Narbonne, Semur, etc.
Provenance: Collection Eugene Fould-Springer, Abbatial Palais of Royaumont Abbey, situated 30km north of Paris (see our images nr.23-24).
The only daughter and heiress of very wealthy Austrian industrialist Baron Gustav von Springer, Marie Caecilie Baroness von Springer (1886 Paris - 1979 Paris) married in 1905 in Vienna French banker (member of European banking house "Fould Oppenheim" and grandson of Napoleon III' Finance Minister Achille Fould) Eugene Fould. The latter thus through marriage obtained the title of baron and was from that point on called Baron de Fould-Springer.
In 1926 the couple acquired Abbatial Palais of Royaumont, where they proceeded to house and display their numerous paintings and objects of art.
In 1929 Baron Eugene de Fould-Springer died. Four years later his widow married Frank Wooster. They lived by turns in Royaumont and Vienna. In 1938, after the annexation of Austria by the Nazi Germany they left Vienna indefinitely and travelled via France to Canada, where they then spent all the following war years. After the WWII was over, Marie Caecilie (by then widowed for the second time) spent the remaining part of her life in Florence. The Abbatial Palais was occupied by the family of her daughter Liliane.

The whole inventory of the Abbatial Palais of Royaumont was auctioned off at Sotheby's Paris on 19-21 September 2011. This drawing is a part of it.

mijan02ap12
Condition: good
Creation Year: ca 1835
Measurements:UNFRAMED:32,5x24,5cm/12,8x9,6in FRAMED: 50,3x40,2cm/19,8x15,8in
Object Type:Framed drawing
Style: 19th century paintings
Technique: charcoal and white chalk on paper; laid on old mount
Inscription:signed: "...d'apres Nature /Jul Boilly" and titled "Mme d'Abrantes"
Creator: Julien Leopold Boilly
Creator Dates: 1796 Paris-1874 Paris
Nationality:French
SHIPPING COSTS UPON REQUEST:
office@wilnitsky.com
Click here for images free of watermark!
Click on images or on

to see larger pictures!