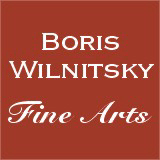 If you have a question about this item,
please contact us at: office@wilnitsky.com
# 35789
Marie Prevot-Gomien (fl.1815-aft.1824) "Prince F.X. Drucki-Lubecki", important miniature!!, ca.1825
Price: ON REQUEST
(please note additional 10% tax applies for transactions concluded within the European Union)
An incredible "hunting trophy": in the period of four years we were able to find two identical portraits of very well known Polish aristocrat and (Russo-Polish) statesman Prince Franciszek Ksavery (in Russia - Francisk-Ksawery) Drucki-Lubecki (1779-1846). The first discovery (see our web 28854) was a copy after (housed in Warsaw National Museum and thought to be the only existing one) 1825 portrait (painted with oils on canvas) by female artist Marie Prevot-Gomion (see our image nr.9; here, the artist's surname is presented erroneously, i.e. Gouvier Prevot).
Concerning our second find: acquired at the auction house "Von Zengen" in Bonn / Germany, sale on the 26th November 2011, lot 2053, it is author's own much smaller (yet absolutely authentic!) replica of the "Warsaw" portrait.
Marie Prevot-Gomion was born in Kaluga (Russia) into French family Gomion. She worked in St. Petersburg between the years 1815 and 1824. There she organized auctions of her own portrait paintings (1818) and participated in several exhibitions of Imperial Academy of Fine Arts in the early 1820s. In 1820 she obtained an academic rank of "naznachenny" ("appointed") artist for seven of her exhibited portraits. In 1824 she came to Warsaw, where she possibly married (and took the name of) her husband Prevot (see our images nr.10-12). In the next few years following her arrival to Warsaw (Warsaw Museum dates their replicas 1825) she portrayed Prince Drucki-Lubecki, hence these two replicas - "Warsaw" and ours.
The sitter was born to Franciszek Drucki-Lubecki and Genowefa Olizar of the Rurukid family of Princes Drucki-Lubecki in St. Petersburg on the 28th of December 1778. After graduating from the infantry cadet school he joined the Russian military in 1794 and remained in service until 1800. He served under the command of Alexander Suvorov, participating in the latter's campaigns in Italy and Switzerland. Later, he became the Marshal of Nobility of Grodno Gubernia. From 1813 to 1815 he was a member of the High Provisional Council (Rada Najwyzsza Tymczasowa) of the Duchy of Warsaw. He supported the peaceful resolution of the conflict with the Russian Empire, as backed Alexander I of Russia, whom he thought was liberal enough to support extended Polish autonomy. In 1816 he became the Governor of Grodno Gubernia and a member of the Commission for settling the financial accounts between Kingdom of Poland and the Russian Empire. He organized a campaign for the introduction of foreign investors, professionals and workers into Poland. In 1816, as a governor, he issued a set of conditions for the settlement of "useful foreigns" in the Congress of Kingdom of Poland. City of Lodz was one that greatly benefited from his policies, becoming an important textile center.
On the 20th of June 1820 he married Maria Scipio del Campo (she was to that time 14 years old… and his own niece!). The young couple settled in the estate of Prince's sister, mother of his wife; see our image nr.17 with clips from an article about Shchuchin - the town where this estate was situated). With his wife he later had two daughters: Tekla Drucka-Lubecka and Genowefa Drucka-Lubecka.
From 1821 to 1830 he was the Minister of Treasure of the Kingdom of Poland. From 1824 he reformed the mining and iron-works industries. His policies significantly improved the budget and treasury of the Kingdom. He founded the National Bank of Poland in 1828; he was also the initiator of the Land Credit Society.
Drucki opposed the November Uprising against Russia (1830) and attempted to negotiate with Russian authorities, but to no avail. After the defeat of the uprising - which, incidentally, was sponsored by money Drucki gathered in the nation's treasury - he left Poland but still remained in the Polish government, becoming a member of the new, now much more Russian controlled, National Council.
Since December 1830 he worked in St. Petersburg on the legal reform for Poland. Since 1832 he became a member of the State Council of Imperial Russia. In 1834 he worked on settling the financial accounts between Russia and France. After 1830 he never returned to Poland.
Drucki died on the 23rd of May 1846 in St. Petersburg.

mijan02ap12
Condition: good
Creation Year: ca 1825
Measurements:UNFRAMED:14,5x12,0cm/5,7x4,7in FRAMED: 26,0x13,3cm/10,2x5,2in
Object Type:Framed oil painting
Style: 19th century Russian paintings
Technique: oil on canvas
Inscription:-
Creator: Marie Prevot-Gomion
Creator Dates: ? Kaluga (Russia)-after 1824
Nationality:French / Russian
SHIPPING COSTS UPON REQUEST:
office@wilnitsky.com
Click here for images free of watermark!
Click on images or on

to see larger pictures!