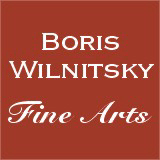 If you have a question about this item,
please contact us at: office@wilnitsky.net
# 35816
Francesco E. Scotto (1747-1826) "Jerome Bonaparte", extremely important early portrait!!!, 1805
Price: 10000 EUR
(please note additional 13% tax applies for transactions concluded within the European Union)
THE SELLER WILL COVER SHIPPING WITH REGULAR MAIL FOR THIS ITEM!

Extremely rare early miniature portrait of Emperor Napoleon I's youngest brother - 21-year-old Jerome Bonaparte (1784-1860) . As we will learn from his biography (see our images nr.12-13), upon his return from the USA in May of 1805, he received a naval rank of "capitaine de fregate" and was sent by emperor to Genoa (briefly prior to that this city was annexed by France) as a commander of a light squadron consisting of frigate "Pomone" (his flag-ship), brigs "Cyclope" and "Endymion", as well as frigates "Uranie" and "Incorruptible". Besides that, on the 7th of July 1805, he was appointed Commander of the Port of Genoa. In the same month, upon visiting Genoa, Napoleon I ordered Jerome to move with his squadron to Algeria, where local pirates were awaiting ransom for the 250 Genoese they were holding hostage. Jerome - not particularly known for his discipline - put up the sails only on the 7th of August. On the 18th of August he arrived to Algeria, where he was several days long engaged in hostage release negotiations with the dey of Algeria. Upon successful completion of these talks, Jerome accommodated hostages on his ships and triumphally returned to Genoa in the last days of August.
In Genoa, he was greeted with immense amount of grandeur: houses adorned with flags, chimes, festive illumination, artillery fireworks, Te Deum in all churches, banquet and ball at the residence of the French chief-treasurer (who was practically General-Governor of Genoa). Jerome immediately sent an emphatic report to Marine Minister, who immediately replied with highest praises for Jerome's heroic deed. Two months later, on the 1st of November 1805, Jerome was raised to next rank of "capitaine de vaisseau" (the last rank before that of rear-admiral), and, on the 23rd of November, he obtained under his command a 74-cannon ship "Le Vétéran". His next rank of rear-admiral he received (together with Commander Cross of the Legion d'Honneur) in 1806 (our image nr.14 shows him shortly thereafter, onboard of his flag-ship).
Hence, we are dealing here with a portrait of a very young (sic!) "capitaine de fregate" who:
1) was portrayed in September (date "7bre" - see our image nr.8)) of 1805 (one month before the next promotion on 1st November) in Genoa
and
2) is depicted wearing an uniform corresponding the next rank, of "capitaine de vaisseau".

And why a "capitaine de fregate" shows himself as a "capitaine de vaisseau"??
Reply to this question we find in Andrew Hilliard Atteridge "Napoleon's brothers /Jerome Bonaparte (King of Westphalia)", London 1909, in following lines (relating to period of summer-early autumn of 1805): "...The grade of "capitaine de fregate" was not high enough for the commander of a squadron, and without any authority but his own impulsive ambition he assumed the higher grade of "capitaine de vaisseau", put on the uniform, signed official documents with this new title...".

And why in Genoa?
The author of this miniature (which is signed with the name "Scotto") was no other than the best Genoese miniaturist of that time, professor at the local Academia Ligustica, Francesco Emanuele Scotto (for another one of his works in our possession, see our web # 30316).

Apropos, the sitter's visual rank of "capitaine de vaisseau" is mentioned in legend on the back of the miniature (see image nr.11) written in the late 19th century by its previous owner, famous collector of Napoleonica, Bernard-Franck (who could not recognize Jerome, but recognized the uniform).

Undisputed similarity of our young naval officer to the (later) known portraits of Jerome Bonaparte, as well as aforementioned here indications (Genoa, date of painting, confusion with uniforms) allow us to maintain with 100% certainty that we were able to find a previously unknown (and POSSIBLY THE EARLIEST SURVIVING !!) portrait of Jerome Bonaparte .
Francesco Emanuele Scotto (Scotti) was born in 1747 in Genoa and died in the same town in 1826. He studied at the Genoese Academy Ligustica, where his teacher was Carlo Giuseppe Ratti.
In 1780 Scotto was appointed "Accademico di merito" for his painting "Erminia". Shortly thereafter he moved to Rome and studied there for some time under Vangelisti. Having returned to his native Genoa, he mostly devoted himself to portrait painting, as well as painting of miniatures for snuff tobacco boxes (the latter craft helped him finance his existence, while he was still in Rome).
In the Revolution period (around 1800) Scotto started a professorship at the Academy Ligustica. In 1824-1826 he was there "Dirretore della scuola di pittura" (in 1825 he was also appointed "Dirretore della Scuola di intaglio"). Furthermore, he was a very good engraver.

Works of Francesco Emanuele Scotto can be viewed (among others) in Annunziata Church and Academia Ligustica (both in Genoa).
Provenance: 1.) Famous Parisian collection Bernard-Franck.
Bernard-Franck was a veteran of the 1870 Franco-Prussian War, who became a wealthy manufacturer of military equipment later in life. He had a very important collection of paintings and works of art from the Napoleonic Epoch (see our last additional image).
Further provenance:
2.) Private collection, USA;
3.) Connecticut Auction House, ca. 2005 (a great number of miniatures with "Bernard-Franck" labels)
4.) Antique store "Federal Eagle", Wasontown, PA, USA

P.S. 10 August 2014:
We just made a sensational find : we discovered a "twin" of our miniature portrait - identical, painted by the same Francesco Emanuel Scotto and identically signed and dated (obviously Jerome ordered two exemplares of his portrait) miniature in Museum "Maryland Historical Society", Baltimore, USA (see our image nr.17).

mijan09ap12
Condition: fairly good, full length vertical crack in left area, minimal crack in upper left area; in original frame (possibly set earlier into a lid of a snuff-box).
Creation Year: 1805
Measurements:UNFRAMED:6,5x5,2cm/2,6x2,0in FRAMED: 7,7x6,0cm/3,0x2,4in
Object Type:Framed miniature
Style: Portrait Miniatures
Technique: watercolor on ivory
Inscription:signed and dated: Scotto /7bre 1805
Creator: Francesco Emanuele Scotto
Creator Dates: 1747 Genoa-1826 Genoa
Nationality:Italian
We will cover shipping with regular registered mail (delivery between 7-14 days) for this item.

OBS: Austrian mail refunds cases of loss or damage with maximum EUR 500.


Fully insured 2-3 days DHL service available upon request and subject to extra charges: office@wilnitsky.net
Click here for images free of watermark!
Click on images or on

to see larger pictures!