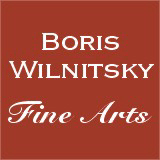 If you have a question about this item,
please contact us at: office@wilnitsky.com
# 36031
Karoly Telepy "Sarolta Vay-Beniczky, mother of "Sandor" Vay", important Hungarian miniature!!, 1852
Price: ON REQUEST
(please note additional 10% tax applies for transactions concluded within the European Union)
THE SELLER WILL COVER INSURED SHIPPING WITH REGULAR MAIL FOR THIS ITEM!

Extremely rare miniature work (neither could we locate any other ones in museums nor on the Web!) of the very well-known Hungarian 19th-century portraitist and landscape artist, Karoly Telepy (see our image nr.7).

A story not less interesting is connected to the sitter, looking to be a young girl, whose name and life dates provide the engraved inscription on the brass back cover - "Comitissa de Vay-Benicky /1833 - 1913".
Our brief research on web was successful: we found this person (see our image nr.8). Her correct name at birth was Sarolta Beniczky de Benicz et Micsinye (Hungarian family of lower nobility). She was born in 1837 (not 1833 as legend on verso says; thus on this, dated 1852 portrait she is 15 years old and still unmarried). Her marriage took place in the late 1850s; she married her much senior Hungarian aristocrat, Count Laszlo Vay, the crown-keeper of Habsburg Archduke Joseph. She died in age of 76 years, in 1913, in Baden-Baden, Germany.
With her husband Sarolta had four children - daughter Sarolta Vay (b.1859), daughter Judit Vay (b.1860), son Laszlo Vay (b.?) and son Peter Vay (b.1864).
Especially interesting were fates of the first and the last of the children - Sarolta and Peter. Historical sources provide no clues as to the intentions of Count Vay (who possibly represented an interesting psychiatric case), but he raised his firstborn daughter Sarolta as a...boy and youngest child, son Peter as a...girl.
Daughter, named (like mother) Sarolta, lived the life of the traditional gentry of the period - she learned fencing and horseback riding and was later sent to study at the universities of Budapest, Leipzig, Dresden und Berlin. She started writing and became a well-known journalist and writer, working under the male name Sandor (Sandor Vay). While working as a jurnalist, "Sandor" Vay displayed the traditional male identity in her appearance and behavior. She (he) died in Zurich, in 1918.
The youngest child, Peter was on contrary raised as a woman, and later became an abbot, a missionary, and a writer of travel diaries.
This story is narrated in detail in article of Anna Borgos "Sandor/Sarolta Vay, a Gender Bender in Fin-de-Siecle Hungary" in "Comparative Hungarian Cultural Studies", Purdue University Press (USA), 2011.
Karoly Telepy (1828 Debrecen - 1906 Budapest) was a son of a stage designer and landscape painter György Telepy (1797-1885). He studied in Munich, Venice and Rome, becoming one of the key representatives of Romantic Art in Hungary. Works of Karoly Telepy can be seen in Hungarian National Gallery and other museums.
Provenance: private collection, Paris

mimar28ap12
Condition: good
Creation Year: 1852
Measurements:UNFRAMED:7,4x6,5cm/2,9x2,6in FRAMED: 14,8x12,1cm/5,8x4,8in
Object Type:Framed miniature
Style: Portrait Miniatures
Technique: watercolor on ivory
Inscription:signed and dated: Telepy Karoly (1)852; old legend on verso
Creator: Karoly Telepy
Creator Dates: 1828 Debrecen-1906 Budapest
Nationality:Hungarian
We will cover shipping with regular registered mail (delivery between 7-14 days), as well as insurance costs for this item.

OBS: Austrian mail refunds cases of loss or damage with maximum EUR 500 to the US (in Europe sometimes more, depending on destination).


Full insured 2-3 days DHL service available upon request and subject to extra charges: office@wilnitsky.com
Click here for images free of watermark!
Click on images or on

to see larger pictures!