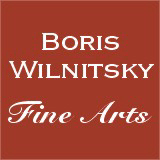 SALE!!! SAVE MONEY !! 1 EUR = 1 USD
# 36138
Johann Friedrich Tielker-Attrib. "Locket with miniature portraits of husband and wife", ca.1790
1350 EUR
FINAL DISCOUNT PRICE= 1350 USD
( for EUR price see date rate )
Please note: Shipping and insurance costs are not included in this promotion, ONLY ITEM PRICES!
(please note additional 10% tax applies for transactions concluded within the European Union)
THE SELLER WILL COVER INSURED SHIPPING WITH REGULAR MAIL FOR THIS ITEM!

Locket with miniature portraits on each side: one of a German aristocrat, and another one - of his wife. The high quality of their execution suggests that the artist had likely worked at one of the numerous German courts.
Moreover, stylistic criteria of both miniatures fully correspond that of works of well-known Berlin court miniaturist Johann Friedrich Tielker.
Johann Friedrich Tielker (1763 Brunswyck (Braunschweig) - 1832 ibidem) originally made silhouettes but gradually became a miniaturist. He worked in Celle (1784), Münster, Osnabrück, Hanover, Aachen (1768/88), Bremen, Hamburg, Lübeck, etc. In late 1789 he returned to Brunswyck but, already in 1790, went back to Frankfurt via Magdeburg, Leipzig and Gotha. Tielker stayed in Frankfurt until 1792 (in that year he was also present at the coronation of Holy Roman Emperor Franz II that took place in this city; there he made acquaintances with many important individuals who were to become his future clients). In late 1792 he was already a court artist in Darmstadt. There he portrayed (among others) Princess Luise of Mecklenburg-Schwerin, who later became Queen of Prussia, and her sister, Princess Friederike. In 1793 he was in Mainz during its occupation by the French. In the same year, by invitation of (then already) Queen Luise Tielker came to work at Berlin Court, where he remained for several years.
In 1802, he travelled to Riga via Königsberg. In March 1804 he arrived in St. Petersburg, where he soon received numerous portrait commissions. There he became especially celebrated for his panoramic view of the Russian capital produced by him in watercolour.
From Russia Tielker moved (he was attached to diplomatic delegation as panoramic draughtsman) to China but already in 1806 could be traced as travelling to Moscow from Mitau and Riga. In Moscow he similarly went on to produce a panoramic view of the city. In 1810 he left Russia for a short while and returned to Berlin. Briefly afterwards he went back to Riga, where he made a project of a building and interior decorations for the local theatre. In 1813 the artist settled in St. Petersburg from where he occasionally visited Berlin and other German places. He also made trips to Moscow, Prague, Vienna and Carlsbad (1823).
In 1826 he returned to his native Brunswyck and remained there (with an exception of a brief sojourn in Riga in 1828) up until his death.
Works of Johann Friedrich Tielker can be seen in museums of Brunswyck, Riga, Berlin, as well as various museums of Russia.
Size of husband's portrait (unframed) 6,9x5,6cm/2,7x2,2in
Size of wife's portrait (unframed) 5,5x5,3cm/2,2x2,1in
Size of locket: 7,8x6,1cm/3,1x2,4in

miapr24ap12
Condition: good to fairly good; husband's portrait is slightly rubbed in the lower part; in original frame
Creation Year: ca 1790
Measurements: UNFRAMED:0,0x0,0cm/0,0x0,0in
Object Type: Locket with miniatures
Style: Portrait Miniatures
Technique: each: watercolor on ivory
Inscription: -
Creator: Johann Friedrich Tielker
To see other works by this artist click on the name above!
Creator Dates: 1763 Brunswyck-1832 Brunswyck
Nationality: German
We will cover shipping with regular registered mail (delivery between 7-14 days), as well as insurance costs for this item.

OBS: Austrian mail refunds cases of loss or damage with maximum EUR 500 to the US (in Europe sometimes more, depending on destination).


Full insured 2-3 days DHL service available upon request and subject to extra charges: office@wilnitsky.com
Click here for images free of watermark!
Click on images or on

to see larger pictures!