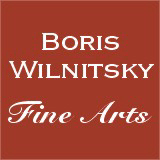 SALE!!! SAVE MONEY !! 1 EUR = 1 USD
# 36173
Wilhelm Gail-Attrib. "Interior of Castle Sigmaringen", Hohenzollern Collection, Monumental Oil, 1850s
22000 EUR
FINAL DISCOUNT PRICE= 22000 USD
( for EUR price see date rate )
Please note: Shipping and insurance costs are not included in this promotion, ONLY ITEM PRICES!
(please note additional 10% tax applies for transactions concluded within the European Union)
This magnificently framed large oil painting shows a 19th-century interior of a room of the Castle Sigmaringen with persons dressed in costumes of the 17th-century. Castle Sigmaringen was a residence of the family of Prince Hohenzollern (German royal family) and is situated at the Lake Constance/Bodensee (German-Swiss-Austrian border). A part of the castle inventory was sold at the Sotheby's auction in Castle Monrepos near Ludwigsburg "Ancestral Attics", 9.-14. October 2000, and this painting was acquired by our gallery (lot 1049 of this sale). The painting is unsigned, but shows all stylistic criteria of interior paintings by working in this region well-known Munich artist Wilhelm Gail (1804-1890). Our images nr.22-26 with comparisons convincingly support this attribution.
Wilhelm Gail (1804 Munich - 1890 Munich) was a very well known German painter, graphic artist, etcher and lithographer. At first, in 1817, he began studying architecture under Karl von Fischer. Then, in 1820, he entered the Munich Academy of Fine Arts, and, in 1822-1825 was a pupil of his brother-in-law - famous Munich artist Peter von Hess. At first occupied with painting genre scenes from Bavarian folk life, he then devoted himself (during the Italian stay of 1825-1827) to architectural paintings (vedute). In 1830 Gail visited Paris and Normandy; in 1831-32 lived again in Italy, and, in 1832-33 - in Spain, after which he permanently settled in Munich, where he spent the next following years reworking his travel impressions into oil paintings (among others, various Venetian cityscapes, motifs of Alhambra, etc., as well as etchings and lithographic folios).
Works of this important Munich artist can be viewed in museums of Munich, Hamburg, Regensburg, etc.
mimai02ap12
Condition: In good condition, in magnificent original gilded frame
Creation Year: 1850s
Measurements: UNFRAMED:114,0x126,0cm/44,9x49,6in FRAMED: 158,0x177,0cm/62,2x69,7in
Object Type: Framed oil painting
Style: Interiors
Technique: oil on canvas
Inscription: -
Creator: Wilhelm Gail
To see other works by this artist click on the name above!
Creator Dates: 1804 Munich-1890 Munich
Nationality: German
SHIPPING COSTS UPON REQUEST:
office@wilnitsky.com
Click here for images free of watermark!
Click on images or on

to see larger pictures!