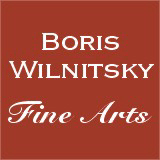 If you have a question about this item,
please contact us at: office@wilnitsky.com
# 36222
"Ferdinand, Prince von Trauttmansdorff", important Austrian miniature on ivory!! 1818/19
Price: 2900 EUR
(please note additional 10% tax applies for transactions concluded within the European Union)
THE SELLER WILL COVER INSURED SHIPPING WITH REGULAR MAIL FOR THIS ITEM!

Good quality miniature on ivory with extremely rare (we could not locate any other painted one!) portrait of the famous Austrian statesman Ferdinand, Prince von Trauttmansdorff-Weinsberg (1749-1827). He is shown wearing a green uniform of an Austrian chamberlain, decorated with badges of several important awards: neck badge of the Order of Golden Fleece (awarded by Kaiser Joseph II in 1789), two breast stars (the upper one of Royal Hungarian Order of St.Steven and the lower - of the Bavarian Order of St. Hubert) and two chest crosses (one of St.Steven and partially covered by latter badge of what to seems to be Prussian Iron Cros).

Ferdinand von Trauttmansdorff was a member of very old Austrian noble family of Counts Trauttmansdorff and, after the early death of his elder brother, heir of the family's property. From 1774 he was in diplomatic service of Kaiser Joseph II. In 1783 he became a Kaiser's representative to Frankish Reichskreis (one of the terrritories of Holy Roman Empire); from 1785 to 1787 he served as Austrian envoy at the court of Elector of Mainz; from 1787 to 1789 as governor of Austrian Netherlands. On 12 December 1789, during the Revolution, he fled from Brussels and although a few months later Revolution was suppressed he never came back.
In 1800 Kaiser Franz II appointed him provisional Foreign Minister. In 1805 he was raised by Kaiser to Reichsfürst (Prince of Holy Roman Empire). From 1807 to 1827 (he died in this year) he occupied post of Kaiser's Oberhofmeister (person responsible for the management of the court and administration of the court staff and all court ceremonies). In this function he was a main organizer of the Congress of Vienna (1814/15).

According to Dr. Gorchkoff (see below), in 1815 Trauttmansdorrf was not in possession of Bavarian St.Hubert; this award is mentioned concerning him firstly in 1818. In the next 1819 he was awarded with Grand Cross (Grand Eagle) of the French Royal Order of the Legion of Honour which is not present on this portrait. Thus the date of this miniature must be 1818/19.

Our images nr.7-10 show two engraved portraits of Prince Trauttmansdorff and provide extensive biographical information about him.

*For another miniature portrait of this man in our possession, see our web # 34026.
Provenance:
1.) Georg Wastian, Graz / Austria (see old stamp on verso)
2.) auction house "Leonhardt", Ibbenbueren, Nordrhein-Westfalia / Germany, 21 April 2012, lot 156 (as unknown nobleman)

We are very grateful to our friend and permanent advisor, well-known uniformologist and author of numerous publications on Napoleonica, Dr. Dimitri Gorchkoff for generous help.

mimai1012
Condition: good
Creation Year: 1818/19
Measurements:UNFRAMED:8,5x6,6cm/3,3x2,6in FRAMED: 18,6x16,5cm/7,3x6,5in
Object Type:Framed miniature
Style: Portrait Miniatures
Technique: watercolor on ivory
Inscription:-
Creator: Austrian School
Creator Dates: -
Nationality:Austrian
We will cover shipping with regular registered mail (delivery between 7-14 days), as well as insurance costs for this item.

OBS: Austrian mail refunds cases of loss or damage with maximum EUR 500 to the US (in Europe sometimes more, depending on destination).


Full insured 2-3 days DHL service available upon request and subject to extra charges: office@wilnitsky.com
Click here for images free of watermark!
Click on images or on

to see larger pictures!