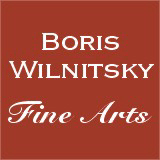 If you have a question about this item,
please contact us at: office@wilnitsky.com
# 36223
Fleuret "Captain Devallant from 4th Hussar Regiment", important Napoleonic miniature!!, 1800/1805
Price: ON REQUEST
(please note additional 10% tax applies for transactions concluded within the European Union)
THE SELLER WILL COVER INSURED SHIPPING WITH REGULAR MAIL FOR THIS ITEM!

Wonderful Napoleonic miniature with a portrait of a young hussar captain of the 4th (not 7th as in legend on verso!) French Hussar Regiment in the period between 1800-1805 (according to uniform's regulation).
Our friend and permanent advisor, well-known uniformologist and author of numerous publications on Napoleonica, Dr. Dimitri Gorchkoff examined officer list of 4th Regiment of that period and found all in all 9 names of serving then in this unit captains. The next step was to browse record of service of each of them. According to appearance descriptions only one (!) had light hair (he is decribed even as a "roix" ( red-haired)). His name was Francois-Antoine-Ignace Devallant (our images nr.12-29 show found by Dr. Gorchkoff in French archives his record of service, extensive biography and other documents concerning him.

Francois-Antoine-Ignace Devallant was born on 31 July 1766 in Altkirch, Alsace/France (area with German speaking populace). On 27th May 1788 he entered as a simple hussar French Royal cavalry regiment "Colonel-general" (later named 4th Hussar Regiment). On 1st January 1791 he was raised to "brigadier-fourrier" (corporal), on 18th May 1792 to "marechal des-logis" (cavalry sergeant), on 2nd November of the same year to "marechal-des-logis-chef" (sergeant-major). With his regiment he served then in the Army of North and on 12 August 1793 he was promoted to "sous-lieutenant" (lowest officer rank). His next rank, of "lieutenant" he obtained on 21 prairial of 2nd Year of Revolution (1794/1795). He served afterwards a few years in the Army of Sambre-et-Meuse, later in the Army of Mainz (Germany). He received his captain epaulettes in 1798, "at the battlefield". With his 4th Regiment he participated in different battles of Austrian, Prussian and Polish campaigns (a.o. he was at Austerlitz). In 1805 was awarded with Chevalier Cross of the Legion of Honour and on 3rd March 1807 was promoted to "chef d'escadron" (officer rank in cavalry between that of captain and major). In 1808-1814 he fighted in Spain. On 18 July 1809 he received Officer Cross of the Legion and on 18th August 1811 was enobled by Napoleon I to Chevalier of Empire (see our image nr.30 with his coat-of-arms). On 11 January 1812 he was promoted to Major. On 29th November 1814 he was transferred as a major to 2nd Hussar Regiment and served in this unit until early 1815. During the first Restoration, on 17 January 1815 he was awarded with Chevalier Cross of the Royal Order of St.Louis. On 30 April of the same year he was transferred to his old 4th Hussar Regiment. Nothing is known about his behavior during "100 Days"; obviously he have not joined returned Napoleon. He retreated (he was raised with it to Lieutenant-Colonel) on 10th February 1816 and went to his native Altkirch, where he died on 30 March 1832.
During his military service this brave cavalryman was wounded 9 times!

This very interesting portrait is an extremely rare work of the French miniaturist Fleuret.
Fleuret was a French miniaturist, who worked in the beginning of 19th century (information about this artist can be found in Thieme-Becker, Benezit, and Saur). One of his miniatures with a portrait of a gentleman belongs to the collection of Museum Epinal. Another one, with a portrait of Comtesse de Spada is in the collection of the Museum Nancy, one further one with a portrait of a gentleman was at the turn of the 20th century in the collection Jaffe.
Provenance: famous Parisian collection Bernard-Franck.
Bernard-Franck was a veteran of the 1870 Franco-Prussian War, who later in life became a wealthy manufacturer of military equipment. He had a very important collection of paintings and works of art from the Napoleonic Epoch (see our image nr.11).

This miniature is illustrated in the dictionary "Les Peintres et Miniature actifs en France 1650-1850" by Nathalie Lemoine-Bouchard (published in spring 2008; see our image nr.10).

We are very grateful to Dr. Gorchkoff for his generous help.

mimai10ap12
Condition: good; in original frame
Creation Year: 1800/1805
Measurements:UNFRAMED:7,2x7,2cm/2,8x2,8in FRAMED: 8,6x8,6cm/3,4x3,4in
Object Type:Framed miniature
Style: Portrait miniatures
Technique: watercolor on ivory
Inscription:signed: Fleuret p.xt. (pinxit)
Creator: Fleuret
Creator Dates: active in early 19th c-
Nationality:French
We will cover shipping with regular registered mail (delivery between 7-14 days), as well as insurance costs for this item.

OBS: Austrian mail refunds cases of loss or damage with maximum EUR 500 to the US (in Europe sometimes more, depending on destination).


Full insured 2-3 days DHL service available upon request and subject to extra charges: office@wilnitsky.com
Click here for images free of watermark!
Click on images or on

to see larger pictures!