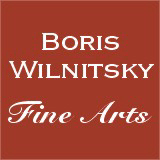 If you have a question about this item,
please contact us at: office@wilnitsky.net
# 36228
Johann Philipp Bach "Friederike & Charlotte of Mecklenburg-Strelitz" two outstanding pastels!, ca.1795
Price: EUR
(please note additional 13% tax applies for transactions concluded within the European Union)
SOLD !!!

Superior addition to our collection of pastel portraits of German aristocracy from the turn of 19th century - CLICK HERE)!
It is a couple of superior quality portraits of two princesses from the Royal House of Mecklenburg-Strelitz, sisters of Queen Luise of Prussia - Friederike and Charlotte of Mecklenburg-Strelitz.
These portraits, made by one of the best pastelists of his time (court artist in Meiningen), Johann Philipp Bach, surely belonged to a larger group representing all (then alive) members of the Mecklenburg-Strelitz House. After being for over two hundred years in property of a highly-aristocratic family in Lower Saxony they appeared at the sale of Berlin auction house "Stahl" on the 21st of April 2012, from which we acquired both of them for the amount several times higher than their original starting price.
Already during the period prior to the sale these two portraits were included by Neil Jeffares in the online edition of his "Dictionary of Pastellists before 1800" (see our images nr.15-18).
Similarly, it is interesting to mention that there exists virtually a "double" of Charlotte's portrait (on the right side of our image nr.1). First illustrated in (published in 1921) book of Lothar Brieger "Das Pastell…" (see our image nr.14) and then (recently) again by Neil Jeffares, it is a pastel by the same author (Johann Philipp Bach), in which the only difference is Charlotte's hairstyle.
The portrait on the left side of our image nr.1 shows Princess Friederike (her full name: Friederike Luise Karoline Sophie Charlotte Alexandrine). She was born on the 2nd of May 1778 in Alten Palais ("Old Palace") in Hanover as fifth and youngest daughter of Duke Karl II of Mecklenburg-Strelitz and his wife, Princess Friederike Caroline of Hesse-Darmstadt. The favorite sister of the future Queen Luise of Prussia, she - alike her sisters - was regarded as one of the most beautiful women of her time.
On the 26th of December 1793, in Berlin, she married Prince Louis of Prussia. Her husband died in 1796. In the following year, Friederike (by then already a mother of three little children) began an affair with her English cousin, Duke Adolph Frederick of Cambridge (seventh son of King George III of Great Britain), who wanted to marry her. However, this marriage (they were engaged unofficially), as well as the pressure from the side of groom's mother (and incidentally Friederike's aunt) Queen Charlotte of Great Britain was destined to be doomed. As a result, Friederike (by then already pregnant) was once again alone.
In 1798 she met eight years her senior Prince Friedrich Wilhelm of Solms-Braunfels. The latter announced himself the child's father and, thus averted the (otherwise imminent) scandal. The couple was married on the 10th of December 1798.
Nonetheless, their union was an unhappy one. In May of 1813, in Neustrelitz, Friederike encountered Duke Ernst August of Cumberland, the older brother of her former admirer Adolph Friedrich of Cambridge. One year later (1814) her husband Prince Friedrich Wilhelm of Solms-Braunfels died. In the following year, on the 29th of May 1815 Friederike married the British Duke.
In 1837 her third husband became the King of Hanover and she, respectively, the Queen-Consort. She died in Hanover on the 29th of June 1841.
In our portrait from ca. 1795 she is already the mother of two little children (in sum she had ten children!) and (through her first marriage) Princess of Prussia. Our images nr.9-11 offer her extensive biography from Wikipedia.
For another one of her portraits painted by Johann Philipp Bach's town-fellow and his main rival, Johann Heinrich Schroeder (see our web # 26015).
The portrait on the right side of our image nr.1 depicts Friederike's eldest sister, Princess Charlotte.
Her full name was Charlotte Georgine Luise Friederike. She was born on the 17th November 1769 in Hanover as a first daughter of Duke Karl II of Mecklenburg-Strelitz and Princess Friederike Caroline of Hesse-Darmstadt.
At the age of sixteen, on the 3rd of September 1785, she married six years her senior Duke Friedrich of Saxe-Hildburghausen, who in one and a half years became the ruling Duke of his Duchy. The couple had twelve (!) children.
Our images nr.12-13 offer her extensive biography and show two of her other portraits made shortly before her death in Hildburghausen, on the 14th of May 1818.
Johann Philipp Bach (1752 Meiningen - 1846 Meiningen) was both court organist and court portraitist in Meiningen. During his artistic career he is said to have produced no fewer than 985 pastels, including virtually portraits of all the members of the courts of Saxe-Meiningen, Hildburghausen, Saxe-Coburg and Schwarzburg-Rudolfstadt. A number of his works is comparable in quality with those of his town-fellow Johann Heinrich Schroeder (1757 Meiningen - 1812).
Works of this artist are extremely rare finds at the modern art market (we could locate only one other credible portrait by Bach offered (twice) at art auctions in the last years. Four pastel portraits of the members of the German family Elsner (see our web #35448) that we acquired earlier were attributed to Johann Philipp Bach. Nonetheless, one immediately notes the big difference in quality between this group and the portraits of Friederike and Charlotte…

mimai16ap12
Condition: good; in splendid original frames
Creation Year: ca 1795
Measurements:UNFRAMED:30,5x25,5cm/12,0x10,0in FRAMED: 39,5x33,5cm/15,6x13,2in
Object Type:Framed pastels
Style: Old Master drawings
Technique: both: pastel on vellum (oval: mounted on stretcher by the artist)
Inscription:both on verso: old legend
Creator: Johann Philipp Bach
Creator Dates: 1752 Meiningen-1846 Meiningen
Nationality:German
SHIPPING COSTS UPON REQUEST:
office@wilnitsky.net
Click here for images free of watermark!
Click on images or on

to see larger pictures!