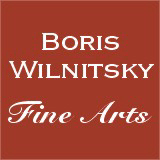 If you have a question about this item,
please contact us at: office@wilnitsky.com
# 36232
Philipp Jakob Becker-? "Princess Amalie of Baden", important miniature on ivory!!, ca.1795
Price: ON REQUEST
(please note additional 10% tax applies for transactions concluded within the European Union)
THE SELLER WILL COVER INSURED SHIPPING WITH REGULAR MAIL FOR THIS ITEM!

Very rare miniature portrait of the young Markgravine (Princess) Amalie (full name: Catharina Amalie Christiane Luise) of Baden. She was born on the 13th of July 1776 as the daughter of Crown Prince Karl Friedrich of Baden. Her twin-sister, Friederike Caroline Wilhelmine of Baden (1776-1841) became later the Queen of Bavaria (see our web # 26734), another sister, Louise, became Tsarina Elizaveta Alekseevna (wife of Tsar Alexander I. of Russia). Being never married she spent her life between Munich and St.Petersburg (she lived in Russian capital from 1801 to 1814; for another portrait of her in our possession see our web #).
Amalie was a highly enlightened lady who mainted correspondence with the great Goethe himself. She died on the 23rd of October 1823.

This miniature strongly resembles works of Baden court artist Philipp Jakob Becker (see our images nr.11-12 with latter's biography and several similiar portraits).
Philipp Jakob Becker (1759 Pforzheim - 1829 Erlenbad, Baden) began his studies under Karl Friedrich Autenrieth at the Karlsruhe Drawing School. From 1777 to 1784, on scholarship of the Duchy Baden, he studied in Rome first under Anton Raffael Mengs (1777-1779) and then (from 1779) under Anton Maron. He counted among his friends in Rome sculptor Alexander Trippel. In 1783-1784 Becker sojourned in Florence, Venice and Naples. In 1784 he returned to Karlsruhe (then capital of the Duchy Baden) and was in 1785 appointed there a Court Artist and Director of the Royal Collections. He was also an influential teacher and head of his Alma mater - the Drawing School of Karlsruhe. He also enjoyed access to the collection assembled by then recently deceased Markgravin, Caroline Luise. In 1788 he was in Dresden, where he made acquaintance with great portraitist Anton Graff.
Apart from his main specialty as a pastel portraitist, he also worked in oil (although his oeuvre includes only a few oil paintings) and watercolor. Additionally, he was a draughtsman and an early pioneer of lithography. A series of nine portraits of the Royal Family executed in the 1780s was housed in the Neues Schloß (New Castle) in Baden-Baden. A number of his portraits were engraved. His sitters were mainly members of the Royal Families of Baden and Wuerttemberg and courtiers.
Works of Philipp Jakob Becker can be viewed in museums of Karlsruhe, Baden-Baden, Donaueschingen, etc.
Provenance: Bonhams London, 11 September 2007, Lot 111 (as "French School")

mimai21ap12
Condition: good; minimal damage at 6:00 o'clock
Creation Year: ca 1795
Measurements:UNFRAMED:6,7x6,7cm/2,6x2,6in FRAMED: 8,7x6,8cm/3,4x2,7in
Object Type:Framed miniature
Style: Portrait Miniatures
Technique: oil on ivory
Inscription:-
Creator: Philipp Jakob Becker
Creator Dates: 1759 Pforzheim-1829 Erlenbad
Nationality:German
We will cover shipping with regular registered mail (delivery between 7-14 days), as well as insurance costs for this item.

OBS: Austrian mail refunds cases of loss or damage with maximum EUR 500 to the US (in Europe sometimes more, depending on destination).


Full insured 2-3 days DHL service available upon request and subject to extra charges: office@wilnitsky.com
Click here for images free of watermark!
Click on images or on

to see larger pictures!