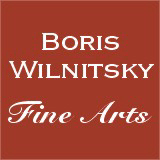 If you have a question about this item,
please contact us at: office@wilnitsky.com
# 36234
Joh. Christian August Schwartz "Amalie, Grand Duchess of Baden", important pastel portrait!!, 1800/05
Price: ON REQUEST
(please note additional 10% tax applies for transactions concluded within the European Union)
Rare pastel portrait of Amalie, Markgravine (later - Grand Duchess) of Baden, nee Landgravine of Hesse-Darmstadt (1755-1832). Our image nr.8 shows a very similar miniature portrait of her that was made in 1805 by Munich court artist Carlo Restallino.
Both our and Restallino's portraits are likely copies after (made between 1800-1805) the portrait by famous representative of pastel portrait painting in Germany, Brunswyck and Berlin court artist Johann Heinrich Schroeder.
As we will see below, the author of "our" portrait, Brunswyck pastelist Johann Christian August Schwartz, was very much influenced by the works of Schroeder and often copied them (mainly on commissions of sitters' relatives). Our portrait is probably one of such copies (alike our web # 30867 and # 30868), possibly made after a series of Schroeder's portraits of the members of the Royal House of Baden.
By the time of execution of the possible Schroeder's (and, moreover, "ours", painted by Schwartz) portrait of Amalia, the latter was already Markgravine of Baden and wife of Carl Ludwig, Hereditary Prince of Baden.
She was born on June 20th 1754 in Prenzlau as daughter of Ludwig IX, Landrave of Hesse-Darmstadt and Henriette Karoline of Palatine-Zweibrücken. In 1772 she followed her mother to Saint Petersburg and was presented at the Russian Court as one of the marriage candidates intended for Russian Crown Prince Paul. The latter, however, decided upon her sister Wilhelmine (in Russia named Natalia Alexeevna - see her portrait in our possesion # 36866).
In 1775 Amalie (then 21 years old) married her first cousin, Carl Ludwig of Baden, who in 1806 became the first Grand Duke of Baden. They had eight children: Amalie (Catharine Amalie Christiane Luise; 1776-1823, never married; from the same noble propertry we acquired also latter's pastel portrait - see our web # 36365), Friederike Karoline Wilhelmine (1776-1841; twin sister of former, later Qeen of Bavaria), Luise Marie Auguste (1779-1826; married Tsar Alexander I (named in Russia Elizaveta Alexeevna, Tsarina of Russia)); Friederike Dorothea Wilhelmine (1781-1826; later Queen of Sweden), Marie Elisabeth Wilhelmine (1782-1808; later Duchess of Brunswyck-Wolfenbuettel), Karl Friedrich (1784-1785), Karl (1786-1818; future Grand Duke of Baden), Wilhelmine Luise (1788-1836; later Grand Duchess of Hessen).
Amalie died on June 21 1832 in Bruchsal near Karlsruhe.
Johann Christian August Schwartz (1756 Hildesheim - 1814 Brunswyck) worked in Brunswyck (Braunschweig), Dresden, Hamburg, and exhibited at the Berlin Academy in 1800. He was evidently close to Johann Heinrich Schroeder (1757-1812): the attribution of works between them is complicated by the number of pastels signed by Schwartz which are in fact versions of works by Schroeder; many confusions still persist.
Provenance: Baron Egon Ketschendorf (see old label on verso)

mimai22ap12
Condition: good; in original frame
Creation Year: 1800/05
Measurements:UNFRAMED:34,0x26,5cm/13,4x10,4in FRAMED: 40,7x33,5cm/16,0x13,2in
Object Type:Framed drawing
Style: Old Master drawings
Technique: pastel on paper; painted in oval and mounted on a stretcher by the artist
Inscription:-
Creator: Johann Christian August Schwartz
Creator Dates: 1756 Hildesheim-1814 Brunswyck
Nationality:German
SHIPPING COSTS UPON REQUEST:
office@wilnitsky.com
Click here for images free of watermark!
Click on images or on

to see larger pictures!