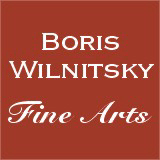 If you have a question about this item,
please contact us at: office@wilnitsky.com
# 36235
Josef Grassi-Attrib. "Countess Domicella Mostowska-Siekierzynska", Large Oil Miniature, late 1780s
Price: ON REQUEST
(please note additional 10% tax applies for transactions concluded within the European Union)
Illegibly titled on verso "Lady Ginsborough" (obviously meaning Lady Gainsborough), this large miniature on copper is in reality a portrait of Polish noblewoman, Countess Domicella Mostowska, nee Siekierzynska (ca.1760-1826). In the "online" portrait collection of Austrian National Library we found a photograph of a mezzotint (see image nr.7) made in 1790 by Vienna engraver Pichler after the painting by (then also living in Vienna) famous portraitist Josef Grassi (as we will see below, he went to Poland in the same 1790, which means that the oil portrait (surely made earlier as the mezzotint) was created in Vienna, latest in 1789). Our painting is probably an author's own replica of the larger portrait, which was repeated in mezzotint.

The sitter, 28-30-years-old Domicella, Countess Mostowska, nee Siekierzynska, Countess Zadora (see our image nr.8 with genealogical information from Polish web source) married in 1780 Jozef Mostowski, Count Dolega (1763-1813). They had one son and two daughters (the son was born in 1790, which really makes 1789 the latest possible date of this portrait - Domicella attempts to conceal pregnancy by crossing her arms). Count and Countess Mostowski either lived then in Vienna or visited that city. Domicella outlived her husband by 13 years - she died in 1826 at the family estate in Lithuania.
Josef (Giuseppe) Grassi was born ca 1758 in an Italian family de Grassi, which lived in Vienna from the 17th century. In 1768, aged ten (!), he began studying at the Vienna Academy, and very soon achieved great success, especially among women, as a skilled portraitist, miniaturist and later as painter of larger portraits in oil. In 1791 Grassi was admitted as member to the Vienna Academy for his portrait works. Already in 1790, though, he moved to Poland. In Warsaw, on the recommendation of J.-B. Lampi, he got the vacancy of a painter at the court of the Polish King Stanislaus August II. In 1793, upon Lampi's return to Vienna, Grassi advanced to the favorite portraitist of Polish court and high aristocracy.
1797 was obviously the year of Grassi's first visit in Castle Sagan in Silezia (now Czech Republic). Later stays at the castle followed. The duchess von Sagan is supposed to be the person who helped Grassi to commissions and to Academy professor title (1800) in Dresden, where he taught along with Anton Graff.
During following years the artist spent a year in Gotha, and from 1808 to 1820 lived in Rome, enjoying great popularity. From 1821 he lived in Dresden again, leading a secluded life without any official job. He died there in 1838.
CLICK HERE FOR OTHER WORKS OF JOSEF GRASSI IN OUR POSSESSION.

mimai22ap12
Condition: Good condition, in original frame.
Creation Year: late 1780s
Measurements:UNFRAMED:15,3x12,6cm/6,0x5,0in FRAMED: 23,0x20,3cm/9,1x8,0in
Object Type:Framed oil painting
Style: Old master paintings
Technique: oil on copper (oval)
Inscription:-
Creator: Josef Grassi
Creator Dates: ca. 1758 Vienna-1838 Dresden
Nationality:Austrian / German
SHIPPING COSTS UPON REQUEST:
office@wilnitsky.com
Click here for images free of watermark!
Click on images or on

to see larger pictures!