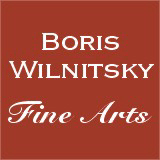 If you have a question about this item,
please contact us at: office@wilnitsky.com
# 36238
Joh. Fried. Aug. Tischbein-Attrib. "Henriette v. Nassau-Weilburg", important oil portrait!!, 1795/98
Price: ON REQUEST
(please note additional 10% tax applies for transactions concluded within the European Union)
This portrait of the young (she looks for 15-17 years) Henriette, Princess of Nassau-Weilburg, future Duchess of Wuertemmberg (1780-1857; see our images nr.7-9 with extensive biography and other portraits of her) was discovered at inventory sale of a noble Bavarian castle. It demonstrates all stylistic criteria of works by well-known portraitist of the turn of 19th century, Johann Friedrich August Tischbein (for comparison, see our images nr.10-13) and could with great likelihood be one of the latter's original works.
Johann Friedrich August Tischbein (1750 Maastricht - 1812 Heidelberg) was a pupil of his father, Johann Valentin Tischbein in Hildburghausen. After the latter's death (1768), Tischbein became a pupil of his uncle, Johann Heinrich Tischbein the Elder in Kassel. Already in 1771-72, he was mentioned in this town as a "dessinateur". In 1772, his sponsor, Prince Friedrich von Waldeck, sent him on a study trip to Paris. In 1777, after a five-year-long stay there, Tischbein moved to Rome, where he soon made acquaintances with (living there at the time) Jacques Louis David, Anton Raphael Mengs, several English portraitists, and especially - with Heinrich Friedrich Fueger, who strongly influenced him. In 1779, he moved to Naples and remained there until 1780 - a year, in which he travelled to Vienna to deliver his portrait of Queen of Naples Maria Karoline to her mother, Empress Marie Theresia of Austria. In May 1780, he went (via Munich, Stuttgart and Kassel) to Arolsen, where for a few years he occupied position of his sponsor Prince von Waldeck's court artist. In 1785, he was in Weimar; in 1786 and 1788/89 - in Den Haag; in 1791/94 - in Amsterdam. In 1795, he retired from his service at Prince von Waldeck's court and moved to Dessau, where he then became court portraitist of Prince Leopold III von Anhalt-Dessau. He lived there (with brief interruptions for trips to Berlin, Weimar and Dresden) for the most part of his later years. Johann Friedrich August Tischbein died in 1812 in Heidelberg, during a visit to his daughter.
mimai22ap12
Condition: good; in early-19th-century biedermeier frame
Creation Year: 1795/98
Measurements:UNFRAMED:23,0x18,0cm/9,1x7,1in FRAMED: 34,3x30,3cm/13,5x11,9in
Object Type:Framed oil painting
Style: Old Master paintings
Technique: oil on paintboard
Inscription:-
Creator: Johann Friedrich August Tischbein
Creator Dates: 1750 Maastricht-1812 Heidelberg
Nationality:German
SHIPPING COSTS UPON REQUEST:
office@wilnitsky.com
Click here for images free of watermark!
Click on images or on

to see larger pictures!