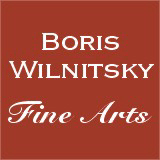 If you have a question about this item,
please contact us at: office@wilnitsky.com
# 36273
Joseph Boze and Mme de Mirbel "Abel Mazel and his wife", four important miniatures!!, 1811/20
Price: ON REQUEST
(please note additional 10% tax applies for transactions concluded within the European Union)
THE SELLER WILL COVER INSURED SHIPPING WITH REGULAR MAIL FOR THIS ITEM!

We are dealing here with two pairs of miniature portraits of the same married couple. The first pair was painted in 1811 by famous Parisian portraitist (who was mainly working as pastelist and miniaturist) Joseph Boze (further on we will refer to it as "couple nr.1"). The second pair of miniatures, made (as we will see below) around 1820, was produced by another 1st-class miniaturist. Relying on its stylistic characteristics, we are entirely certain that the name of this miniaturist was Mme Aimée Zoe Lizinka de Mirbel (further on we will refer to this pair of miniatures as "couple nr.2").
The "couple nr.1" is presented by portraits of (very likely) newlywed Napoleonic officer in uniform of "chef de bataillon" and his (appearing considerably much his junior) wife. The authentic legends on verso of these (each signed obverse "boze 1811") miniatures imply (respectively) that we are dealing here with a portrait of certain "Monsieur Mazel", "intendant militaire" (English: military intendant) from the period of the 1st Empire, maternal grandfather of "Maman Ad(ele?) Blanc" (see image nr.17). His wife is called simply "Mme Mazel, wife of "intendant militaire" (we shall note that, unlike in the case of her husband, we were unable to find any biographical information about her (including her first and maiden names)).
We are immediately confronted with the following contradiction: the legend on husband's portrait refers to him as to a military intendant, although he is most definitely wearing a uniform of "chef de bataillon" (a major of French infantry) with buttons featuring regiment's number "34". In other words, we are looking here at the commander of one of the battalions of Napoleonic (see date 1811!) Infantry Regiment No. 34.
Our brief Web research generated successful results: we discovered a great deal of documents pertaining to this man that are kept in the French National Archive (see images nr.32-35).

His full name was Abel Gabriele Hilaire Mazel. He was born on the 5th of March 1770 in commune Landrecies (Landrecy) in the department Nord (North France). His military service began on the 1st of June 1792, when he enrolled into the Revolutionary Army in the rank of sous-lieutenant (2nd lieutenant) of light infantry. In the 11th year of the French Revolution (it corresponds to the year 1803) he was promoted to "chef de bataillon" and, in 1804 (probably, alike great number of other officers, in "Camp de Boulogne") he received his Chevalier Cross of the Order of Legion of Honnor (in this portrait, he only bears the red ribbon of this award. This could be explained by the fact that he is depicted not in gala- but a field-uniform; usually the officers wearing this kind of uniforms refrained from bearing their full awards (fearful of loosing them on the battlefield) and, hence, only wore their ribbons).
Monsieur Mazel's service record (image nr.34) informs that by the year 1811 he already took part in numerous combats: he partook in campaigns of 1792-1793, in Italian Campaign (he fought, among others, in the Battle of Marengo), as well as in German and Polish Campaigns of 1805-1807.

But why in the legend on verso is he referred to as "intendant militaire"?.
The answer to this question can be found in the aforementioned Mazel's service record (image nr.34). In 1812 (i.e. after the "couple nr.1" was made!) he was again promoted - this time to "sous-inspecteur aux Revues" (junior military inspector); later, in 1817, both ranks - "inspecteur aux Revues" and "Commissaire militaire" - were merged into one and received a name of "intendant militaire"; evidently Mazel served in this function some time after 1817 and was referred to in family chronicles as "intendant militaire"). In any case, we find his name further in 1821, recorded in the list of military pensioners. This information suggests that sometime between the years 1817 and 1821 he retired from the military service.

We would now like to discuss the second pair of miniatures ("couple nr.2"). They are portraits of the same Monsieur Mazel (here, freshly retired from military service (!), he is posing already in a civil dress) and his wife Mme Mazel, who is as before looking 15-20 years his junior. The latter's dress and (especially) her hairstyle provide the date of execution of the "couple nr.2" - 1818-1820.
What is remarkable is that Mazel, although no longer wearing his field uniform, nevertheless only bears a "medal-holder", i.e. a stripe containing of ribbons of three awards: respectively, Royal Order of St. Louis (period of Restoration), "Decoration du Lys" (medal awarded in 1814/15 (first to members of National Guard and later to all military officers and officials loyal to newly reinstated Bourbons; Mazel's service record says that he obtained it in 1814) and Order of the Legion of Honnor (he received it in 1804).
The presence of two "Bourbon awards" (St. Louis and du Lys) could in theory be the confirmation of Mazel's loyalty to the Royals. However, the details of his bearing not the badges of these awards but only their ribbons, his pose with his hand tucked into his jacket (in the manner of exiled Napoleon), as well as the fact of his early retirement (he likely left military service before he turned 50 years of age) are possibly indicative of Monsieur Mazel's rather ambivalent feelings toward the new regime and his reluctance to serve it.
We would like to add that Monsieur Mazel died before 1854. His name is recorded in the (dated 1854) registry of military pensions available through the Web. In this list, the name of his widow appears against the name of Abel Gabriel Hilaire Mazel as sole recipient of his pension.

Our images nr.37-42 show several of his other works (among others, some that were offered at international art auction market in the last years).
CLICK HERE FOR OTHER WORKS OF THIS ARTIST IN OUR POSSESSION


Joseph Boze, well-known French portrait painter, miniaturist and pastelist, was born on the 6th of February 1745 in Martigues, Bouiches-du-Rhöne, and died in Paris on the 17th of January 1826. At the age of 17, he began his art studies at the Marseilles School of Drawing and Painting; then, from 1778, he probably studied under Maurice Quentin in Paris. From 1782, he was successfully exhibiting at the Parisian Salon de la Correspondance. From 1783, he was also active as a court artist: he painted portraits of King Louis XVI, Queen Marie-Antoinette, as well as other members of the Royal Family. Despite his success at the Court, Joseph Boze welcomed the Revolution. He portrayed Mirabeau, La Fayette, Robespierre, Barnave, Marat (April 1793), and Desmoulins. Nevertheless, in the beginning of 1793, he was public ally proclaimed by Jacque-Louis David as king's loyalist. On the 15th of October 1793, called to be whiteness in a lawsuit against Marie-Antoinette, Boze remained neutral. On the next day, he was arrested and incarcerated: at first in Luxembourg, and, then, in the Conciergerie for 11 months. In 1800, together with Robert Lefevre and Carle Vernet, he painted a double portrait of Napoleon Bonaparte and General Berthier in the battle of Marengo.
After Napoleon's overthrow he returned to the Court, where he proceeded to work for Louis XVIII. For this, in 1816, he received pension and was ennobled to count. In 1817, for the last time, he exhibited at the Parisian Salon.
Works of Joseph Boze are on view in most esteemed museum collections of France (among others, at the Louvre) and worldwide.
Mme Aimée Zoe Lizinka de Mirbel, nee Rue, (1796 Cherbourg – 1849 Paris) was daughter of a naval commissar. Showing increasing talent for painting already at an early age, she entered the studio of Augustin. In 1819 her highly-place friends arranged for her to paint the portrait of King Louis XVIII. Mirbel's debut was a complete success. Louis XVIII appointed her The Official Painter to the King. She exhibited this portrait at the Salon, along with portraits of eleven other important court nobles.
In 1824, with King's approval, she married the botanist Charles Francois Brisseau de Mirbel. From that point on she always appeared under her married name at the Salon. In 1827 she painted the portrait of Charles X, and in 1839 – that of Duke of Orleans.
Right up to the end of her career (she was a victim of the cholera epidemic of 1849) her fame did nothing but increase, and she may be considered as one of the most sought after and feted miniaturists of her period.
Amongst the pupils of Augustin, she was undoubtedly the artist who had the most personality. Almost all the miniaturists who worked in France around the mid-19th century were pupils of Mme de Mirbel.

For other works of her, see our images nr.43-47
CLICK HERE FOR OTHER WORKS OF THIS ARTIST IN OUR POSSESSION
See also our web # 35623.

Provenance:
1.) descendants (living in England) of Mazel family
2.) auction house "Cheffin", Cambridge / England, 21 March 2012, lot 859

*We are very grateful to Dr. Dimitri Gorchkoff (Moscow) for his help concerning the uniform of the sitter.

Size of Boze miniatures: 6,2x6,2cm/2,4x2,4in FRAMED: 12,0x12,0cm/4,7x4,7in
Size of Mirbel miniatures: 10,8x9,0cm/4,3x3,5in FRAMED: 19,3x16,9cm/7,6x6,7in

mijun13ap12 (Boze)
Condition: good
Creation Year: 1811/20
Measurements:UNFRAMED:0,0x0,0cm/0,0x0,0in
Object Type:Framed miniatures
Style: Portrait Miniatures
Technique: all four: watercolor on ivory, laid on paper
Inscription:two are signed and dated: boze 1811
Creator: Joseph Boze
Creator Dates: 1745 Martigues-1826 Paris
Nationality:French
We will cover shipping with regular registered mail (delivery between 7-14 days), as well as insurance costs for this item.

OBS: Austrian mail refunds cases of loss or damage with maximum EUR 500 to the US (in Europe sometimes more, depending on destination).


Full insured 2-3 days DHL service available upon request and subject to extra charges: office@wilnitsky.com
Click here for images free of watermark!
Click on images or on

to see larger pictures!