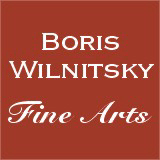 If you have a question about this item,
please contact us at: office@wilnitsky.com
# 36275
Louis Narcisse Marquis Jacops d'Aigremont "Comtess de Buisseret", rare miniature!!, 1796
Price: ON REQUEST
(please note additional 10% tax applies for transactions concluded within the European Union)
THE SELLER WILL COVER INSURED SHIPPING WITH REGULAR MAIL FOR THIS ITEM!

It is so far the best out of the recognized works of the well-known Lille miniaturist Louis Narcisse Marquis Jacops d'Aigremont. It was painted in 1796 in German town Hildesheim by Hanover during the artist's emigration period (as we will see below in his biography, he fled France (early 1790s) due to revolutionary terror and returned only after Napoleon's amnesty (1802)). Incidentally, the sitter in this charming portrait was also a French émigré herself. The authentic legend on verso of the miniature supplies her name - Comtess de Sainte-Aldegonde. We were able to find on the Web a mention of this lady's sojourn in Germany in the late 1790s. In fact, in August 1799 she was selected to be a god mother of a child born in a French émigré family living in Munster, Germany (not far from Hildesheim, where she was portrayed in 1796!; see our image nr.7).
On this portrait she is depicted with unusual, red with four black stripes armband (in sign of mourning for executed during the revolutionary terror four relations?).

Marie-Claire-Eugenie, Comtesse de Sainte-Aldegonde was born on the 1st of March 1769 in her family residence, Chateau de Genech (suburb of Lille; please note the artist and the sitter, who were both from the same area of France, met one another in Germany, during their emigration!) as a daughter of Francois Christian Comte de Sainte-Aldegonde and his wife Marie-Albertine-Amélie, nee Bady du Pont. On the 7th of November 1786 she married (the wedding took place in her Chateau de Genech) captain of "Royal-Dragoons" Louis-Henri Joseph, Comte de Buisseret de Blarenghien, Thiennes-Steenbecque (1765-1845).
During the days of the Great Terror the couple fled France. While Comte de Buisseret enrolled into the army of princes, his wife and children (the couple had three children; all boys) stayed, as we learned above, in Germany.
In 1814 Comte de Buisseret became a Chevalier of the Royal Order of Saint-Louis. During the reign of Louis-Philippe the family lived in Versailles: Comte de Buisseret was obviously employed by the court. Comtesse died in Versailles on the 23rd of April 1839. She was buried one week later in a tomb of the church cemetery in her husband's native village Thiennes in department Nord, province Nord-Pas-de-Callais. Comte de Buisseret outlived his wife by 6 years. He was buried next to his wife (see our image nr.15).
Louis Narcisse Marquis Jacops d'Aigremont (1768 Lille - 1829 Lille) was a French military officer and portrait miniaturist. He was born as a son of "Messire Henri Louis Jacops équier Seigneur d'Aigremont" (his father possessed numerous estates in the vicinity of Lille) and "Dame Marie Louise Angelique Comtesse de Gand". According to the information found in Lille archives, he emigrated in 1791 to Brunswyck (Germany). From that period onwards he earned his bread by painting portrait miniatures.
After his return to France in 1803 (Napoleon's amnesty for emigrants), he settled in his native Lille, where he received a job of a "conservateur-adjoint" (assistant of conservator) of the local museum of Fine Arts. After the death of its director (another miniaturist) Henri-Joseph van Blarenberghe) in 1826 he succeeded the latter as museum's conservator (director).
It appears that d'Aigremont was an autodidactic artist, however this detail of his biography had in no way influenced the fineness of his miniatures. His works are no different in quality from those of the 1st-class academic artists of his time.
His signatures "daigremont" or "Daigremont" are often followed by a date.
Our images nr.11-14 show his another miniatures.

Provenance: private collection, Ajijic, Central Mexico (sold by its previous owner together with other (oil) portraits of members of the family de Buisseret

mijun13ap12
Condition: good
Creation Year: 1796
Measurements:UNFRAMED:8,0x8,0cm/3,1x3,1in FRAMED: 14,4x13,7cm/5,7x5,4in
Object Type:Framed miniature
Style: Portrait Miniatures
Technique: watercolor and gouache on ivory
Inscription:verso: old legend with a date of 1796
Creator: Louis Narcisse Marquis Jacops d' Aigremont
Creator Dates: 1768 Lille-1829 Lille
Nationality:French
We will cover shipping with regular registered mail (delivery between 7-14 days), as well as insurance costs for this item.

OBS: Austrian mail refunds cases of loss or damage with maximum EUR 500 to the US (in Europe sometimes more, depending on destination).


Full insured 2-3 days DHL service available upon request and subject to extra charges: office@wilnitsky.com
Click here for images free of watermark!
Click on images or on

to see larger pictures!