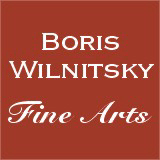 SALE!!! SAVE MONEY !! 1 EUR = 1 USD
# 36325
Adolf Pirsch (1858-1929) "Portrait of a courtier", oil study, ca. 1900
450 EUR - 25% DISCOUNT = 337,50 EUR
FINAL DISCOUNT PRICE= 337,50 USD
( for EUR price see date rate )
Please note: Shipping and insurance costs are not included in this promotion, ONLY ITEM PRICES!
(please note additional 10% tax applies for transactions concluded within the European Union)
Adolf Pirsch was born on July 4th 1858 in Gradaz in Krain, at the time part of the Austro-Hungarian Empire, today's Slovenia. His first teacher was Heinrich Schwach, Academy and gallery director in Graz, who for himself studied under Baron Leys in Antwerp. Adolf Pirsch concluded his studies at the Graz Academy in 1879, then went to Italy where he spent a year in Venice, Florence and Rome. His first commissioned works were altar paintings for churches in Graz and Marburg and his first portrait exhibition took place in 1896 in Graz. During this period he met his future model and close friend the Belgian Olga Legros. His most famous works of this period are the portraits of the Austrian Emperor Franz Josef and Pope Leo XIII, which can be seen in the Vatican. For many years he lived in Vienna where his female portraits were of great popularity. After spending some years in Dresden he moved to England for the next 14 years and became a requested portrayer of the English high society. He dedicated his studies to English portrait painting of the 18th century, the influence of which is clearly noticeable on his portraits. With the beginning of World War I the Austrian artist was seen as "the enemy" in England, he lost great part of his fortune and left towards Holland to his second partner and future wife the painter Hanna Fieke. From 1916 on he lived in Haarlem with Hanna and daughter Ada. In the Netherlands he achieved the height of his career, again his fame as a talented portrait painter went around and he became - as once in England - the high society's favorite. From this period are the portraits of the Dutch monarchs and the various portraits of Wilhelm II, the former German Emperor exiled in the Netherlands. In 1926 a very successful large Pirsch-exhibition took place, with prominent visitors such as the Prince of Orange, husband of the Queen. In 1929 Adolf Pirsch died in Graz, Austria.
mijun2112
Condition: good
Creation Year: ca 1900
Measurements: UNFRAMED:41,0x27,5cm/16,1x10,8in FRAMED: 48,5x34,5cm/19,1x13,6in
Object Type: Framed oil painting
Style: 19th century paintings
Technique: oil on canvas
Inscription: signed: A. Pirsch
Creator: Adolf Pirsch
To see other works by this artist click on the name above!
Creator Dates: 1858 Gradaz in Krain-1929 Graz
Nationality: Austrian
2-3 days door-to-door shipment, professionally packed by Mail Boxes Etc and shipped with DHL (calculated for US): 146,29 EUR + insurance 1,8% of item price
Shipping cost to other destinations (worldwide) on request
Shipping price may be reduced if you dispense with the frame


Cheaper alternative (may be further reduced if you dispense with the frame): professionally packed by Mail Boxes Etc and shipped with regular Austrian mail - upon request under office@wilnitsky.com (OBS: In this case maximal refunded insurance value is EUR 500 if shipping destination was the US. In Europe sometimes more, depending on destination.)
Click here for images free of watermark!
Click on images or on

to see larger pictures!