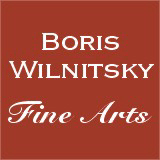 If you have a question about this item,
please contact us at: office@wilnitsky.com
# 36368
Sofonisba Anguissola-Attrib. "Portrait of Royal (?) Children", outstanding large oil/coppper miniature
Price: ON REQUEST
(please note additional 10% tax applies for transactions concluded within the European Union)
Wonderful and of outstanding quality miniature portrait of (probably royal) children - 3-4-year-old boy and his 7-8-year-old senior sister - from the late Renaissance period. This large oil on copper miniature demonstrates absolutely all stylistic criteria of works of the famous Italian female artist of the second half of the 16th - begin of 17th centuries Sofonisba Anguissola (our images nr. 13-33 with comparisons convincingly support this attribution).
Sofonisba Anguissola (ca. 1530/1540 Cremona - 1625 Palermo) was the oldest and the most famous of the six sister-artists (the others' names were Anna Maria, Elena, Europa, Lucia, and Minerva). Prized by her contemporaries such as Vasari, F. Salviati, A. Caro and Michelangelo, the artist enjoyed wide recognition in Italy, as well as in other countries, and moved in circles of sovereigns, aristocrats, literati and artists of her time.
In 1559 Anguissola was a guest of Duca di Sessa in Milan; a few months later she was invited to attend the Spanish Court. She traveled to Madrid in 1560. There she became a Court Lady of the Queen Isabella, and in 1571 married a nobleman Fabrizio di Moncada from Palermo. In 1578, according to records, she was in Palermo and, in 1585, following her husband's death, went to Genoa to join her second husband, the nobleman Orazio Lomellino. She lived between Genoa and Palermo, working into a very old age, until she lost her sight.
Although Sofonisba Anguissola was mainly a portrait artist (she also produced many self-portraits), she was also active as a religious painter. Her works can be seen in best museums of the world.
Provenance: English highly noble property (inventory sale of a prominent castle in East England)

lejul04ap12
Condition: good
Creation Year: late 16th Century
Measurements:UNFRAMED:12,2x17,3cm/4,8x6,8in FRAMED: 23,3x28,5cm/9,2x11,2in
Object Type:Framed miniature
Style: Portrait miniatures
Technique: Oil on copper
Inscription:-
Creator: Sofonisba Anguissola
Creator Dates: ca. 1530/1540 Cremona-1625 Palermo
Nationality:Italian
2-3 days door-to-door shipment, professionally packed by Mail Boxes Etc and shipped with DHL (calculated for US): 115,74 EUR + insurance 1,8% of item price
Shipping cost to other destinations (worldwide) on request
Shipping price may be reduced if you dispense with the frame


Cheaper alternative (may be further reduced if you dispense with the frame): professionally packed by Mail Boxes Etc and shipped with regular Austrian mail - upon request under office@wilnitsky.com (OBS: In this case maximal refunded insurance value is EUR 500 if shipping destination was the US. In Europe sometimes more, depending on destination.)
Click here for images free of watermark!
Click on images or on

to see larger pictures!