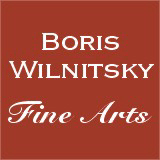 If you have a question about this item,
please contact us at: office@wilnitsky.com
# 36369
"Officer of Austrian 3rd Infantry Regiment", Fine Miniature on Ivory, 1815/17
Price: 2500 EUR
(please note additional 10% tax applies for transactions concluded within the European Union)
THE SELLER WILL COVER INSURED SHIPPING WITH REGULAR MAIL FOR THIS ITEM!

According to regulation of sitter's uniform (1798-1817) and under consideration of the Austrian Army Cross (so-called "Canon Cross" (awarding were performed in late 1815)) on his chest, this miniature on ivory was made in the period between 1815 and 1817. Painted by a good Austrian portrait miniaturist it is a portrait of an officer of 3rd Infantry Regiment ("Erzherzog Carl") of the Austrian Army, as we can recognize from his uniform with the white coat, blue collar and white buttons. Besides the "Canon Cross" with which all Austrian soldiers from "Bohemian Army", participants of the Liberation (anti-Napoleonic) Wars of 1813-1814 were awarded, he as well bears a cross of the Austrian Military Maria-Theresia Order. In the officer list of the 3rd Infantry Regiment of the year 1819 (practically 1818) only three officers possessed latter award - the Knight Cross of Maria-Theresia Order (see our image nr.8). Their names were: Hauptmann (Captain) Paul Huber, Freiherr (Baron) von Penig, Hauptmann Caspar Horn, Freiherr von der Mulda and Oberlieutenant (1st. Lieutenant) Ignaz, Freiherr von Wezlar (Wetzlar). Through our brief web search the fact emerged that all of them were very known and merited Austrian soldiers.

According to the "Biographisches Lexikon des Kaiserthums Oesterreich" (see our image nr.9) Paul Huber was born on 22 October 1771 in Wuernitz, Lower Austria and died on 3 June 1850 in Innsbruck. He was a son of Kreissekretär (Province Secretary) Johann Huber (no nobleman!) and of latter's 21 (!) children Paul was the eldest son. At the age of 10, on 10 February 1787 he enrolled in the Chevaux-Legers-Regiment "Kinsky". After 10 years of service he was transferred to the rank of "fähnrich" (ensign) to Infantry Regiment No. 3 on 1 June 1796. On 16 April 1799 he was promoted to Unterleutnant (2nd Lieutenant), then to Oberlieutnant (1st Lieutenant) on 1 November 1800, and finally to Hauptmann (Captain) on 1 May 1809. He served in the 3rd Regiment until in 1819 he was transferred to Infantry Regiment No 12, then to Infantry Regiment No 24.
In 1827 he was appointed "Platz-Major" (Town Major) of Innsbruck and remained in this function until his retreat in 1847. On 29 October 1838 he was promoted to Lieutenant-Colonel and on 25 June 1847, after 59 years and 3 months of military service he retreated (at the same time being promoted to Colonel). He died three years later.
From his enrolling in the army in 1787 and until 1817 he participated in all campaigns against the Turks and the French (18 campaigns in total!). At the assault of Mannheim (1795) he was wounded twice, for the third time he was injured in the Battle of Aspern (May 1809), but his most brilliant military feat he carried out in 1813 in Saxony. The city of Penig and the bridge over the river Mulde were taken by the enemy. On 8 October 1813 the avant-garde of Count Klenau's Corps advanced, lead by Lieutenant-Field Marshall Mohr while the 2nd Bataillon of the Regiment No 3, where Huber was in, formed the vanguard. All attempts to seize the city of Penig and the bridge remained fruitless, and advancing Klenau's Corps was restrained. Huber and his company were located in front of the Chemnitz Gate. In the dawn of 9 October, informed by a patrol the enemy remains quite inside the Gate, Huber approached and attacked the enemy. He made an advance in all quickness, burst the Gate and put the guards to flight. After intruding into the city, Huber arranged his company in the streets and advanced through vigorous fire of the enemy's small arms to the very point of a division towards the Mulde Bridge and thus cut off the possibility of retreat for all skirmisher located in the back alleys. When Huber and his division reached the river Mulde the enemy started a fire from case shots from the other side of the river. Huber and his brave comrade Johann Franz Caspar Horn (later Baron von der Mulda) headed towards the bridge in disregard of the fire and with such resolve that the enemy had no chance to clear away the bridge. He took the bridge by assault, chased the occupation out of the suburb Alt-Penig and seized the hill on the other riverside of Mulde, from where the surrounding area was controlled. Thus Klenau's Corps could advance unhindered. For this military feat Huber was awarded with a Knight Cross of the Military Maria-Theresia Order in 1815 and ennobled by the Kaiser to the title of Baron of Penig (in honor of the captured Saxonian city) in 1817.

The same source provides also the biography of the second officer on our list, Caspar Horn, Freiherr von der Mulda.
Johann Franz Caspar Horn was born in 1781 in Wolfsmünster, Bavaria. In age of 18, on 6th April 1799 he entered as a cadet Infantry Regiment no.3. On 18th February 1800 he was promoted to fähnrich (ensign), on 10th January 1801 to 2nd lieutenant, on 1st September 1805 to 1st lieutenant and on 7th December 1813 to Hauptmann. Like Paul Huber (first on our list) he was one of the most brave officer of Austrian Army. In the Battle of Regensburg (1809) he with 60 volunteers saved lifes of surrounded by enemy 300 soldiers of his regiment. In the Battle of Aspern (in the same year) he still remained in fighting order being wounded by 13 (!!) bullets; only after 14th one he was taken away from the battlefield. Especially he became famous (together with his friend Paul Huber) on 9th October 1813 in combat by Penig on the river Mulde in Saxony (see biography of Paul Huber, Freiherr von Penig above). Also in the bloodest battle of the Liberation War - at Leipzig - he was one of the most brave Austrians. In 1816 he was awarded with Knight Cross of Maria-Theresia Order, and on 31st October 1817 he was enobled by Austrian Emperor Franz I to Freiherr (Baron) von der Mulda. Three years later, on 13th January 1820 he died in Krems, Lower Austria (see our image nr. 10).

Biographical information about our third candidate - Ignaz, Freiherr von Wetzlar-Plankenstern - was found a. o. in "Der Militär-Maria-Theresien-Orden und seine Mitglieder" (Vienna 1857 - see our image nr.11). He was born in 1789 in Vienna as a son of very wealthy Austrian aristocrat of Jewish descent (grandfather converted to Catholicism), one of the Beethoven's sponsors and funder of Habsburgs, Raymond Freiherr von Wetzlar (two other sons of latter made more significant military career - one became colonel, second - lieutenant-fieldmarshal).In ca. 1805 he voluntarily entered military service as a cadet, in September 1813 was promoted to Unterlieutenant (2nd Lieutenant) of Engineers, in February of 1814 became Oberlieutenant (1st Lieutenant) of Tyrolean "Fenner Chasseurs". During Napoleon's "100 Days" (1815) he became aide-de-camp of General Pflüger in Corps of Radivojevich and fighted in South France. In the night of 9/10 July 1815, near town Macon on river Saone he captured enemy's position and secured for following troops passage over the river. For this feat he was awarded on 7th October of the same year with Knight Cross of Maria-Theresia Order. In 1816 he was transferred to 3rd Infantry Regiment, where we found him in 1818. In 1821 he was promoted to Hauptmann (captain), but in September of 1823 retreated from army. He died in 1841 in Vienna.
Further search on "Google-Books" provided information, that in the Austrian Kriegsarchiv (Military Archiv) there is a portrait of his...
Provenance: German private collection

lejul0512
Condition: good, in original golden (see image nr. 7 with hall-mark) frame with sitter's curl on verso
Creation Year: 1815/17
Measurements:UNFRAMED:6,7x5,3cm/2,6x2,1in FRAMED: 7,6x5,7cm/3,0x2,2in
Object Type:Framed miniature
Style: Portrait miniatures
Technique: Watercolor on ivory
Inscription:-
Creator: Austrian School
Creator Dates: -
Nationality:Austrian
We will cover shipping with regular registered mail (delivery between 7-14 days), as well as insurance costs for this item.

OBS: Austrian mail refunds cases of loss or damage with maximum EUR 500 to the US (in Europe sometimes more, depending on destination).


Full insured 2-3 days DHL service available upon request and subject to extra charges: office@wilnitsky.com
Click here for images free of watermark!
Click on images or on

to see larger pictures!