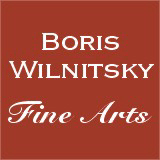 If you have a question about this item,
please contact us at: office@wilnitsky.com
# 36417
François Dumont (1751-1831) "Lady of title with little daughter", outstanding miniature!!!, ca.1790
Price: ON REQUEST
(please note additional 10% tax applies for transactions concluded within the European Union)
THE SELLER WILL COVER INSURED SHIPPING WITH REGULAR MAIL FOR THIS ITEM!

Although unsigned, this of outstanding quality miniature on ivory is with a 100% certainty an absolutely authentic and very typical (see our images nr.10-17 with comparisons) work of the famous French miniaturist of the late 18th-begin of the 19th century François Dumont. With a great possibility it was set initially into the lid of a round box (its size - 6,5 cm in diameter - is typical for this kind of miniatures). This wonderful portrait of a high-aristocratic lady with her little daughter is probably one of the main creations of Dumont. The presence of hands emphasizes the remarkability of this commission and testifies the significance of the orderer; for portraits of complex design Dumont asked prices by several times exceeding prices for single and bust-length portraits (see our image nr.16).
Francois Dumont was born in 1751 in Luneville, and died in 1831 in Paris. He was the fifth child of Toussaint Dumont, coachman of Stanislaus Leszszynski. Already as a ten-year-old Francois began a traineeship at the studio of sculptor Matthis. Between ages 11 to 17 he was a pupil of Jean Girardet, the Court artist of Stanislaus Leszszynski. In 1768 he moved to Paris, where he earned his daily bread as portrait miniatures painter. From 1773 to 1775 he produced a number of miniature portraits of Comte d'Artois, his wife, and his sister-in-law, Comtesse de Provence. From ca. 1777 he painted many miniature portraits of Queen Marie-Antoinette (later, in 1786, Dumont filled the vacancy of her late court miniaturist Ignazio Pio Vittoriano Campana).
Between the years 1780 and 1792 Dumont established a status of the most sought-after French miniaturist. In 1788 he was granted a membership at the Academie Royale; from 1789 - regularly exhibited at the Parisian Salon. In 1790 he moved into an atelier-apartment located in the Galleries of Louvre.
During the Empire period the number of Dumont's commissions lessened, with works of artists Jean-Baptiste Isabey and Jean-Baptiste-Jacques Augustin welcomed instead. After Napoleon's era Dumont attempted to re-establish himself at the Court, but to no avail: his permanent rival Isabey left him no chances to do so.
Dumont's oeuvre is estimated to be ca. 2400 works, among others, miniatures on ivory, drawings, pastels, oil paintings (from 1796), and even lithographs in his last period. His most famous portrait works are those of artists and musicians (this information was borrowed from Saur's Artists Dictionary, biographical article by Dumont's expert and author of the forthcoming catalogue raisonee, Dr. Bodo Hofstetter).
Measurements: diameter: unframed:6,5cm/2,6in; framed: 10,0cm/3,9in

Provenance: "Bamfords Auctioneers & Valuers", Derby, England, 28 June 2012, Lot 2167 (as "French School of 18th century")

leaug03ap12
Condition: fairly good, a few dot paintlosses on dress, minor scratch on the edge between 5 and 6 o'clock; in silverplated metal easel-frame
Creation Year: ca 1790
Measurements:UNFRAMED:0,0x0,0cm/0,0x0,0in
Object Type:Framed miniature
Style: Portrait miniatures
Technique: Watercolor on ivory
Inscription:-
Creator: Francois Dumont
Creator Dates: 1751 Luneville-1831 Paris
Nationality:French
We will cover shipping with regular registered mail (delivery between 7-14 days), as well as insurance costs for this item.

OBS: Austrian mail refunds cases of loss or damage with maximum EUR 500 to the US (in Europe sometimes more, depending on destination).


Full insured 2-3 days DHL service available upon request and subject to extra charges: office@wilnitsky.com
Click here for images free of watermark!
Click on images or on

to see larger pictures!