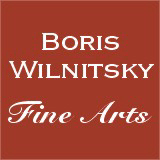 If you have a question about this item,
please contact us at: office@wilnitsky.com
# 36419
"Prince Pyotr Andreyevich Vyazemsky", important Russian miniature on ivory!!, 1820/25
Price: ON REQUEST
(please note additional 10% tax applies for transactions concluded within the European Union)
THE SELLER WILL COVER INSURED SHIPPING WITH REGULAR MAIL FOR THIS ITEM!

This high quality miniature portrait of a gentleman wearing glasses (particularly typical for Russian School through its stylistic criteria and (especially) its octagonal shape) turned out to be a very important portrait of famous Russian aristocrat, courtier, poet, journalist and literary critic, Prince Pyotr Andreyevich Vyazemsky (1792-1878). To this definitive conclusion we came comparing this miniature with several known portraits of prince (see our images nr.6-10 with clips from published in 2009 in Moscow refference book "Faces of Russian History"; it provides also Prince Vyazemsky's extensive biography in Russian).

Prince Pyotr Andreyevich Vyazemsky was a leading personality of the Golden Age of Russian poetry. His parents were a Russian prince of Rurikid stock and an Irish lady. As a young man he took part in the Battle of Borodino (7th September 1812) and other engagements of the Napoleonic Wars, In the 1820s he was the most combative and brilliant champion of what then went by the name of Romanticism. Both, Prince Pyotr and his wife Princess Vera, nee Gagarina were on intimate terms with best Russian poet of all times, Alexander Sergeyevich Pushkin, who often visited their family seat at Ostafievo near Moscow (now a literary museum). Unsurprisingly, Vyazemsky is quoted in Pushkin's works, including "Eugene Onegin". The two friends also exchanged several epistles in verse. Their correspondence is a treasure house of wit, fine criticism, and good Russian. In the early 1820s, Pushkin proclaimed Vyazemsky the finest prose writer in the country.

Provenance: private collection, Germany
leaug0612
Condition: good; in original leather frame
Creation Year: 1820/25
Measurements:UNFRAMED:7,0x5,5cm/2,8x2,2in FRAMED: 12,2x11,3cm/4,8x4,4in
Object Type:Framed miniature
Style: Portrait miniatures
Technique: Watercolor on ivory (octagonal)
Inscription:
Creator: Russian School
Creator Dates: -
Nationality:Russian
We will cover shipping with regular registered mail (delivery between 7-14 days), as well as insurance costs for this item.

OBS: Austrian mail refunds cases of loss or damage with maximum EUR 500 to the US (in Europe sometimes more, depending on destination).


Full insured 2-3 days DHL service available upon request and subject to extra charges: office@wilnitsky.com
Click here for images free of watermark!
Click on images or on

to see larger pictures!