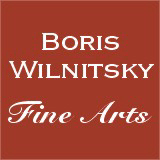 If you have a question about this item,
please contact us at: office@wilnitsky.com
# 36424
Leon Brzezinski (1809-1865) "Marie Constance, comtesse Doynel de la Sausserie", miniature, 1842
Price: 2900 EUR
(please note additional 10% tax applies for transactions concluded within the European Union)
THE SELLER WILL COVER INSURED SHIPPING WITH REGULAR MAIL FOR THIS ITEM!

According to the legend on verso this is a miniature portrait of the grandmother of the pre-owner, Marie Constance, comtesse Doynel de la Sausserie, nee comtesse Babin de Lignae (1821-1908). Our image nr. 8 shows found on the web genealogical information about this young noblewoman. She was born as a daughter of Adrien Babin, comte (Count) de Lignae, Capitaine d'État Major de la Garde Royal (Captain of General Staff of the Royal Guards). She married Olivier Charles René, comte Doynel de la Sausserie (born 1820) on 19 September 1842 (sic! our miniature is dated exactly this year - it means it is a wedding portrait, surely one of the pair!) and together they had six children. Our image nr. 9 shows the still existing castle of the Sausserie family - "Manoir de la Sausserie" in La Haute-Chapelle, province Basse-Normandie. The author of this portrait, the Polish-born artist Leon Brzezinski worked in the same province, in the town Caen.
Leon Brzezinski (1809 Brzozow by Kalisz, Poland - 1865 Caen, France) participated in the November Uprising (Polish-Russian War 1830/31).After this uprising had been suppressed he had to leave Poland. He immigrated to France in 1831, settled in Caen and dedicated his life to miniature portrait painting. Among his sitters of that period there were also other Polish immigrants - in 1840/50s he made several portraits of "French" Poles which were showed in 1894 and 1912 at the exhibition in Lemberg (now Lviv, Ukraine) and Warsaw. Works of his are to see in Cracow National Museum and Warsaw National Museum.
Our images nr. 11-14 show a few of his works offered in the last years at art auction market.

Provenance: Antique shop in Brighton, East Sussex, England

leaug07ap12
Condition: good
Creation Year: 1842
Measurements:UNFRAMED:9,3x7,5cm/3,7x3,0in FRAMED: 18,7x14,7cm/7,4x5,8in
Object Type:Framed miniature
Style: Portrait miniature
Technique: Watercolor on ivory
Inscription:signed and dated: Leon Brzezinski; old legend on verso
Creator: Leon Brzezinski
Creator Dates: 1809 Brzozow/Poland-1865 Caen/France
Nationality:Polish
We will cover shipping with regular registered mail (delivery between 7-14 days), as well as insurance costs for this item.

OBS: Austrian mail refunds cases of loss or damage with maximum EUR 500 to the US (in Europe sometimes more, depending on destination).


Full insured 2-3 days DHL service available upon request and subject to extra charges: office@wilnitsky.com
Click here for images free of watermark!
Click on images or on

to see larger pictures!