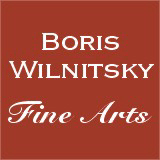 If you have a question about this item,
please contact us at: office@wilnitsky.com
# 36439
Louis Lie Perin (1753-1817)-Attrib. "Beauty with bare breasts", important miniature!!, ca.1790
Price: ON REQUEST
(please note additional 10% tax applies for transactions concluded within the European Union)
THE SELLER WILL COVER INSURED SHIPPING WITH REGULAR MAIL FOR THIS ITEM!

Highest quality miniature portrait of a young lady from the late period of Marie-Antoinette. She reclines in the armchair, holding a prayer book and laying bare her breasts immodestly - this contrast gives the portrait the special erotic sence. Obviously, this portrait was ordered by the lady as a gift for her lover or husband.

Another (signed by Louis Lie Perin-Salbreux) replica of this miniature portrait is in the collection of Stockholm National Museum (see image nr.7).
Louis Lie Perin-Salbreux (1753 Reims - 1817 ibidem) was the son of a cloth manufacturer in Reims, where he studied under Ganes, called Clermont. At the age of 25 he went to Paris, where he became a student of Lemmonier and Sicardi and became friendly with Roslin, who is said to have advised him to specialise in miniature painting. In fact, Perin excelled in this field, although he also did portraits in oils and in pastel. He exhibited at the Salon from 1793 to 1798 and seems to have rapidly gained success in Parisian aristocratic circles, a clientele he was forcibly deprived of by the Revolution. As in addition to that his personal fortune rapidly decreased because of the assignats, he returned to Reims in 1799 to take over the factory which his father had left him. From that time, evidently, he painted less, but as soon as he could, he devoted himself to his much loved art and again produced a number of remarkable miniatures.
Schidlof writes "Perin is undoubtedly one of the greatest French miniaturists of the 18th century. Although he was a pupil of Sicardi, one finds no resemblance between the works of these two artists. On the other hand, Perin resembles Hall in an amazing way in some of his miniatures, in technique as well as in quality".
Works of Perin achieve today very remarkable prices at the international art auction market.
Provenance: Auction house "Merrilant Service Corporation", Rome, 8 July 2012, Lot 192 (as "English, beginning of 19th Century"-???)

We are very grateful to our friend, world-best specialist in portrait miniatures, Dr. Bodo Hofstetter (Switzerland) for generous help.

leaug02ap12
Condition: good
Creation Year: ca 1790
Measurements:UNFRAMED:9,7x0,0cm/3,8x0,0in FRAMED: 11,0x0,0cm/4,3x0,0in
Object Type:Framed miniature
Style: Portrait miniatures
Technique: Watercolor on ivory
Inscription:
Creator: Louis Lie Perin-Salbreux
Creator Dates: 1753 Reims-1817 Reims
Nationality:French
We will cover shipping with regular registered mail (delivery between 7-14 days), as well as insurance costs for this item.

OBS: Austrian mail refunds cases of loss or damage with maximum EUR 500 to the US (in Europe sometimes more, depending on destination).


Full insured 2-3 days DHL service available upon request and subject to extra charges: office@wilnitsky.com
Click here for images free of watermark!
Click on images or on

to see larger pictures!