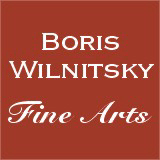 SALE!!! SAVE MONEY !! 1 EUR = 1 USD
# 37271
Marguerite Gerard-Attrib. "Mme de la Tour with granddaughter", outstanding small painting!, ca.1813
15000 EUR
FINAL DISCOUNT PRICE= 15000 USD
( for EUR price see date rate )
Please note: Shipping and insurance costs are not included in this promotion, ONLY ITEM PRICES!
(please note additional 13% tax applies for transactions concluded within the European Union)
This exceedingly qualitative work was painted with oils on a sheet of paper, which was then laid by the artist on canvas and subsequently on tin plaque. It is a double portrait (its execution date could be determined as "early 1810s", according to sitters' attire and hair-styles) of an elderly lady (she is referred to as "Mme La Tour" on verso) and her about 17-18-year-old granddaughter (not daughter (as stated in the same legend) - she is too young to be a daughter of such an old lady).
Both women are depicted seating closely on a sofa with a round, adjoining coffee table; the grandmother is shown arranging a bouquet in a flower-basket in front of her, her granddaughter tenderly wrapping her arm around grandma's slight frame.

We acquired this work at an inventory sale of a noble chateau by Lille (France). A sparse, sale catalogue reference "Mme La Tour et sa fille" (as we have already established, not with her daughter but granddaughter) left us no other choice but to search through the multitude of French families "La Tour", in order to discover a pair of women - grandmother and granddaughter - who in early1810s were (respectively) ca.80 and ca.17 years of age (as they undoubtedly appear to be).
Having filtered through a great number of "unfitting" pairs, we have finally located one that - as we believe - concerns both of the sitters in this portrait.

Both of these ladies were members of well-known French aristocratic family of Counts de La Tour du Pin. The elderly lady with flower basket is Cecile-Charlotte-Marguerite Guynot de Mauconseil (various genealogical sources list either 1725 or 1733 as the year of her birth; the year of her death, on the contrary, was mentioned as 1821 everywhere), who in 1755 married (she was his second wife) Jean-Fréderique, comte de la Tour du Pin de Paulin (1727-1794; later he became a lieutenant-general and, in 1789, "députe de la nobless" of the General Assembly and Royal Minister of War). The husband perished under the guillotine on the 28th of April 1794 (he had the courage to defend Marie-Antoinette during her trial before the prosecutor), but the comtess survived these horrors and lived to see the Restoration of Bourbons.
Her children were:
1.) Cecile Suzanne de La Tour du Pin (1756-1803); she became the wife of Augustin Louis Charles, Marquis de Lameth (1755-1837). Nothing is known about their likely children.
2.) Fréderique Seraphin de La Tour du Pin, comte de Gouvernet (1759-1837). Colonel and Commander of the Royal 43rd Line Infantry Regiment, Ambassador and Peer of France. In 1787 he married Henriette-Lucy Dillon (1770-1853), daughter of Arthur Dillon, aide-de-camp to Marquis de Lafayette. Henriette-Lucy was then a lady-in-waiting of Queen Marie-Antoinette. She left her mark in history as the author of her famous memoirs "Journal d'une femme de cinquante ans" - a beautifully written account of her reflections as queen's lady-in-waiting in the dark hours of the Terror and of her emigration to America (she came there in 1794 together with her husband and two children - son Humbers (b.1790) and daughter Seraphine (1792-1795).In 1796 the family returned to France, where their daughter Charlotte was born on the 6th May of the same years. Charlotte got married in 1813 (sic! she was then 17 years old) Auguste de Gavre, comte de Liedekerke Beeaufort de Celles (1789-1855), whose parents possessed famous Belgian Chateau de Véves, and who later became Ambassador of the Netherlands to the Vatican. Unfortunately, Charlotte's family life was brief, for she died from tuberculosis on the 11th of September 1822 at the age of only 26.

Fazit: We believe to be dealing with (painted in 1813) double portrait of 80-year-old (according to one source) or 88-year-old (according to another) Mme Cecile-Charlotte-Marguerite, comtess da La Tour du Pin and her 17-year-old (either still engaged or already freshly married) granddaughter Charlotte, who survived her beloved granny by only a year…

This extraordinary charming and particularly intimate portrait (executed in typical for this artist size of 21.5 x 16cm!!) demonstrates absolutely all stylistic criteria of works of the celebrated, turn of 19th century, French female artist, Mlle Marguerite Gerard. Our comparison images nr.12-31 convincingly support this attribution.
Mlle Marguerite Gerard (1761 Grasse -1837 Paris) was a younger sister of Mme Fragonard, wife of the painter Honore Fragonard. At the age of 14 she came to Paris into the house of her famous brother-in-law, where he began to instruct her in drawing and etching. Soon she started to paint family scenes in a genre that perfectly matched the taste of her time, so that she soon became famous in Paris. She exhibited at the Salon from 1799 to 1824, and obtained a First Class Medal in 1806. She painted mainly in oil, pastel and watercolor, did etchings and sometimes miniatures.
From 1780 she was considered one of the leading women artists in France, equal to Adelaide Labille-Guiard, Anne Vallayer-Coster and Elisabeth Vigee-Lebrun .
Provenance: inventory sale of a noble chateau by Lille, France

miokt23ap13
Condition: good; in early-19th-century Empire frame
Creation Year: early 1810s
Measurements: UNFRAMED:21,8x16,5cm/8,6x6,5in FRAMED: 31,3x25,7cm/12,3x10,1in
Object Type: Framed oil painting
Style: 19th century paintings
Technique: oil on paper, laid on canvas and then tin plaque by the artist
Inscription: -
Creator: Marguerite Gerard
To see other works by this artist click on the name above!
Creator Dates: 1761 Grasse-1837 Paris
Nationality: French
SHIPPING COSTS UPON REQUEST:
office@wilnitsky.net
Click here for images free of watermark!
Click on images or on

to see larger pictures!