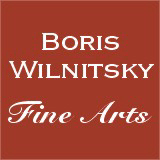 SALE!!! SAVE MONEY !! 1 EUR = 1 USD
# 37422
C. L. Christineck-Attrib. "Russian General Victor Amadeus von Anhalt-Bernburg", rarity!!!, 1789/90
27000 EUR - 25% DISCOUNT = 20250,00 EUR
FINAL DISCOUNT PRICE= 20250,00 USD
( for EUR price see date rate )
Please note: Shipping and insurance costs are not included in this promotion, ONLY ITEM PRICES!
(please note additional Austrian VAT tax applies for transactions concluded within the European Union)
Acquired on the 11th of November 2013 at online auction "Bukowskis Market" (Göteborg, Sweden - see our image nr.9) and offered by the auctioneers as portrait of an "unknown gentleman from ca. 1800", this work turned out to be a document of extreme importance for Russian history (especially for the late period of Catherine II the Great' epoch).

Having spent several hours searching for physiognomically "suitable" Russian general of that period, who would have worn the "soldier-look" uniform of infantry officers (introduced in 1788 by Serene Prince G.A. Potemkin; see our comparison image nr.10) and borne the blue sash and breast star of the highest Russian award, the Order of St. Andrew the First-Called, as well as the neck cross and breast star of the Russian military Order of St. Georg of the 2nd Class, we discovered on the Web another two representations of this gentleman (in our portrait, as we learned, he is depicted at the age of 45), namely one mezzotint and a (weak quality) oil portrait by an unknown artist (see our images nr.11-12).

His name - Victor Amadeus, Prince von Anhalt-Bernburg-Schaumburg-Hoym (CLICK HERE, HERE AND HERE), cousin of Empress Catherine the Great.

Victor Amadeus von Anhalt-Bernburg-Schaumburg-Hoym (Schaumburg, 21 May 1744 - 18 April 1790) was a German prince of the House of Ascania from the Anhalt-Bernburg-Schaumburg-Hoym branch (he was the sixth (but fifth surviving) son of Victor I Amadeus Adolph, Prince of Anhalt-Bernburg-Schaumburg-Hoym, and the third-born by his second wife, Countess Hedwig Sophie Henckel of Donnersmarck) and a Russian general under the service of Empress Catherine II the Great.
As the youngest of the sons of Prince Victor I, Victor Amadeus had little chances to inherit any of the family lands. He thus chose to follow a military career, which he began in rank of a captain of the Netherlandish Army. Soon he transferred under the military service of the Holy German Empire and obtained an Austrian army rank of a "Rittmeister" (cavalry captain). Still in 1764 he was awarded Holstein ducal (later Russian) Order of St.Anna.
In 1772 he entered the Russian military service and was enlisted into the Life Guards Cuirassier Regiment.
On the 13th of March 1775 he was promoted to brigadier (lowest general's rank); on the 10th of July 1775 was raised to major-general and, on the 26th of November of the same year, he received his first award - Order of St. Georg of the 4th Class. On the 18th of August 1778 he was promoted to general-poruchik; on the 28th of June 1782 - to lieutenant-general.
At the beginning of the Turkish campaign of Prince Potemkin in 1788 Victor Amadeus joined the latter's Ekaterinoslvaskaya Army.
Austrian Field-Marshal Prince Charles Joseph Ligne (1735-1814; see our web # 28721), while at Potemkin's army headquarters, assesses the personality of Victor Amadeus in his letter to Count de Segur (French Ambassador in St. Petersburg):
"…"I'm observing the relative of Catherine (Prince Anhalt-Bernburg), who may at first appear to be the most ordinary officer of her army: so modest and simple he is! He by no means wishes to give the impression that he is something else! He unites in himself all possible talents and qualities; he is enthralled with his army post and gun firings; often makes himself liable to unnecessary risk; likes to cede to others what is otherwise rightfully his; has a caring mind and heart; possesses a fine and accurate taste; gallant and humble; nothing can slip his attention; quick in his responses; comprehends all at an instant; firm in his intentions; condones only myself, but is uncompromising with himself and others; exceptionally educated and - in other words - is a true genius of a military man".

Victor Amadeus especially distinguished himself in the capture of (held by the Turks) Fortress Ochakov (see our images nr.15-16), in which he commanded one of the columns during the assault and put it on the walls of the fortress; for this he was awarded on the 16th of December 1788 the Order of St. Georg of the 2nd Class (sic!). The following (1789) year, Victor Amadeus took an active part in the capture of the towns of Causeni (in Russian phonetic transcription - Kaushany), Akkerman and Bender, and on the 21st of April 1789 was rewarded for his distinction with the Orders of St. Alexander Nevsky and St. Andrew the First-Called (sic!).
In 1790 the prince joined the army of Count Ivan Saltykov in Finland, the theater of the Russo-Swedish War. This was his last military action: at the beginning of the hostilities, Victor Amadeus was sent with a detachment to drive the enemy from Pardakoski and Kernikoski and, on the 18th of April, while the troops were attacking the Swedes, he was fatally wounded by a canon-ball in his right leg. The grenadiers carried him on a mantle to the ambulance of neighboring town Vyborg, where he passed away two days later.
At first, his remains were laid to rest in a church of Vyborg; later, his tomb was transferred to the Lutheran Cemetery in Vyborg's suburb Petrovskoe.
On order of Catherine II the Great, the project of his tomb stone was to be carried out by Giacomo Quarengi and was in 1792 carved out of marble in Italy (one could not procure a monolith of such size in St. Petersburg; moreover, marble itself cost twice less in Italy); the total expenses comprised the sum of 2602 rubles.
Although, in the Soviet period, his tomb stone (see our image nr.24 for an old photograph of it) was wrecked, its parts have survived. They are taken care of by the museum "Castle of Vyborg".

The name of Prince Anhalt-Bernburg-Schaumburg-Hoym was closely linked to the famous Russian General Barclay de Tolly, who began active service under his command. Victor Amadeus was the first one who drew attention to the military talents of Barclay; when the Prince was dying, he gave to Barclay his sword, with which the latter never parted. Additionally, Count F.F. Rostopchin, who was a Senator, a member of State Council, Head-Chamberlain, and Mayor of Moscow, considered himself one of Prince's followers.

Having gone on home leave, Prince Victor Amadeus married on the 21st of April 1778 two years his senior Magdalena Sophie, Princess von Solms-Braunfels (1742-1819), sister of the ruling Landgravin Ulrike Louise von Hesse-Homburg. Shortly before the birth of their only child, son Victor Amadeus-Junior (1779-1783), his wife settled in Bad Homburg. According to the then existing practice, just after he was born, Victor Amadeus-Junior was enrolled as a cornet into his father's Russian Leib-Cuirassier Regiment. Sadly, the little boy passed away before his 4th birthday. From that time on, the wife of Victor Amadeus continued to live in Bad Homburg alone, and only saw her husband once or twice in the period before his death in 1790.
In 1790, Prince's brother-in-law, Landgrave Friedrich Ludwig von Hesse-Homburg, composed a moving, poetic requiem for the death of Victor Amadeus, who died in faraway Russia (see our image nr.23).

We are certain that this portrait was made in the late 1789 or early 1790 in St. Petersburg, where Victor Amadeus made a few-week stopover on his way to Finland. From the very beginning of our research, the high quality execution of this painting presupposed the authorship of one of the most known artists working in Russian capital at that time. We are confident of his identity: the very first name that comes to mind is that of (born into German family) artist Karl Ludwig (called in Russia Loggin Zakharovich) Christineck. The latter, while being the author of a great deal of portraits of high-ranking military officers (sic!), was also very popular among the living in St. Petersburg German aristocrats (!). Our comparison images nr.26-40 convincingly confirm this attribution
Carl Ludwig (Loggin Zakharovich) Christineck was born in ca. 1732 in St. Petersburg and died in the same city sometime between 1792 and 1794. An orphan at an early age, he was forced to rely on support of the city's large German diaspora. One of his principal mentors was German artist, restorer and copyist Lucas Conrad Pfandzelt (1716-1786/88), who was working in St. Petersburg from 1743. The latter for a long time served as a chief-curator and restorer of the Imperial collection. It was he, who bestowed the young man with a slightly rigid and precise manner of painting.
Christineck was noted in the early 1760s, i.e. in the period when he partook in creation of one of the twelve mosaic paintings glorifying the deeds of Tsar Peter I made for the interior of Petropavlovski Cathedral - "The Battle of Poltava", in the studio of M.V. Lomonosov. Christineck's task was to oversee the work segment that dealt with preparation of the monumental cartoon of 6.4x4.8m in size. Approximately at the same time Christineck produced his first portraits. Possessing a winning manner of image expression, the artist soon gained a great number of clients.
In 1785, Christineck obtained the title of "naznachenny v akademiki" (Associate of Academy) for his "Portrait of Mother" that he presented to the Academy of Fine Arts.
The death of master resulted in many years of abeyance. However, about 100 works of Christineck survived until today - a clear evidence of his ever-present popularity and high demand for his talent among contemporaries. The majority of these paintings are on display and are housed in St. Petersburg Hermitage and Russian Museum, as well as in Moscow Tretyakov Gallery, Kaluga Museum, Museum of Rybinsk, etc.
mijan07ap13

P.S. 13 October 2016:
We just discovered in published in 2015 in St.Petersburg catalogue of portrait miniatures in collection of Pavlovsk Museum (Pavlovsk by St.Petersburg was a residence palace of Grand Duke Pavel Petrovich (future Tsar Paul I) a niniature after our portrait (see our image nr.42).
Condition: good; lined in early 19th century; in early-19th-century gilded wooden frame in Baroque style
Creation Year: 1789/90
Measurements: UNFRAMED:62,2x47,8cm/24,5x18,8in FRAMED: 71,5x59,5cm/28,1x23,4in
Object Type: Framed oil painting
Style: Old Master paintings
Technique: oil on canvas
Inscription: -
Creator: Carl Ludwig Christineck
To see other works by this artist click on the name above!
Creator Dates: ca.1732 St. Petersburg-1790 St. Petersburg
Nationality: Russian / German
SHIPPING COSTS UPON REQUEST:
office@wilnitsky.net
Click here for images free of watermark!
Click on images or on

to see larger pictures!