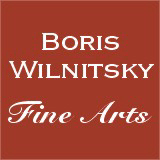 If you have a question about this item,
please contact us at: office@wilnitsky.net
# 37727
Franziska Schoepfer "Countess Esterhazy-Galantha as a bride", outstanding miniature on ivory!!, 1801
Price: EUR
(please note additional 13% tax applies for transactions concluded within the European Union)
SOLD!!!!!

Signed and dated 1801 obverse and extensively titled on verso, this large miniature on ivory is an outstanding work of very well known Bavarian female miniaturist Franziska Schoepfer (see her biography below).
According to the engraved (partially erroneous (concerning some dates)) legend on verso (see our image nr.10), it is a portrait of Maria Jozefa Anna, Countess Esterhazy-Galantha-Forchtenstein, member of the famous and highly aristocratic Austro-Hungarian family.

Maria Jozefa Anna (Antoinette), Countess Esterhazy de Galantha-Forchtenstein, was born on the 6th of June 1777 in Vienna as daughter of Janos (Johann) Baptist, Count Esterhazy de Galantha-Forchtenstein (1748-1800; see our image nr.13) and Maria Anna, Countess Palffy ab Erdöd (1748-1799). On the 19th of April 1801 (sic!), in Vienna, 24-year-old (and already orphaned) Maria Jozefa married her (two years her senior) first cousin Janos Kazmer, Count Esterhazy de Galantha-Altsohl (1775-1829), colonel and chamberlain at the court of Emperor Franz II. They had two children: daughter Franciska (1804-1875) and son Kazmer Miklos (Nikolaus; 1805-1870). Widow from 1829, Maria Jozefa died on the 3rd of December 1843 at the age of 66.

In this portrait, Countess Esterhazy is depicted in her wedding dress - a detail providing the date of this portrait's execution as April 1801.
It is interesting to add that we've been long acquainted with her only brother Miklos (after the death of their parents and up until her wedding, he looked after Maria Jozefa for a year), for we are in possession of
- a miniature "Self-portrait" of his (see our web # 27637; it shares the same provenance as the miniature discussed here!)
- his portrait by Josef Kreutzinger (see our web # 29706) and
- a miniature by E. Bernhard de Guerard, showing him with his wife (see our web # 30415).
We are also in possession of a miniature portrait of Maria Jozefa's and Miklos Janos' father, Count Janos Baptist Esterhazy de Galantha-Forchenstein (see our web # 26769).
Franziska Schoepfer (1763 Mannheim -1836 Munich) was a pupil of the Academy of Mannheim, where she rapidly became a much sought after miniaturist. About 1790 she worked for a time in Bamberg, then she stablished herself in Munich, where she was appointed painter to the court, and did the portraits of the Royal family as well as of numerous members of the aristocracy.
Works of her can be found in collections of Bavarian National Museum Munich and in various German high noble collections.
CLICK HERE FOR OTHER WORKS OF THIS ARTIST IN OUR POSSESSION
See also our images nr.14-15 with two of her miniatures sold at art auctions in the last years.

Provenance:
1) Counts Esterhazy-Galantha (same provenance as our web 27637 and 36562)
2) Gallery Desarnaud, Paris (acquired on February 15th 2014)
3) Villa Griesebach Auktionen, Berlin, May 29, 2014, Lot 322 (see our image nr.16)

P.S. See also our web # 30415, # 25846, # 21407, # 27756, # 36090.

mimar03ap14
Condition: good; originally framed
Creation Year: 1801
Measurements:UNFRAMED:11,6x7,3cm/4,6x2,9in FRAMED: 12,3x8,7cm/4,8x3,4in
Object Type:Framed miniature
Style: Portrait Miniatures
Technique: watercolor on ivory
Inscription:signed and dated: Schopfer 1801; verso: old legend (engraved)
Creator: Franziska Schoepfer
Creator Dates: 1763 Mannheim-1836 Munich
Nationality:German
We will cover shipping with regular registered mail (delivery between 7-14 days) for this item.

OBS: Austrian mail refunds cases of loss or damage with maximum EUR 500.


Fully insured 2-3 days DHL service available upon request and subject to extra charges: office@wilnitsky.net
Click here for images free of watermark!
Click on images or on

to see larger pictures!