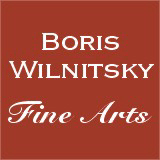 If you have a question about this item,
please contact us at: office@wilnitsky.net
# 38879
"Ferdinand and Marie d'Orleans", Royal Property (Chateau d'Eu), 1823-copies after 1819-originals
Price: EUR
(please note additional 13% tax applies for transactions concluded within the European Union)
SOLD!!!


These two portraits were acquired on the 12th of July 2014 at the German auction house "Pforzheimer Kunst- und Auktionshaus" as a result of an embittered battle through telephone bidding (our winning bid was in the end 50 times higher than the starting one!).
Once examined in nature (until then we knew them only by their frontal images in the online catalogue of "Pforzheimer Kunst- und Auktionshaus"), these two paintings turned out to be not exactly the works we so fiercely fought for.
The unidentified here unscrupulous (!) auctioneer had knowingly (!) entered the following text into the catalogue entries concerning each of these paintings: "Godefroy, Marie-Eleonore; zugeschr. 1778-1849" (English: attributed to Marie-Eleonore Godefroy). Yet, he was fully aware (see below) that both paintings are, in fact, 1823 copies made by another artist after (!) the original 1819 paintings by Marie-Eleonore Godefroy (or, rather Godefroid). In describing these portraits, the auctioneer only mentioned the presence (on verso of each painting) of a certain legend informing of the sitter(s)' identity, as well as a certain "monogram under the crown".
When we originally discovered these paintings in the online catalogue of "Pforzheimer Kunst- und Auktionshaus", we undertook our own (external) research and came to the conclusion that we with almost 100% certainty dealing with authentic works of this well-known early-19th-century French female artist (see our comparison images nr.45-52). Moreover, we have found a mention of these two portraits in the catalogue of the 1819 Parisian Salon exhibition (see our image nr.53): they were listed together with two other portraits (four in sum) of the children of Louis-Philippe, duc d'Orleans (and from 1830 - King Louis-Philippe I of France).
Consequently, while awaiting the delivery of our purchased portraits, we remained certain of having acquired the original portraits of 9-year-old (eldest) son of Louis-Philippe, Ferdinand Philippe d'Orleans, duc de Chartres (1810-1842; CLICK HERE, HERE and HERE; see also our images nr.35-36, as well as our web # 37006 and # 35469) and its counter piece, portrait of Ferdinand's 6-year-old sister Marie d'Orleans, mademoiselle de Valois (1813-1839; CLICK HERE and HERE; see also our images nr.37-44).
The illustrations in the online catalogue of "Pforzheimer Kunst- und Auktionshaus" (once enlarged) also showed inventory numbers in lower left corner of each portrait: "416bis" (Ferdinand's portrait) and "422.bis" (Marie's portrait). Based on that we decided that these paintings were likely hung in one of the palaces in property of one or another member of d'Orleans family.

Two weeks after the auction sale our shippers have finally delivered both paintings. We have unpacked them and discovered that the quality of both of these works is exactly as high as that seen in the color photographs of the sale catalogue.
Yet, to our great astonishment, we have immediately discovered on verso of each painting (besides the legend with sitter's identity mentioned by the auctioneer and the stamped monogram under the ducal crown) one more (knowingly (!) unmentioned by the auctioneer) line. Located in the very bottom of the back of the painting and written by same hand that titled it (possibly it was written by the curator of the collection, to which both paintings once belonged), both of these two lines presented a clearly written text in French: "Peint d'apres Mlle Godefroy en 1823 (portrait of Ferdinand) and respectively "Peint en 1823 d'apres M-lle Godefroy (portrait of Marie).
This occurrence is a clear case of willful deceit: the auctioneer (his career counts decades spent in the antique trade business), who is in particular an expert in fine arts, could not have possible been unaware of the meaning of this French phrase. Instead of listing the portrait in the catalogues as "Copy after Marie-Eleonore Godefroy", he catalogued it as "Attributed to Marie-Eleonore Godefroy", which in the universally known "auction language" means only one (!) thing: "Probably by Marie-Eleonore Godefroy".

It was exactly this trick that confused us in the first place and, as a consequence, led us into the heated telephone bidding against another (in all likelihood just as credulous as we were) telephone bidder.
However, besides these two unpleasant discoveries (i.e. inscriptions attesting that, instead of Godefroy's 1819 originals shown at the Salon, we have purchased their copies made four years later by an unknown artist), we have noticed on verso of one portrait (on portrait of Marie) the stamp (similarly unmentioned by the auctioneer) of Parisian seller of art supplies (canvases, paints, etc.), famous Belot (Michel Belot-Father; from 1792 his successor, Michel Belot-Son).
Moreover, we were able to decipher the ligated monogram under the ducal crown - LPO (it stands for Louis-Philippe d'Orleans!).
On the same day (!), thanks to a lucky accident, we have found on the Web another painting (see our image nr.56) with the same stamp on verso - a coincidence that set everything in its place again:
We have acquired (while being somewhat fooled) two portraits of the children of Louis-Philippe that turned out to be copies after the originals by M.E. Godefroy (or, rather Godefroid; as the matter of fact, the whereabouts of these two original portraits is unknown: could have they vanished in the fire of Tuilleries?) that were exclusively produced for the summer residence of Louis-Philippe's family and in 1830 were moved along with the rest of its inventory to Louis-Philippe's new summer residence, Chateau d'Eu in Normandy (see our image nr.57).
Our next move was not long in coming: we found both of these paintings in the catalogue of "Galerie des portraits du Chateau d'Eu" completed by M.J. Vatout in 1836 (see our image nr.58). For some strange reason, the cataloger referred to No. 416 bis as to a "Copy after Gerard" (he confused the great Baron Francois Gerard with his best pupil and friend (and his long-year housemate) Marie-Eleonore Godefroid (Godefroy; on many occasions her works are not inferior to those of her teacher, though a number of them continues to be attributed to Gerard). Clearly, the cataloger simply replicated the lists of collection inventory, without bothering to examine both actual works (obverse and/or reverse).

Ferdinand-Philippe (Ferdinand Philippe Louis Charles Henri Joseph d'Orleans, duc de Chartres) wears the same hussar uniform as in the widely known double portrait painted in the same (1819) year by L. J. Noyal (see our image nr.36), showing him with his mother, Marie Amelie d'Orleans, nee Princess of Naples-Sicily.

While there are known several other Ferdinand-Philippe children's (pre-teenage) portraits, there is only one early portrait of Marie (Marie Christine Caroline Adelaide Francoise Leopoldine d'Orleans, Mademoiselle de Valois) on record today. It shows her at the age of ca. 12 (see our image nr.37). Our portrait shows her as a 6-year-old girl in the park of Chateau de Neuilly in the Western suburbs of Paris (CLICK HERE) that her father just acquired (the property's official acquisition date is July 16th 1819, however we are certain that Louis-Philippe's family moved there several months before this date).

The 1819 exhibition of the Salon was opened on the 25th of August, which implies that all four portraits of Louis-Philippe's children that were shown there (two of "our" portraits and the portraits of the 5-year-old Louis, duc de Nemours and the 7-year-old Luise (future Queen of Beglium); the whereabouts of these portraits remain also unknown) were painted shortly before this date, namely in summer 1819.

At the Salon of 1822 Mlle (she was never married) Godefroid (Godefroy) showed portraits of two other Louis-Philippe's children: the 4-year-old Francois, Prince de Soinville and the 5-year-old Clementine (and not Valentine as the exhibition catalogue erroneously listed), future Duchess of Saxe-Coburg-Gotha (see our image nr.54).
Subsequently, at the Salon of 1827, she exhibited two more portraits of Louis-Philipp's children (see our image nr.55). It appears that for a number of years the artist was the court portraitist of Orleans family.

Mlle Eléonore Godefroid (sometime called Godefroy) was born on the 29th of June 1778 in Paris as daughter of Parisian artist Joseph-Ferdinand-Francois Godefroid (ca. 1728/1729-1788). Growing up in her father's refined environment, she learned proper manners and became a fine musician. While visiting art studios of Jean-Baptiste Isabey and Francois Gerard she soon became a 1st-class painter. By virtue of her fine demeanor and exceptional talents she received in 1795 an appointment of a drawing and music teacher at the famous Girls' Boarding House of Mme Campan in Saint-Germain-en-Laye suburb of Paris. She remained in this establishment until 1805 - the year of her transfer to Ecouen by Paris. From this date (1805) onwards she revived the collaboration with her teacher Francois Gerard. Between the years 1806 and 1847 Mlle Eléonore Godefroid regularly exhibited at the Salon. There she showed numerous portraits (many of them of Royal and aristocratic children; for example, see our images nr.45-46 and nr.49-50).
In ca. 1810 she settled in the house of Francois Gerard, in which she continued living after her teacher's death in 1837 (obviously, Gerard's wife (and later widow) never struggled with feelings of jealousy toward Godefroid).
The fairly rare appearance of Godefroid's works at the current antique market can be explained by the fact that over time most of them were attributed to Francois Gerard…
Works of M.E. Godefroid can be viewed in museums of Paris, Versailles, Angers, Berlin, Rome, etc.

For an interesting article about this artist, CLICK HERE.
Yet, who was the copyist of Godefroid's portraits?!
It appears that this question will never be tackled with certainty. In any case, this person was an artist commissioned by Louis-Philippe himself or by his estate keeper. He or she must have been a recognized professional in his field.
Could it be Michel Belot (b.1762), who together with his mother succeeded to his father's (Michel Belot-Senior) art supplies company? Belot-Senior was also a painter (from 1764 he studied at the Parisian Academie de Saint-Luc) and art restorer.
It is known that Michel Belot-Junior (obviously a painter and picture restorer himself) retired in 1824, i.e. one year after our two portraits were painted…

The aforementioned collection in Chateau d'Eu (CLICK HERE; we are showing the clips of its catalogue in our image nr.58) was predominantly amassed by Mme de Montpensier. Louis-Philippe, during his ownership of the collection (from 1821), was recruiting various restorers for the maintenance and conservation of its old masterpieces (one of these restorers could have well been Michel Belot-Junior).

miokt1414
Condition: good; unlined
Creation Year: 1823
Measurements:UNFRAMED:66,0x55,0cm/26,0x21,7in FRAMED: 76,0x65,0cm/29,9x25,6in
Object Type:Framed oil paintings
Style: 19th century paintings
Technique: both: oil on canvas
Inscription:on verso of both paintings: old legend with a date of 1823
Creator:
Creator Dates: -
Nationality:French
SHIPPING COSTS UPON REQUEST:
office@wilnitsky.net
Click here for images free of watermark!
Click on images or on

to see larger pictures!